A Postcard from Karisma Jay of AbunDance Academy of the Arts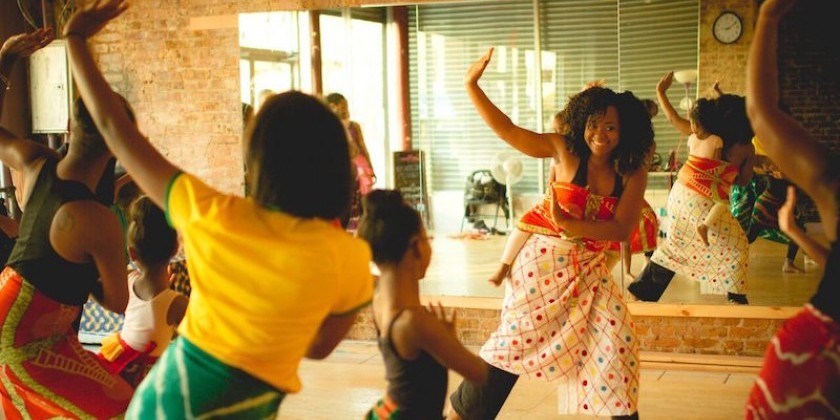 On her Vision for the Next Generation of Multi-Cultural Dancers
This summer has been anything but sun and sand, but that's to be expected when there's a whole generation of dancers to cultivate and inspire.
My name is Karisma Jay and I'm a dancer, performing artist, dance teacher, and the founder/artistic director of a performing arts academy serving students who otherwise wouldn't readily have access to the performing arts. AbunDance Academy of the Arts is a Brooklyn-based nonprofit that annually trains students aged 2-80. We offer children and adult classes with sliding scale fees to families, in addition to full scholarships and specialty workshops for adults who have always wanted the opportunity to see their dreams realized. It's my dream to help raise the next generation of Misty Copelands, Alvin Aileys, Sidney Poitiers and Whoopi Goldbergs! 
Our Lefferts Garden neighbors in Brooklyn love to see our little girls and boys prancing and dancing around our storefront studio  — that wasn't really seen before in this neighborhood. The adults that we instruct tell us how they have always had dreams of learning professional dance but that it wasn't accessible due to the high cost of instruction when they were growing up.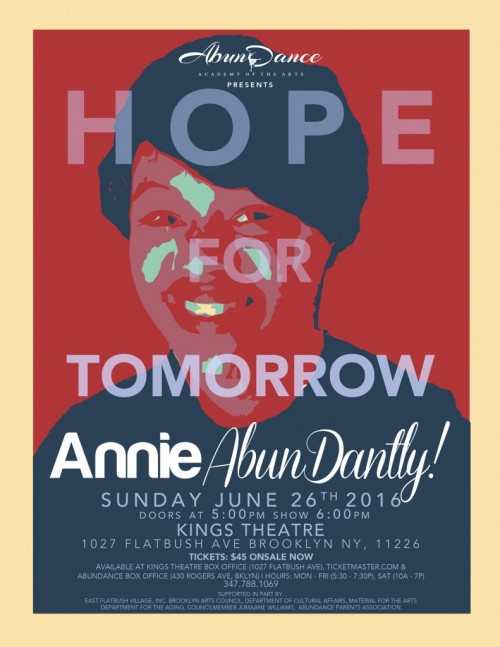 This year on June 26 in the stunning gold of the Kings Theatre in Brooklyn, my students and I put on a spectacular that I wrote and directed entitled "Annie, AbunDantly."  We reinvented the classic musical "Annie," with a modern and relevant twist — Annie grew up to become the first ever African-American, female president of the United States. Our cast was 120 members from the ages of 2-80. With such a large cast of mostly youngins, it was a tough production to put together but my students did amazing and the audience reaction was very positive.  
With all the buzz around Hillary Clinton's nomination and the support for Michelle Obama  — the influx of love for women in politics  — I felt like it was a great time to tell that story and that it would send a positive message to my students and to our audience.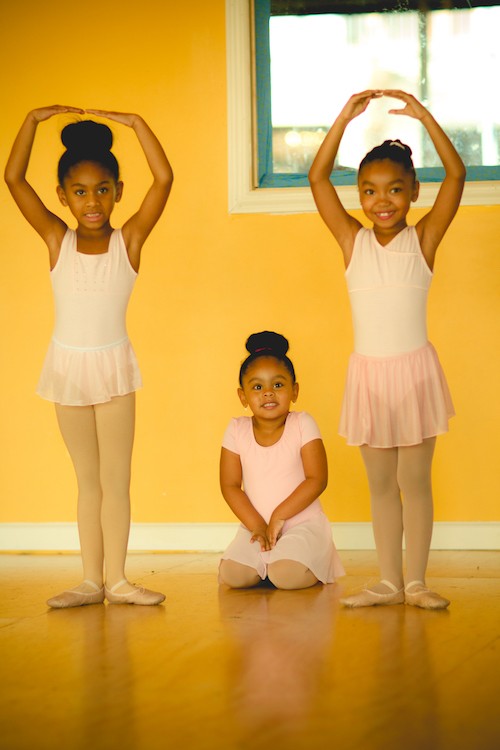 Students of AbunDance Academy
Here's why I do what I do
I was born and raised in Brooklyn and have been a performing artist my entire life. What I realized from an early age is that performing arts just aren't readily available to people who came from lower income households. Also, more and more, it became difficult for me to see performers that looked like me on the main stage or big screen. I knew something had to change. With AbunDance Academy, my students of diverse backgrounds get to help tell stories that include them. Our Brown girls do ballet and so much more! 
Growing up as the child of a single parent, I'm so lucky that my mother worked so hard to secure the funds to give me top-quality training so that I could pursue my passion for dance and the performing arts. After years of performing on stages around the globe, I decided I want to help give the next generation of dancers the opportunity to receive superior instruction without cost being a barrier to entry.
And that's where I am now. We've grown tremendously since our inception and don't plan to stop anytime soon.
I want to see brown and black ballerinas and dancers dancing through the streets of every neighborhood.
Karisma Jay with students of AbunDance Academy
What's next?
Our annual summer arts intensive where we train the next artists and leaders of tomorrow began July 5th and ends August 5th. They take about 20-25 hours of Dance, Vocal, Theatre and even gymnastics (over at Powerplay in Bklyn). Hence the word "intensive." The intensive culminates with a big showcase on Aug 5th (which is also my birthday, so it's a nice way to celebrate) in Gelsey Kirkland Theatre in Dumbo. Then, it's back into the fall/spring school year with weekly classes in preparation for our next June production.
For the most up-to-date information on AbunDance Academy of the Arts classes and programming, follow us via the below links and visit www.abundancearts.org for information.
Twitter:                      @AbunDanceBK
Facebook:                  https://www.facebook.com/abundancebk