The Dance Enthusiast Asks: The Joyce Theater Director of Programming Aaron Mattocks on the Art of Presenting Dance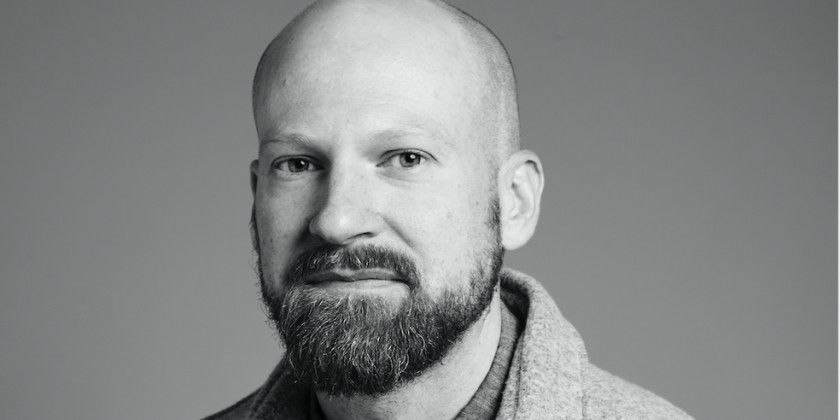 Theo Boguszewski for The Dance Enthusiast: The Joyce Theater is one of the only theaters build exclusively for dance. Can you share a bit more about The Joyce's mission as a presenting entity? 
Aaron Mattocks: The mission of The Joyce is to serve and support the art of dance and choreography, to promote the richness and variety of the art form in its fullest expression, and to advance the public interest in, and appreciation of, dance and the allied arts of music, design, and theater. The Joyce's programs embrace the entire spectrum of movement styles and traditions, from the time-honored to the untried, and are designed to encourage, sustain, and educate a diverse audience. (More about the mission and history here)
The Joyce Theater Marquee; photo by Frank Bohbot
How long have you held your role as Director of Programming at The Joyce? Can you share anything about the specific approach you've taken to programming since you started? 
Aaron Mattocks: I celebrated my second anniversary on February 1, 2020. I inherited about 18 months of planning from my predecessor, the longtime former director of programming Martin Wechsler, so the 19/20 season that began in September 2019 was the first season I programmed.
I imagine my approach is probably very similar to what Martin's was—to find the most unique, exciting, stimulating, thought-provoking works that can appeal to a broad audience and contribute to the diversity of our city, and encourage a growing and expanding audience for the form. I think a lot about what I want to see, and what I love, but in the end, I'm not programming for me. I'm programming for an audience, so there are times when I don't personally connect with a work, but I have a hunch it will be a great fit for the audience we've spent almost 40 years cultivating. I work in very close collaboration with our executive director, Linda Shelton—we talk through my season proposals each week and discuss where we want to be driving this ship.
One thing I focused on, for my first season, was live music. When we opened our doors in September 2019, through the end of the calendar year, every single performance for those three and a half months featured some form of live music. I really wanted to start off with something special, a gift to the audience. It made things more difficult, in some ways, because it doubled our logistics work, but everyone here rose to the challenge, and it was a thrill to see what our production team pulled off week after week.
Ayodele Casel and Arturo O'Farrill presented by the Joyce Theater; photo by Patrick Randak
The Joyce presents dance of the highest caliber and is responsible for making a 470-seat theater economically viable. That being said, what are some access points for more "emerging" artists to engage with The Joyce? 
Aaron Mattocks: We do try to feature a number of Joyce debut artists each season. In fact, we partnered with the Harkness Foundation to support debut artists, a series called Harkness Firsts. It's a way to provide critical underwriting for the bigger financial risk of first-timers. Another way for less-established choreographers to have their work shown at The Joyce is by having their work featured by a well-known repertory company. For instance, the first time Ephrat Asherie had her work shown at The Joyce, she was part of David Parsons' season. We see that a lot, touring companies who have a work by a choreographer new to our audience in their rep, and that can lead us to booking their own company in a future season.
What are some ways that we as a dance community can make dance more accessible to audiences who wouldn't normally buy tickets to a dance show? How is The Joyce working to help bridge that audience gap? 
Aaron Mattocks: We've had two ticketing initiatives to target audience expansions. The first was a program we ran for two seasons, called Pay What You Decide, which allowed audiences to reserve their seat for only $1 upfront, attend the performance, and then afterward, they were asked to pay what they felt was appropriate for the show. It was an experiment to try to figure out what it might take for audiences to try something new, to branch out and take a risk on a show by an artist they may not be familiar with. We're currently assessing the data on that project to see what we learned and how we might expand or improve that program. More info here.
The other approach we took, which should be of particular interest to your readers, is that folks who are employed in dance, be it as administrators, educators, dancers, choreographers, students, etc., if you're a dance professional, you simply have to register and sign up for the program (once), and we have ten $10 JoycePass tickets available for nearly every performance throughout the year, specifically reserved for our dance community. We hope everyone signs up! More info here.
Pam Tanowitz and Simone Dinnerstein's New Work for Goldberg Variations presented by the Joyce Theater; Photo by Erin Baiano
Without asking you to pick favorites, what are some shows that you are particularly excited about in The Joyce's spring season? Anything that's especially unique or unexpected? 
Aaron Mattocks: I'm especially excited about four particular things:
The first is a three-week focus on international ballet companies: we have Ballet Vlaanderen (formerly Royal Ballet of Flanders), Scottish Ballet, and Lyon Opera Ballet all here within days of each other, with works by Akram Khan, Crystal Pite, Sidi Larbi Cherkaoui, Sophie Laplane, Angelin Preljocaj, Lucinda Childs, Anne Teresa de Keersmaeker, and Maguy Marin. So excited!
Another period in the spring will highlight legacy, with four different companies in a row celebrating their 50th anniversary seasons: Ballet Hispanico, Trisha Brown Dance Company, Pittsburgh Ballet Theatre, and Charlotte Ballet (and speaking of legacy, the Paul Taylor Dance Company will make their Joyce debut this June!).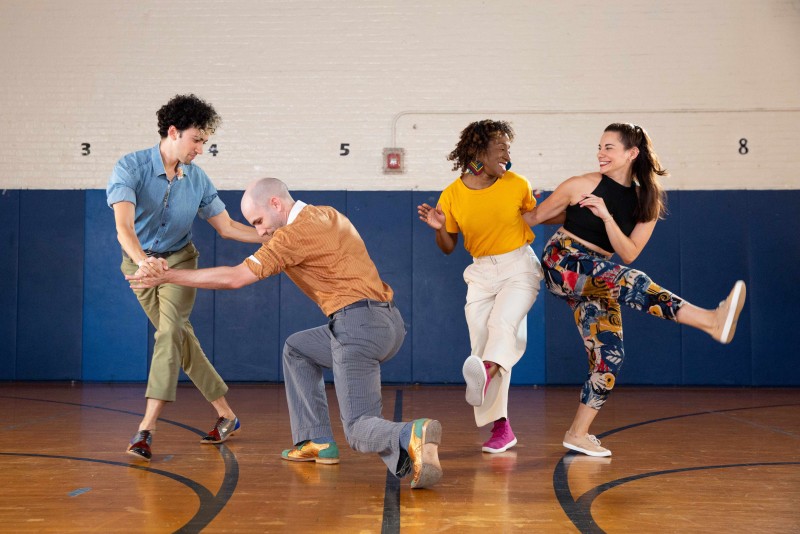 The Joyce Theater will present Caleb Teicher, Nathan Bugh, LaTasha Barnes, and Evita Arce in SWING 2020; photo by Em Watson
We're bringing back our Pride Festival, with two artists who are queering the canon: Ballez's take on Giselle, and Christopher Williams' take on Les Sylphides and Afternoon of a Faun. (also, the same week, the Joyce is presenting offsite at the Koch Theater at Lincoln Center, bringing two programs by Pacific Northwest Ballet, one classics and one premiere—so you can see four different Joyce shows that week!).
And last, we have two original productions premiering this summer, spearheaded by our in-house producer Ross LeClair, who runs our Joyce Theater Productions department. These are shows that we work on from the ground up, and help produce and tour, in addition to The Joyce presentation. We've got two shows premiering back to back: the first is an evening with Sara Mearns, highlighting her interest in 20th and 21st Century contemporary choreographers and collaborations, and the second is a piece that celebrates the incredible social dance form and phenomenon that is swing (SWING 2020).
Since it's my job to choose what is presented, I'm generally pretty excited about what's coming up, every single week, so these are just a few high points!
Artists of Lyon Opera Ballet in Trois Grandes Fugues will be presented by the Joyce Theater; Photo by Bertrand Stofleth
To be a presenter of dance, you clearly have to love dance a lot. Can you share a bit about your background in dance, and how you came to have such a deep interest in the art form? Are you a performer as well as a presenter, and can you share a bit about how those two identities might feel different and/ or the same? 
Aaron Mattocks: I took my first dance class because I got cast in a community theater production of Anything Goes and had about six weeks to learn how to tap. That was really my way into dancing, at first, was through musicals in high school and doing community theater and summer stock. I started training more seriously in college, at Sarah Lawrence [College] and spent one summer at the American Dance Festival as well.
After college, I got a job as a company manager and then general manager for Mark Morris Dance Group, so I really set my performing career aside for a good eight years. I was getting ready for my 30th birthday when I admitted to myself that I had moved to NYC to become a professional dancer, and if I didn't give myself a chance at 30, I was never going to do it and could spend the rest of my life regretting it. I left my steady full-time job, started taking class again, and trying to dance with everyone I could. Much to my surprise, I got my first of two Bessie nominations three years later! And by the time I "retired" to take this job at The Joyce, I had toured with Mikhail Baryshnikov doing Chekhov, danced with David Byrne, worked on a Jonathan Demme/Meryl Streep movie—complete pinch-me moments. I feel great about what I was able to accomplish in those seven shorts years as a performer. I owe a huge debt to Annie-B Parson, who I worked with the entire time I was dancing professionally. She saw something in me that few others saw at the time and gave me so many of those incredible opportunities.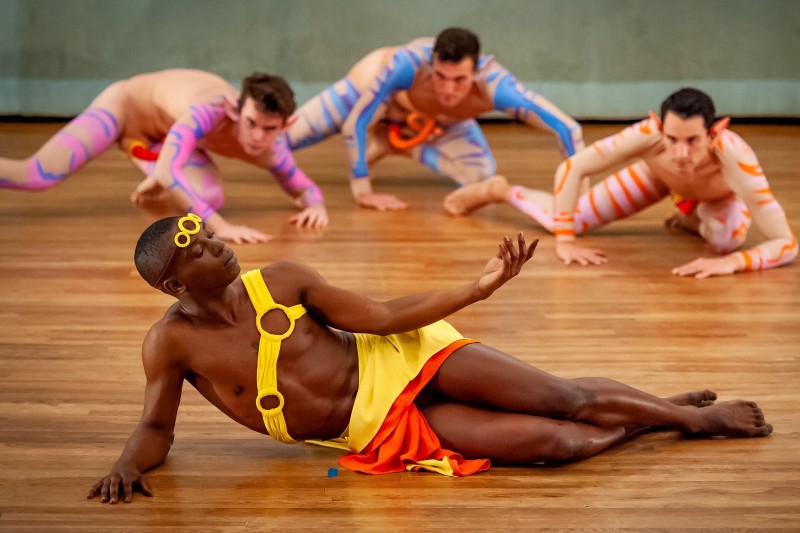 The Joyce Theater will present Christopher Williams Dance as part of Pride Festival; Photo by Mark Kwiatek
Where do you see The Joyce in 5 years? 
Aaron Mattocks: Right here on 8th Ave and 19th Street! Sorry. Dad joke.
It's hard to say where we're headed—except that I'm a perfectionist, so I want the house to be sold out every night, and to have every audience member be transformed with each experience they have here. But that's not exactly a reality that we're pursuing—that's just something I wish for the world, that everything we do here can resonate with as many people as possible. Hope, joy, solace, transcendence—can we make these daily aspirations?
I think my role here is to continue the cherished presenting and commissioning legacy of this place, and to continue to bring the most exciting and diverse achievements in our field, to an ever-expanding audience. I think of my job as that of an observer, so I would put the question to all of the dance makers out there—where do YOU see The Joyce in 5 years? Because it will go where you take us. I can't wait to see how dance forms and audiences evolve. I'm not defining it, I'm responding to it.
The Dance Enthusiast covers a LOT, but we really only skim the surface of all the amazing dance that's being showcased in NYC and beyond. As a presenter, how do you stay in the know about everything that's going on in dance? How often do you go see shows? 
Aaron Mattocks: I read and research a TON. I'm always looking. I watch a million videos. And then I average 3–4 live shows a week, though I have a goal to keep careful balance with trying to see everything, and be everywhere, and also taking care of myself, giving myself permission to go home sometimes, miss someone's show, and cook dinner and watch TV and be a decent soon-to-be husband. I'm turning 40 and getting married in 2020. Life is good. But so much to get ready for!
---
The Dance Enthusiast Asks questions and creates conversation.
For more of The Dance Enthusiast Asks, click here.
---
The Dance Enthusiast - News, Reviews, Interviews and an Open Invitation for YOU to join the Dance Conversation.