Austin McCormick, Founder of Company XIV, on SEVEN SINS, Opening in NYC on March 5
Find Out Why The VIP Section is the Coolest Way to See the Show!
Company XIV proudly presents SEVEN SINS (World Premiere), conceived, choreographed and directed by Drama Desk Award nominee Austin McCormick, running February 14 – October 31, 2020 at Théâtre XIV (383 Troutman St. in Bushwick, Brooklyn). Previews begin February 14 for a March 5 opening.
Flashback to The Dance Enthusiast's past stories on McCormick/Company XIV:
---
Sammi Lim for The Dance Enthusiast: Happy 14th year to Company XIV! How would you complete the following sentence?
Before Company XIV was born... 
Austin McCormick, founder & Artistic Director of Company XIV: I was a little boy with a dress up box of costumes, learning Baroque dance in heeled shoes. I always had the dream of forming an interdisciplinary genre blurring queer performance company with performers and collaborators I love. It's been a long road, but I am thrilled that XIV has survived and is thriving.
Did you flick through the Bible while brainstorming on SEVEN SINS? How did you research the iconography in the age-old story of Adam and Eve?
Austin McCormick: I have always wanted to make a show inspired by Adam, Eve and the origin of sin. This subject is so juicy and in researching I realized how much music, visual art and text is influenced by the concept of original sin. I like to prepare as much as possible before going into creation with music and visual research, but once rehearsals start I follow my instincts and let the show reveal itself to me.
Austin McCormick. Photographer: Phillip Van Nostrand
Can you say a few words about the cast? Any new recruits for this performance? Or have they all stuck around with you for a while?
Austin McCormick: This cast is simply PHENOMENAL. One of the exciting things about this show is that several principle roles alternate cast weekly, including the roles of Adam, Eve and the Devil.
We have some really fabulous new performers with XIV for the first time, including singer and actress Amy Jo Jackson, opera cabaret diva Pretty Lamé, tap dancer extraordinaire Demi Remick, dancers Danielle Gordon, Marcos Antonio, Chanel Stone, Emily Stockwell and Cemiyon Barber.
Returning to XIV are the singing aerialist Marcy Richardson, dancer and aerialists Nicholas Katen, Nolan McKew and Troy Lingelbach, dancer and singers LEXXE and Hannah Straney, juggler Sam Urdang and dancer Scott Schneider.
This is probably the most multi-talented cast I've ever had at XIV!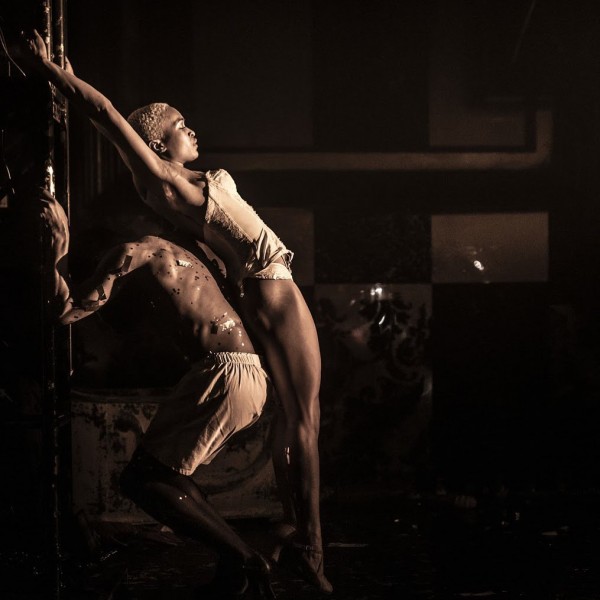 Cemiyon Barber and Danielle J. S. Gordon in SEVEN SINS. Photo: @markshelbyperry
Sex sells, but the ABC of Company XIV touches on Acceptance, Broad-mindedness and Craving. Is Company XIV what you set out to build? Or has it deviated from your original vision?
Austin McCormick: XIV continues to evolve as I get to refine and experiment. Opening our permanent home three years ago, Théâtre XIV, in Bushwick, has given me the opportunity to continue to craft a 360-degree experience for our patrons. It's something that doesn't exist anywhere else and we are having the time of our lives sharing what we love to do.
Does Company XIV still teach classes at Broadway Dance Center? I recall seeing listings on The Dance Enthusiast's platform many moons ago.
Austin McCormick: Unfortunately, I have not had time to teach recently, but would love to get back in the studio. It's something I really enjoy.
Marcos Antonio. Photo © Company XIV
VIP seats for SEVEN SINS include gustatory delights; do you have a hand in choosing the food and drink served at your shows?
Austin McCormick: I have a great time creating all the cocktails at Théâtre XIV. I dreamt up an extra luxe tier of tickets for SEVEN SINS. Our ultimate VIP experience unites food and drink with the evening's proceedings. Zane Pihlstrom, the genius behind all XIV sets and costumes, designed an incredible VIP table with plenty of surprises and tricks. My goal is to engage all the senses in a decadent mélange of tastes, smells and sights. The VIP section is absolutely the coolest way to see the show!
People often come down hard on table manners, but theatre politeness isn't brought up nearly enough. What do you request of your audience other than to enjoy themselves?
Austin McCormick: I find our audience to be really lovely and respectful. I ask that patrons have an open mind, respect the artists, staff and theater. We allow audience to take photos and video but ask that flash and sound is turned off. I love looking around the crowd and seeing how eclectic the patrons are — it's really exciting. 
---
The Dance Enthusiast Asks questions and creates conversation.
For more of The Dance Enthusiast Asks, click here.
---
The Dance Enthusiast - News, Reviews, Interviews and an Open Invitation for YOU to join the Dance Conversation.