Curator and Costume Designer Deepsikha Chatterjee on the Indo-American Arts Council's 2020 Erasing Borders Dance Festival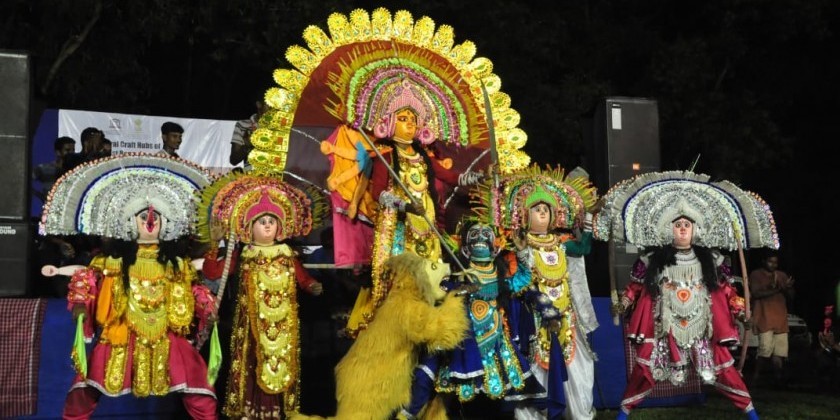 Deepsikha Chatterjee is both a costume designer and one of the curators of the Indo-American Arts Council's 2020 Erasing Borders Dance Festival. Like many live performances that were supposed to take place during the Covid-19 pandemic, the festival required creativity and a positive attitude from the artists and staff.
The current iteration of Erasing Borders will unfold over the third week in September with free performances that have been specially curated for an online viewing experience.
More information HERE.
---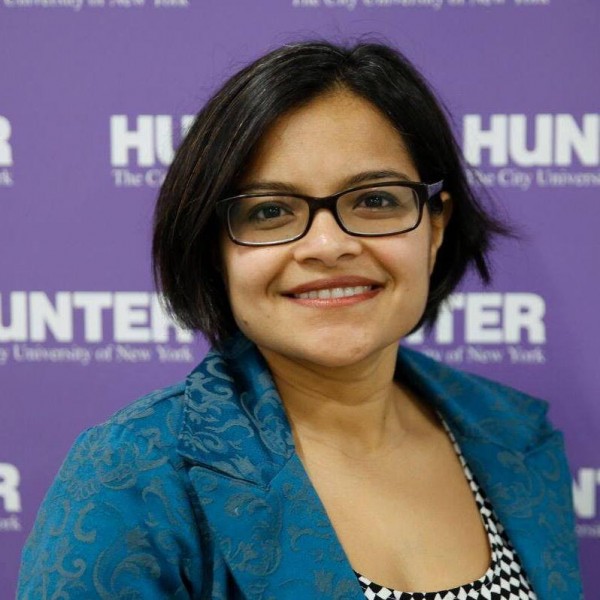 Deepsikha Chatterjee; photo courtesy IIAC's Erasing Borders Dance Festival
Erin Bomboy for The Dance Enthusiast: Congratulations on taking the negative (Covid-19) and turning it into a positive — the all-virtual Erasing Borders Dance Festival! When did you realize you would have to hold the festival online? Is it more difficult to hold a festival online or in-person? Why or why not?
Deepsikha Chatterjee: In January and February we were planning a regular festival. But in March, it became clear we needed to adjust our festival. In our case, holding an online festival was easier. We are the Erasing Borders Dance Festival, hoping for a world where artists can train and perform across genres and in different nations without too many restrictions. But that does not happen in reality.
In 2019, two of our dancers—Vishwakiran Nambi and group and Krishnakshi Kashyap, from different parts of India—were denied U.S. visas. This year, in a virtual world, we were able to include them. Similarly, Neha Mondal Chakravarty is from Singapore. Bringing all of them to U.S. would have been cost-prohibitive, but a virtual festival allowed us new ways to be inclusive. Two of our performers, Ganesh Vasudev and Arun Mathai, are from the West Coast. Bringing them to New York would have required hospitality that we were able to redirect to support the artists in other ways.
One of the challenges was that most of our artists are trained as live performers. In April and May, we were seeing a lot of content online that was not so exciting. So I worked with my co-curator Sruthi Mohan from Texas, who is a dancer-producer, and our intern Dipashreya Sur to chart a set of pointers for shooting the dances that we shared with the artists. It included simple things like how to set up lighting around them, how to play the music, what type of a backdrop to perform against etc. In a way this allowed us to go back to the roots of many Indian dances. Chhau is meant as an outdoor form that was adapted for proscenium and indoor spaces. For our festival and due to COVID, the dancer had to perform outside. And Kashyap's Sattriya dance is a meditative temple form that she shot at a temple-meditation hall called Naahmghar.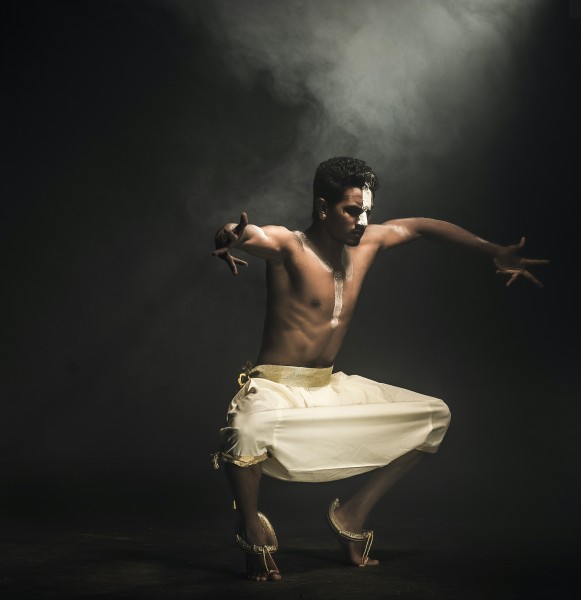 Vishwakiran Nambi; photo courtesy IIAC's Erasing Borders Dance Festival
The Dance Enthusiast: Not only did IAAC have to rethink its approach, so did the artists. What new guidelines were created to favor a virtual screening? How did the artists respond to the strictures of working within the frame of a screen rather than that of a stage?
DS: Yes, this required a lot of work on their part. Some were savvy and adapted quickly. Vishwakiran Nambi and group are urban Bangalore-based contemporary artists, so they were always camera aware. Don't miss the amazing video Nambi has about his dance process created with Roshan Sylvester. It features his work wonderfully. Neha Mondal Chakravarty is also very camera/screen conscious. The Chhau group led by Shambhu Nath Karmakar is from very small town close to villages about 8 hours from Kolkata. They perform a ritual folk martial dance called Chhau. Shambhu's group is empaneled with the Indian Government and has performed in many countries. But their work had to be adapted for the camera. I reached out to a dancer friend in Kolkata, who connected me to Tirtha Mitra, the videographer who went to Shambhu's place and captured his work. This coordination all had to be done from the U.S. because we knew the aesthetic manner in which the work needed to be featured.
Damir Tasmagambetov; photo by Joseph Pinlac
The Dance Enthusiast: It appears that you've curated a vibrant display of Indian performance. Tell us about the styles that will be on display. What should audience members look for to deepen their viewing experience?
DS: We do have a wide range. The Indian cultural body Center for Cultural Resources and Training recognizes 8 classical dances and innumerable folk forms. Bharatanatyam, Kuchipudi, Sattriya are all classical forms that you will see. On the other hand, Bharatanatyam has a more formal institutional version called Kalakshetra, taught at the Kalakshetra University which you will see Neha and Damir perform. Chhau is a folk form that you will get to see from Purulia area of Eastern India. And finally Vishwakiran Nambi's contemporary form is outside of the so-called canon but is amazing enthralling.
Barkha Patel; photo courtesy IIAC's Erasing Borders Dance Festival
The Dance Enthusiast: Healing seems to be a theme in many pieces. Was this specially curated by you, or was this an independent preoccupation of the artists? What kinds of healing will they explore?
DS: Yes, we did ask the artists to respond to the current situation. Artists are busy performing at other times, but COVID gave a pause to all across the world. One of our curators, Parul Shah, a Kathak dancer herself, and our intern-curator and Barnard College student Dipashreya Sur also felt strongly about pushing the artistic works in this direction. Black Lives Matter was also on our minds at the time. It was imperative for all of our dancers too, to speak to the moment. Indian dance also a strong religious-ritual underpinning and many of the dancers turned to these roots in order to find healing. You will see Krishnakshi Kashyap performing in a temple-meditation hall called a Naamghar, Divyaa Unni performing in the garden drawing in the natural restorative energies, and Arun Mathai directly responding to Black Lives Matter. Ganesh Vasudeva's reflection on the mystic waters of Ganga flowing is particularly comforting as we hear of the fires across West Coast.
Mesma Belsaré; photo courtesy IIAC's Erasing Borders Dance Festival
The Dance Enthusiast: You're a costume designer and historian by trade. How does your in-depth knowledge of that affect how you see dance?
DS: Yes. I am a costume designer and scholar in training. I teach theatre design and theatre history at Hunter College and research Indian dance and film material culture such as in masks and costumes. Thus I am always thinking of aesthetic and historical journeys. When I started dance directing in 2017, I was not so deep in my research. Now as a scholar, with several publications, I look at Indian dance not just in an appreciative manner but also in a critical manner. In this area, our senior curator Uttara Asha Coorlawala and I share our interests as researchers, whereas practicing dancers-curators Parul and Sruthi bring an embodied and kinesthetic energy to the team. I am also thankful to the IAAC Board, specifically Dr. Nirmal Mattoo, with his unwavering love for dance who provided major financial support for the festival, especially for the artists. Additionally, I have worked closely with Board members Rakesh Kaul and Rajeev Kaul to run the whole festival smoothly and to find ways to keep it free for streaming.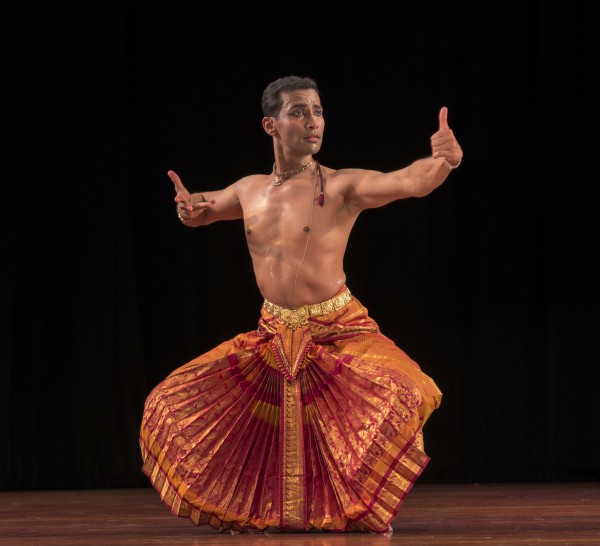 Ganesh Vasudeva; photo courtesy IIAC's Erasing Borders Dance Festival
---
Deepsikha Chatterjee is a tenured faculty of Theatre at Hunter College CUNY where she enjoys teaching a diverse student body. She received her undergraduate degrees from University of Madras and National Institute of Fashion Technology before moving to the US for her MFA in Costume Design from Florida State University.Currently she is pursuing her PhD in Theatre and Performance from CUNY Graduate Center.Her costume design for Butoh Medea and Hide Your Fires received the Best Costume Design award at United Solo in 2014 and 2017 respectively. Her designs have been seen recently at Barnard College, Mabou Mines, Rattlestick Playwrights Theatre, Women's Project, New York Musical Festival, Drive East, United Solo, Pan Asia Repertory, and Capital Fringe.
She researches costumes and masks for Indian performance and has received notable grants for this work. Her presentations have been seen at conferences including USITT, Costume Society of America, and the Rubin Museum of Art in New York City. She has published articles on Indian and Asian theatre, and Indian fashion. Since 2017 she has served as the dance director for Indo-American Arts Council's Erasing Borders Dance Festival bringing international dancers to the New York stage.
---
The Dance Enthusiast Asks questions and creates conversation.
For more of The Dance Enthusiast Asks, click here.
---
The Dance Enthusiast - News, Reviews, Interviews and an Open Invitation for YOU to join the Dance Conversation.