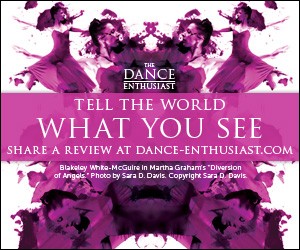 Related Features
THE DANCE ENTHUSIAST ASKS: Roberto Vega Ortiz and Theresa Knudson of Oakland's Ballet22
Catch the Oakland-Based Company's Summer Performances this August 27- September 5
Ballet22, a groundbreaking dance company presenting works that break gender normative traditions in the classical repertoire, is soon to present its summer 2021 season of digital and live performances from August 27 until September 5, 2021. With a clear mission to create equal representation in the professional ballet field for men, mxn, transgender, and non-binary artists to perform professionally and "en pointe," the season will recreate classical ballet repertoire works like Le Corsaire, Giselle, Carmen, and Paquita in the historically accurate choreography to showcase the masterful technique of the artists while challenging heteronormative roles and costuming. Learn more.
---
Roberto Vega Ortiz and Theresa Knudson, co-founders of Ballet22. Photo by Randall Hobbet
Sammi Sowerby for The Dance Enthusiast: Hi, you two! Tell me about yourselves, but I think it'd be fun if Roberto introduced Theresa and vice versa.
Theresa Knudson, Executive Director/Ballet Mistress of Ballet22: Hi there! Roberto is the co-founder and Artistic Director of Ballet22, as well as one of the lead artists. Roberto has been at the forefront of breaking gender stereotypes in ballet since he started his dance training at age 14. He started pointe work almost immediately and trained himself in his room and started documenting his pointe journey as a teen on social media. He has become an influencer in space, and is a master in pointe work. It is such an honor to work with Roberto, he is truly a genius, has such a strong artistic vision and work ethic and, of course, is one of my closest friends. His talent and vision has resulted in Ballet22 producing four digital programs and two live programs. 
Roberto Vega Ortiz, Artistic Director of Ballet22: Hello! Theresa is the co-founder and Executive Director of Ballet22. Theresa's career as ballet dancer and business administrator has been the perfect blend for the crucial development of the company. Her drive in both aspects has got us to where we are today — we are about to celebrate our first anniversary!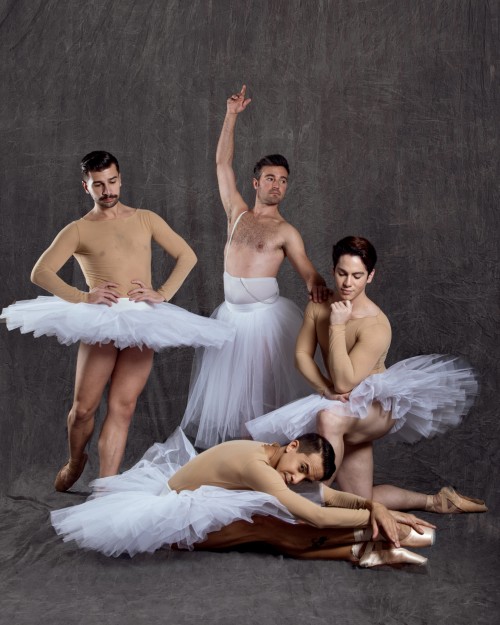 Group shot of Ballet22 dancers. Photo by Genevieve Parker
The Dance Enthusiast: This one's for everyone who's  ever wondered but never worn one: what does moving in a tutu feel like? And do you prefer the pancake, the platter or the powder puff?
Roberto Vega Ortiz: Growing up wearing a tutu was an exhilarating feeling. Personally, it felt as if having an extra pair of wings. I felt invincible. With time, that feeling softens, and now I see it more as an instrument of our craft that I respect deeply. Aesthetically the powder puff tutu is one of my favorites since I'm all about showing the legs and because of the repertoire that has been created with it but in reality, it's with a romantic tutu that I feel the most comfortable in. It brings a sense of purity and calm to my soul.
The Dance Enthusiast: Does Ballet22, like The Trocks with whom you performed for a time, bring a comical slant to its classical ballet repertoire works or are your works more 'solemn'?
Roberto Vega Ortiz: My mission is to create, commission and stage works where each individual can be themselves, even when portraying a specific role, such as Odette or Carmen. We don't wear pink tights, wigs or heavy make up. Each individual presents their authentic self. When commissioning new works, we have a blank canvas where we create something specific that represents who Ballet22 is.
Ballet22 dancers executing grand jetés. Photo by Concept o.4
The Dance Enthusiast: Ensuring equal pay for dancers is a top priority at both Ballet22 and your other dance company, Halcyon Dance Project. Care to expand on your ethos?
Theresa Knudson: Equal pay for equal work is a huge issue in any professional field, but especially in dance. As a freelance dancer I have experienced many cases of unequal pay, and it is something that I would like to see changed in the field. As a default, men are generally paid more than women, even when those women have equal skills and work longer hours. We are raised to believe that we are replaceable and I feel this cultural component of dance is very stressful on dancers and hinders their ability to experiment, make mistakes, and grow. For any project I am involved in, I strive to do my best to provide an environment that I would like to work in — one where dancers are paid fairly, treated with kindness, given good opportunities, and feel valued. 
The Dance Enthusiast: We're loving the diversity of Ballet22!
Theresa Knudson: Yes! Diversity is so important! Diversity is not charity or a box to be checked. To have the best product, idea, production, et cetera, you need diversity. All dancers who have worked with us were hand-picked for their individuality, and they have brought their unique experience and skills to the company and made the work what it is, especially in the new commissions. It is refreshing to have diversity of bodies, ages, ethnicities, and even sexual orientations. The company is composed of both LGBTQ+ folx, as well as allies.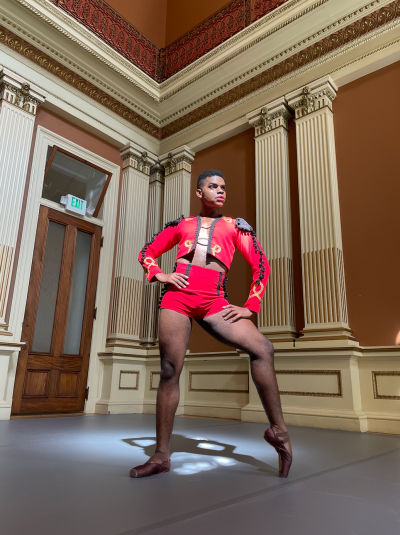 Photo by Roberto Vega Ortiz
The Dance Enthusiast: Is Ballet22's identity moulded by its being based in Oakland?
Roberto Vega Ortiz: I believe Oakland's city vibes, roots and history definitely influences Ballet22. There's a place for everyone here and we are very lucky to have a space within the community.
The Dance Enthusiast: Say a dance enthusiast lived an equal distance from Santa Barbara and San Francisco and his/her/their main determinant for attending one of your upcoming shows solely depended upon the program. What are the highlights of each?
Theresa Knudson: San Francisco's production will feature the full length version of Ramón Oller's Carmen, whereas the show in Santa Barbara will feature an excerpt from the ballet as well as excerpts from other classics such as Giselle and Le Corsaire and contemporary works by Jehbreal Jackson, Joshua Stayton and Myles Thatcher. The San Francisco production of Carmen will be mostly focused on the development of the story ballet, whereas the Santa Barbara show is a wonderful mixed bill of diverse works. 
---
The Dance Enthusiast Asks questions and creates conversation.
For more of The Dance Enthusiast Asks, click here.
---
The Dance Enthusiast - News, Reviews, Interviews and an Open Invitation for YOU to join the Dance Conversation.