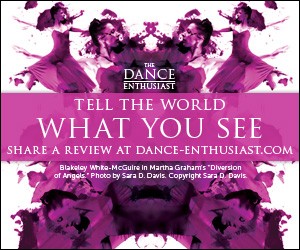 Related Features
Impressions Martha Graham Opening Night - Jessy Smith, An Audience Member Shares Her Experience
name: Jessy Smith

Job:
Dancer, Choreographer, Teacher

Last time you moved ( your body) :
5 minutes ago, slow dancing...

Complete this sentence

I dance_____________ for my love of music.

Do you have a favorite dance company? or favorite dance?:
I love to watch kids make up new dance moves.

Have you ever seen/ or heard The Martha Graham Dance Company before?
Tell me a bit about your experience.
I performed the Graham dance "Celebration" at NYU in 2004 so I worked
with a few famous dancers during that experience. It is a 6 minute
dance of jumping, only jumping (with a few scuttles and plies thrown
in there). During performances, when the dance ended... that's when I
celebrated. This was, however, my first time seeing the company
perform live, wow! They are incredible.
---
Now to the evening.... after each category what pops into your head
about the following dances?

Lamentation Variations-

1. Who were the people in the three dances?

two opposing sides of one person, angel, mourners

2. Where were they?

in the mind, in the air, on earth

3. What images do you remember? Do any particular shapes or gestures
stand out in your memory? Describe...

Hands, wrenching emotions, personal grief vs. one that is shared with many

4. Do you remember any sensations you experienced being in the audience.?
The solo piece was so close to edge of the stage, right in front of
where we were sitting. Yet she seemed to be so far away, falling
through the air. This dance really touched on something celestial.

Embattled Garden-
young and old, experience vs. naivety, purity of heart being
manipulated and manhandled

When the curtain came up on this dance, I was so struck by Noguchi's
set, an incredible pair of Beetlejuice-esque (the movie) sculptures in
bold colors. It instantly made me remember, oh, Martha Graham was so
NEW for her time, especially since it came directly after the new
interpretations of her work. And I loved the way the costumes fit in
with the look and design of the dance. Dance today is coming back to
this style of art, except now with advanced technology.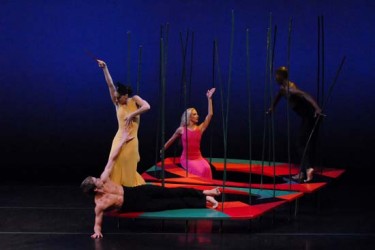 Embattled Garden
Martha Graham Company
Photo by Nan Melville
---
Night Journey

Sex, sex and more sex.

I was so amazed at how deliberate the sex was in this piece, and I
couldn't stop thinking about how Martha really set herself up for
some fun rehearsals.

Finally....

If you had the opportunity to sit in my living room and ask the
dancers, rehearsal director, choreographers (even Martha Graham), or
current artistic director questions... what would you ask? What are you curious about?

First of all, I think this show is an incredible step towards bringing
new life back into the company and I would like to commend the
artistic director for changing the path of thinking over there.
Is the company going to continue to work with new choreographers?
How far can you stray from the tradition, but still keep the tradition alive?
How will you continue to keep audiences interested in coming back to
see more of the Martha Graham Dance Company?
What do you think you will always remember about this performance?

I will always remember, in Embattled Garden, when the stern looking
lady carefully tied up the hair of the beautiful blond. Sometimes you
see art and you know that it comes from someplace really personal and
is deeply rooted within the artist. I felt I was looking at how
Martha felt toward her young female pupils, maternal but perhaps with
a twinge of jealousy...
---