The Dance Enthusiast Asks Boston Ballet Principal Lasha Khozashvili
At Lincoln Center's David H. Koch Theater
Program 1: William Forsythe's "The Second Detail," Alexander Ekman's "Cacti," and a new work by José Martinez
June 25 and 26 and 7:30 p.m. and June 29 at 2 p.m.
Program 2: Vaslav Nijinsky's "Afternoon of a Faun," George Balanchine's "Symphony in Three Movements," Jorma Elo's "Plan to B," and Jiri Kylián's "Bella Figura"
June 27 and 28 at 8 p.m. and June 28 at 2 p.m.
---
Boston Ballet celebrates fifty years with their first ever engagement at Lincoln Center. Under the artistic direction of Mikko Nissinen, the company will present seven unique works organized into two programs over six evenings. These productions highlight Boston Ballet's commitment to challenging, diverse material with pieces ranging from beloved classics like Vaslav Nijinsky's Afternoon of a Faun and George Balanchine's Symphony in Three Movements to contemporary favorites such as Jiri Kylián's Bella Figura and William Forsythe's The Second Detail. Resident choreographer Jorma Elo's Plan to B is also on tap.
Consisting of 56 dancers and representing 19 nationalities, Boston Ballet unites these varied backgrounds with technical conviction and artistic gusto. The Dance Enthusiast had the opportunity to enjoy a whirlwind conversation with one their dancers, principal Lasha Khozashvili, who is originally from Tbilisi, Georgia.
---
Erin Bomboy for The Dance Enthusiast: You joined Boston Ballet in 2010 after performing with the State Ballet of Georgia, under the artistic direction of former ABT Principal Nina Ananiashvili, for a number of years. How have you weathered the adjustment to America?
Lasha Khozashvili: I feel like Boston is home now, and the Boston Ballet has become like family to me. The first year was challenging, getting used to a new country and company, but I have made so many friends. Going to work everyday makes me so happy.
TDE: It's been an exciting year for Boston Ballet, which just celebrated its fiftieth anniversary. Has there been a highlight?
LK: It has been a really great season. The best part was our September show at Boston Commons. Over 50,000 people came to see it.  I was in shock when the curtain opened, and I saw how many people were in the audience. I felt like a rock star!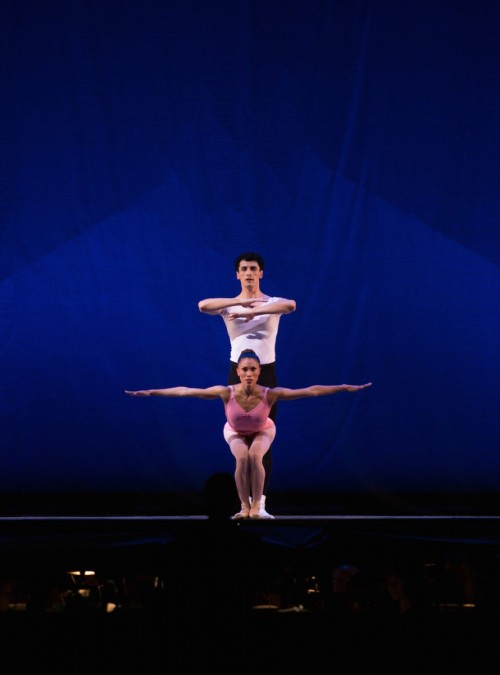 Lasha Khozashvili and Lia Cirio in Symphony in Three Movements ©The George Balanchine Trust. Photo by Rosalie O'Connor.
TDE: What pieces will you perform in New York? Do you have a favorite role? Is there a part that you find challenging technically or artistically?
LK: I will be performing in Jiri Kylián's Bella Figura, George Balanchine's Symphony in Three Movements,  and a new work by José Martinez. I love Bella Figura. I have danced it many times, but each performance is like a new experience. Balanchine's works can be physically difficult; I'm drenched with sweat at the end, but they are very rewarding artistically. I have also enjoyed getting to know José Martinez's style, which is very French.
TDE: Boston Ballet presents such a wide-ranging repertory. How do you navigate the demands of classical versus contemporary works?
LK: It's hard. It's like having a whiskey and then immediately drinking a glass of milk. Your body goes crazy. I have found the most important thing is to be mentally strong. I also train very carefully to make sure I don't get injured.
TDE: What does Boston Ballet bring to the stage that New Yorkers will appreciate?
LK: I think our varied repertory will be very interesting to audiences. It's fresh and powerful. Boston Ballet is the only American company currently performing Kylián's Bella Figura. We also show our personalities when we dance. We think about the technique of course, but we like to show who we are as human beings.
Lasha Khozashvili, Patrick Yocum, and Altan Dugaraa in Symphony in Three Movements ©The George Balanchine Trust. Photo by Rosalie O'Connor.
TDE: Do you find New York audiences to be different than Boston ones?
LK: New Yorkers are curious. They pay attention and watch carefully. Audiences are used to seeing famous ballet companies like American Ballet Theatre and New York City Ballet, so it's important that we do our best. It's exciting — and a little scary — to perform Balanchine's Symphony in Three Movements on the same stage where New York City Ballet dances it.
TDE: How you will spend your free time in New York?
LK:  have many Georgian friends who live in New York. It's wonderful after the shows and rehearsals to go out for dinner with them and catch up. The one thing we don't talk about is ballet!
Follow Erin Bomboy on Twitter @ErinBomboy