The Dance Enthusiast Asks Kun-Yang Lin about Chi, his Mandala works, and what he would do if he were not a dance artist...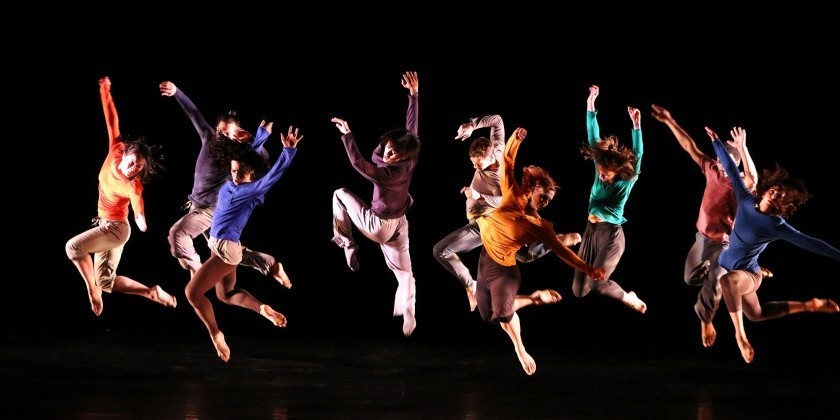 Kun-Yang Lin/Dancers prepare for Lincoln Center Out of Doors in New York City and Tanzemesse in Düsseldorf
At Lincoln Center Out Of Doors Festival (Thurs, August 7) and at the 2014 Internationale Tanzmesse, Düsseldorf, Germany (Weds, August 27-30).
Movement artist Kun-Yang Lin was born in Tsin-Chu, "The Windy City" of Taiwan. Dance blew his way from a young age; at the age of 12, Lin organized a performance by an all-male dance troupe in his village.
Today, he is mostly preoccupied with running his dance company Kun-Yang Lin/Dancers and overseeing CHI Movement Arts Center, which American politician Ed Rendell described as "a place where the entire Philadelphia community can experience the art of multicultural creative dance expression." Since moving to Philadelphia, Lin has represented his city with great gusto. In 2009, Philadelphia's distinguished Painted Bride Art Center honored Lin as an "Artist of the City." In 2011, he was named one of Philadelphia's "Creative Connectors."
Lin's awards and accomplishments include winning the Taiwan Outstanding Artist Award, the National Endowment for the Arts Choreography Award, and being named "Most Promising Choreographer in NYC" by Backstage.
---
Sammi Lim for The Dance Enthusiast: Ni hao, Kun-Yang? Besides rehearsing for performances, KYL/D is busy training other dance enthusiasts. Many attend classes at CHI Movement Arts Center to pick up the CHI Awareness Technique. Enlighten me on this practice.
Kun-Yang Lin: "Chi," or universal life source, transcends all forms and the many "boxes" some people like to inhabit and put others in. Cultivation of "chi" is essential to creating and embodying our work because doing so allows us to explore spaces and dialogues between false opposites such as "traditional" and "contemporary," "visible" and "invisible," "East" and "West."  When we are aligned with the energy that connects all of us - with each other and the Universe - we can leave unhelpful labels behind and live in the real world of mystery and meaning that I care about exploring through dance.
As far as what CHI Awareness Technique entails, here's what some of our dancers say about it:
Chi Awareness Technique emphasizes energy flow, internal rhythm, opposition within the body, a strong sense of center, and an astute awareness of the surrounding space, enabling each artist to communicate in a nuanced, personal, and highly specific manner, using imagery, textures, and sensations, in addition to a focused intention to inform the dancer's movements, thus eliciting a visceral and emotional response from dancer and viewer alike.
— Evalina Carbone
Like the organized frenzy of a school of fish, the alertness of prey that knows it's being stalked, and the quiet care of the starving hunter, CHI Awareness Technique is rooted in the old part of the brain - listening, acting, and responding in real time, in an honest, visceral, instinctual way.
— Vuthy Ou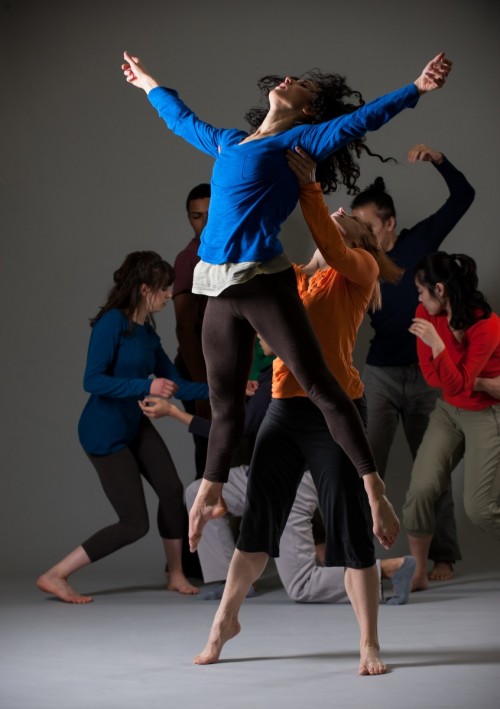 Be/Longing 2. Photo: Matthew Wright.
TDE: Be/Longing 2 and Mandala Project, which will be presented at Lincoln Center Out Of Doors, These are not your first works to address the theme of the mandala. What about this spiritual symbol in Buddhism and Hinduism moves you?
KYL/D: The mandala, or circle, as well as the labyrinth that inspired this and other works, are potent metaphors and tools for self-discovery and community building. I researched these archetypal symbols and observed their presence across cultures, geographies and time periods. Our fractured society and compartmentalized lives yearn for practices that evoke wholeness and compassion, so I was drawn to explore the mandala and labyrinth through dance as an antidote to the many divisions in our lives.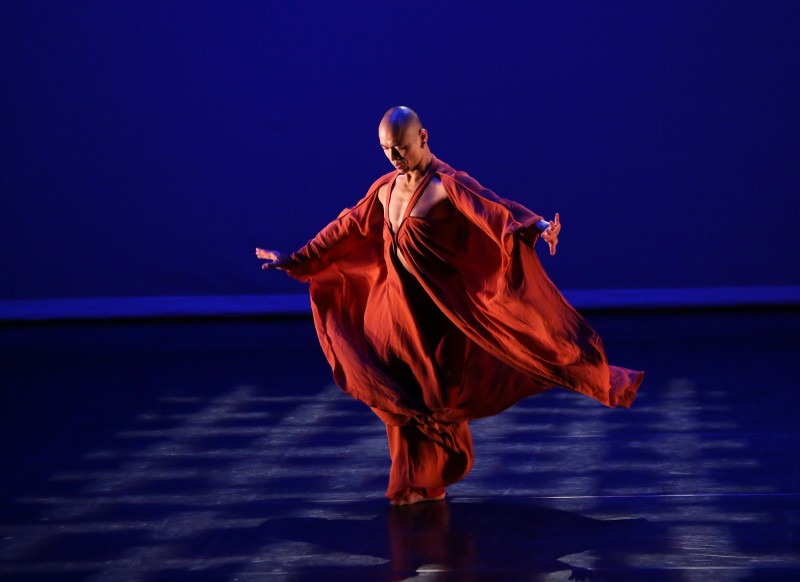 The Mandala Project. Photo: Bill Hebert.
TDE: Do you watch taped performances of yourself and your company? If so, do these documentations complement or meander from your primary vision?
KYL/D: The creative process doesn't have an end-point - a work is never "finished." So documentation provides an opportunity to continue to learn, to explore more deeply. When I watch videos of my work, I am not so much concerned about individual steps as I am with the energetic arc, phrasing, and transitions. Steps can vary - every performance is a new creation - as long as the energy is carried and projected in a way that is faithful to the intention of the work, it will feel "right."
TDE: I'm beginning to see why Christine Jowers, my Editor at The Dance Enthusiast, calls you her "Asian brother." You both recognize the importance of audience communication. During KYL/D's annual InHale Performance Series, not only do participating artists receive free performance space and technical assistance; they also gain audience insights via feedback forms. Have audience members been generous with their feelings or are they still wary about sharing their opinions?
KYL/D: Since the beginning of our quarterly InHale Series Performances - our 23rd is coming up this August 8! - we have playfully "assigned" audience members to give feedback on particular groups. To our delight, audiences love it; they feel "responsible" for providing thoughtful feedback on their assigned artists, and many of them also provide notes on other groups on the reverse side of the feedback form.
TDE: If you hadn't become a dancer, what profession would your younger self would have pursued? Or could you not imagine another alternative?
KYL/D: Well... I am still my "younger self," so who knows what I might do if I grew-up! Jokes aside… Had dance not called upon me, I might have ended-up as a traveling martial artist. That's what my paternal grandfather was doing in rural China; journeying along villages, sharing his gifts, and responding to the energies of those gathered around. Kind of like improvisation, which I love so much.
Kun-Yang Lin's Upcoming Events::
Thursday, August 7: Performance at Lincoln Center Out of Doors Festival, NYC.
Friday, August 8: KYL/D's 22nd INHALE series, a community initiative to support emerging artists, at CHI Movement Arts Center, Philadelphia.
For Further information About:
Kun-Yang Lin/Dancers go to the Company's website.
Lincoln Center Out of Doors go to the Festival's website.