Related Features
Contribute
Your support helps us cover dance in New York City and beyond! Donate now.
The Dance Enthusiast's Social Distance Dance Video Series: JoAnna Mendl Shaw and Equus Projects Dust Trees, Dance By Lake Eerie, and Share Small Delights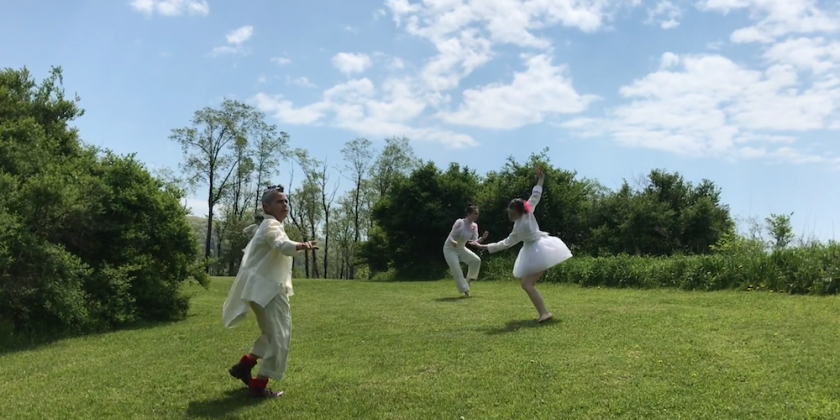 Watching JoAnna Mendl Shaw's three short videos reminds me of how much I appreciate nature, the wonder of bodies moving through space, and Mendl Shaw's brand of curiousity and experimentation. All the world is her tool kit as well as her expansive stage.
Dusting Trees, a whimsical bit of idiosyncracsy,  looks very much as if it was made to be danced during our time of social distancing.  Set in a open field,  an intriguing band of characters parade about gleefully, dancing and sometimes cleaning their environs. While there are only a few instances where the cast members actually touch, there's plenty of toilet paper.  (Seem familiar?)
Says, Mendl Shaw of the experience on her Vimeo platform: "The Equus Projects May 2019 residency in Ithaca included a day-long film shoot. A large suitcase of white costumes offered inspiration for each dancer's character development and producer Jim Self's beautiful property offered film sites."
Video Still from  Dusting Trees; Dancing with Toilet Paper
Lake Erie, Film Shorts feels a bit like a family movie, but one where the videographer had the camera running without always knowing it. The quality is intimate and seems unplanned, capturing people savoring the experience of their surroundings and, indeed, dancing as if no one is watching.
Lake Erie, Film Shorts from The Equus Projects on Vimeo. "The Equus Projects has enjoyed several years of creative collaboration with the Buffalo dance community...In June 2018, ten dancers - from the Buffalo dance community and dancers with NYC-based company, The Equus Projects - convened at the Lake Erie home of Elaine Gardner and Curt Steinzor to shoot a series of short films created for some of many gorgeous sites on the property. They experimented, self-critiqued each other, re -calibrated and filmed...this is the outcome."
Finally, Small Dances for the Holidays pictures the many spirited modes of  Equus Projects + OnSite NYC.  Set to a vibrant tango, these morsels of movement make you smile. 
Thank you so much for sharing these JoAnna.
Stay healthy, Christine
---
Christine Jowers for The Dance Enthusiast:  How are you? How is your family? And how are you handling staying at home? 
JoAnna Mendl Shaw:  Our son is here at home, coping by sleeping all day and staying up to chat with friends at night. Weird, but we have dinner together as a family every night and he usually does the cooking.
My husband is an illustrator and still has work. I am writing a book about The Equus Projects. My husband and I take a walk or bike ride once a day. I am thankful for our felines who are great for cuddling but are a bit puzzled by their humans being home ALL the time!
How are you communicating with friends /family and those not in your home? 
Lots of phone dates.
What are you doing about "moving" and "nutrition"  at home? How do you stay in physical, mental, spiritual shape ?
My writing is a great project that focuses my time. Trying to make myself do a daily workout, but so far have only done a couple.
What keeps your spirit up right now?
In a way it is knowing that we are all this together and when we come out on the other side, the world will be a different place where, I hope, people will be more kind and thoughtful and embodied learning will begin to have a more meaningful place in our lives.
What are you most looking forward to when this is over?
Having some horse time. Going back to work in Chicago. Holding our Interspecies Research LABS in Oregon and NJ.
What would you like to say to your colleagues, your audiences,  and our readers?
This epidemic feels like a cosmic message to the human race. I believe that dancers could play an important role in helping the world heal when this is over,inspiring humans to honor, develop, and deepen their physical intelligence.
That our physicality be used not in the pursuit of sports, or combat, or sexual encounters, but rather in vested in feats of physical intelligence. That manifestation of physical intelligence is not only about performing.
Lets' invest more in shared movement experiences that teach humans to be more integrated beings!
 
---
---
The Dance Enthusiast's DAY IN THE LIFE covers the stories behind dance/performance and creates conversation. For more behind-the-scenes stories from NYC and beyond, click here.
---
The Dance Enthusiast - News, Reviews, Interviews and an Open Invitation for YOU to join the Dance Conversation.