SOCIAL DISTANCE DANCE VIDEO: Breton Tyner-Bryan shares her "Ballet Hartford Holiday," A Collaboration with Ballet Hartford and The Mark Twain House and Museum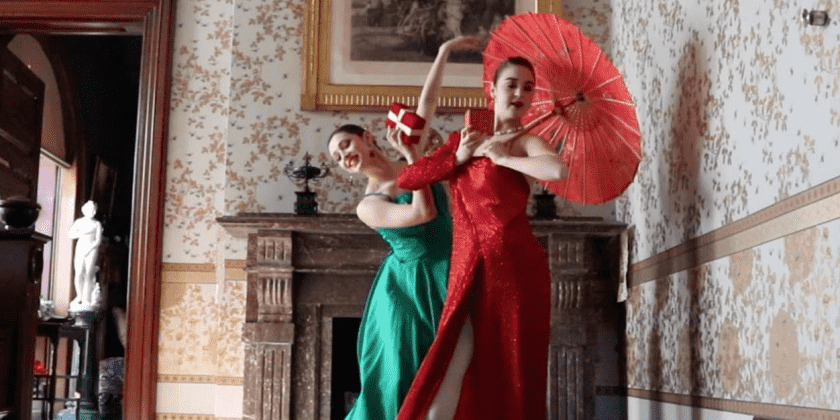 Ballet Hartford Holiday was created by:
Director, Movement Director, Stylist :Breton Tyner-Bryan
Cinematographer: Jeremy Doran
Editor: Emily S. Ulrich
Cast:Company members of Ballet Hartford
Specials thanks to The Hartt School costume shop
Special thanks to The Mark Twain House & Museum
This was shot entirely on location at The Mark Twain House & Museum in Hartford, Connecticut
---
Christine Jowers for The Dance Enthusiast: First...Breton, how are you? I hope very well and the same for your family and friends.  How have you been functioning during the COVID 19 Pandemic?
Breton Tyner-Bryan: I'm doing well, thank you and very lucky to have not been sick. My friends and family are all safe and well. I've been strangely busy during the pandemic, applying to grad school, applying for jobs, painting, having meetings, and networking with film industry professionals for teams I will join once we are out of the pandemic. I've auditioned remotely  as an actor and not slept nearly enough due to the state of the world. 
What were you working on right before we were shut down, and what have you been doing since then?
I was on two film sets ( for Warner Brothers and Apple TV) right up until the shutdown in March in New York City.  I was also  shooting a feature length thriller, called "Shackled" where I play a detective.
I had a few interviews lined up, and was preparing for my evening length Breton Follies show "All About Love" to open at the New Victory Theater on 42nd Street. I was trying out a few new sections of choreography for that show as part of The Giving Tree performance series produced annually by Shelly Hutchinson. That was ultimately cancelled for safety reasons. I was also running all over Manhattan unsuccessfully trying to find hand sanitizer!
Since the shutdown I've been teaching remotely all over the country, spending time with my dad in nature, and I've been fortunate to shoot two films, and get back on set in New York with new productions.
I know what you mean about running around to find hand sanitizer! How amazing that you've kept so incredibly busy with your artistic life as well! Tell me, how did this Hartford Ballet collaboration come about, and the decision to work in Mark Twain's former Connecticut home?
I was trying to find dance studios that were open in Connecticut, and my dad suggested checking out the space where I trained at the School of the Hartford Ballet. I was able to connect with Ballet Hartford on instagram and after six months of not dancing , I took a class in my old studio. I hadn't been in that building in 20 years! 
The directors invited me to collaborate. I felt a film would benefit the company during this time, as they are a new group looking to expand and engage with their audience without the option of live performances and the sponsorship opportunities that come with them.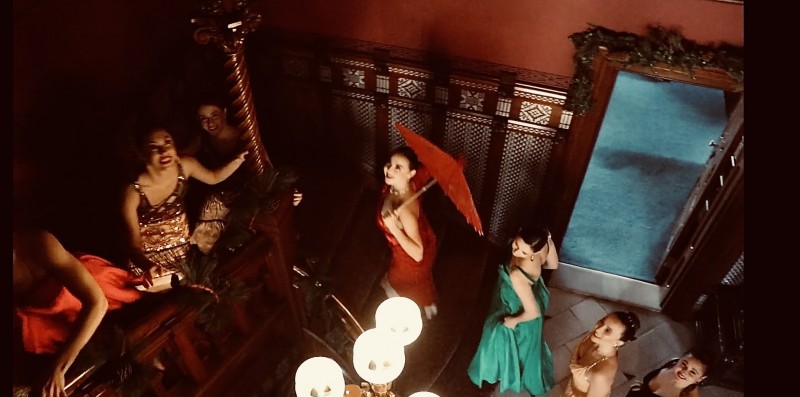 Hartford Ballet in The Mark Twain House and Museum;  Screen Shot from  Breton Tyner-Bryan"s "Ballet Hartford Holiday,"
I've always wanted to shoot in The Mark Twain House & Museum, and it was already on the minds of the company manager and artistic director, so it seemed like a natural progression.
You are the stylist as well as the director and movement director of your film. So what do you like best? Is there a an area that is more challenging, or more fun?  For me, the challenge would be to style things... Where do you get your sense of style, and how did you put together the look and feel of this film?
I truly like all of the roles, I also love acting and performing.
Directing, styling, and choreographing are about bringing characters to life, and a cohesive vision unites these departments to create a  strong message. Being a creative director,  I have the option and challenge of making many decisions that will impact the success of the project. Working in one role, I can only give my best to a specific department.  As a creative director it's my responsibility to make the film it's best through all circumstances.  It's exciting, a test of faith, and a total rush.
Hartford Ballet in The Mark Twain House and Museum;  Screen Shot from  Breton Tyner-Bryan"s "Ballet Hartford Holiday,"
To create the look of a film I always begin with a specific color pallete and silhouette that expresses a time period which will resonate with the viewer. Color is heavily tied to emotion for me. I think about what colors will best compliment the location and our lighting options; what pieces the dancers can move in; and  the overall mood that each piece of clothing conveys. From there it's all about making each performer look their best.
I pull extra garments for everyone, and usually switch them up at the fitting.  Accessories are  important  and I tweak them on set up until the last moment (and throughout the shoot.) The job requires preparation and instinct. I often make quick decisions in the moment based on the lighting and the energy of the cast.
My personal sense of style is theatrical, always with a fitted waistline, a nod to 1940's silhouettes which suit my proportions. My style also reflects my sense of humor with color and bold accessories. I'm 5'10 and look better in colorful statement pieces  and clothing that drapes.
Style is a personal expression of fine art, an important contribution to our daily lives. All of the garments I source feel like old friends.  I hold onto them until I have a "home" for them, either in a specific film, or for a performer I admire, or as a starting point for developing a character for myself.  Whether it's a hat ,necklace, glove, or dress, they all speak to me as characters that I need to bring to life. The garments are just as important as the performers. I use them to enhance one another.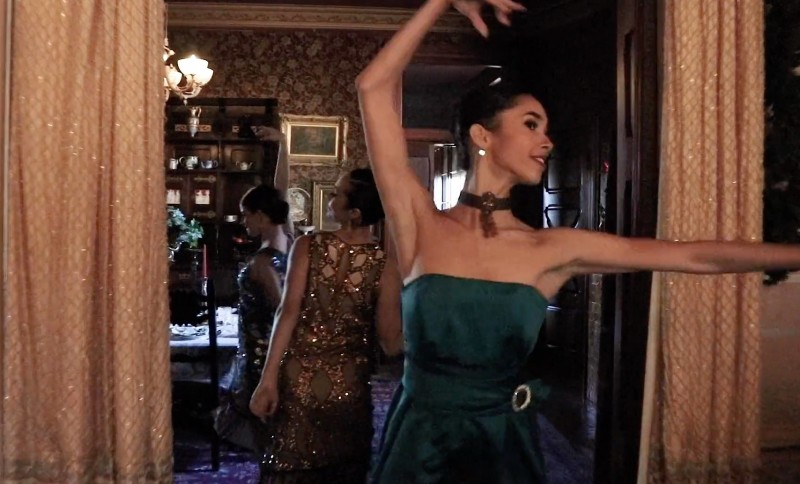 Hartford Ballet in The Mark Twain House and Museum;  Screen Shot from  Breton Tyner-Bryan"s "Ballet Hartford Holiday,"
What aspects of the Mark Twain House intrigued you? How did you choose to work there?
 
Locations are completely integral to my process and narrative as a filmmaker, and inspire me to create the characters and stories that inhabit the space. I  wanted to shoot at The Mark Twain House  for some time, and during the pandemic it was at the front of my mind. It's a  museum with tremendous history, paranormal energy, and a strong architectural aesthetic. My directorial work for film is increasingly defined by elaborate locations, and I approach them like a set for theater.
I actually grew up going to high school next to the Mark Twain house, and am very familiar with its grounds and interior. I would skip school exiting through the photography lab entrance, and trespass through the grounds. It was an interesting full circle moment to have been shooting a film there.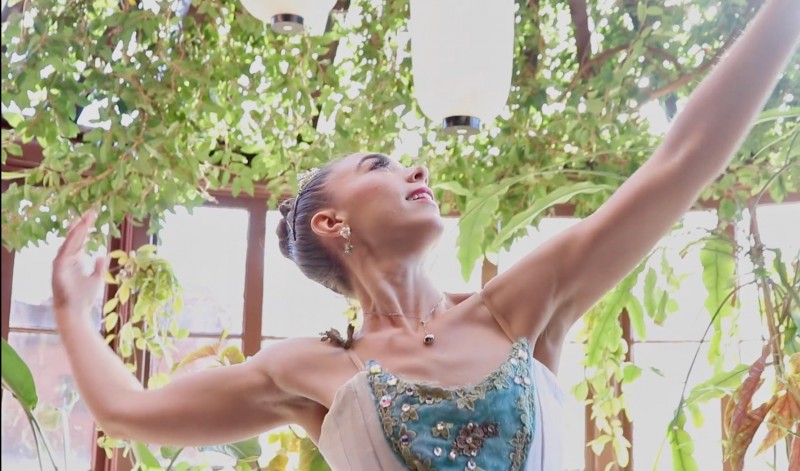 Hartford Ballet in The Mark Twain House and Museum;  Screen Shot from  Breton Tyner-Bryan"s "Ballet Hartford Holiday,"
Are there any particular rituals and practices that have helped you keep your sanity this past year?
Making films has helped me keep my sanity, along with physically being on set, physically being in motion, and spending more time in nature than I typically would have.
I'm very grateful to have been working in a theater during this time and  to have beencommissioned to choreograph, which seemed impossible back in March. I've taught on zoom, which definitely helps with endorphins, even if it's an entirely different experience than being in a studio. Pre-covid, I would  say that making films is also what keeps me sane. It's my favorite thing to do, and when I'm creating it's the one time I get a break from myself and my mind can flow.
What is the first thing you plan to do when quarantine, locking down, staying distant, and wearing masks everywhere are a thing of the past?
I plan to make films, hug a lot of people, and take dance classes with friends/colleagues. I'm really looking forward to seeing and supporting my friends in their 50's and beyond who have had limited contact with people during this time.
Being on multiple sets right up until the shutdown in New York City in March, I know how lucky I was to be healthy and not have contracted Covid. I'm looking forward to returning to international travel, sets, theaters, and studios, without the  internalizedanxiety that is part of my current experience every time I show up to set and wait for my  Covid test results.
Anything special you want to share with The Dance Enthusiast audience?
Thank you so much for this opportunity to speak about the intersection of my passions for dance, fashion, and film. My hope is that the film will bring joy and inspiration to everyone who sees it during this time and beyond. My company Breton Follies Productions is working on our first feature length film set in Long Island, and shooting a new short film in Manhattan this January.
We currently have three films in post production that are set to be edited and scored, and two on the festival circuit , JESTER and DESTINY'S FUGE  with nominations at Barcelona International Film Festival for Best Director, Best Cinematographer, and Best LGBTQ productions. Breton Follies Productions is always actively seeking new collaborators and sponsors, and we welcome submission and inquiries from everyone. Check us out on : instagram.com/bretontynerbryaninstagram.com/bretonfolliesny www.bretontyner-bryan.com
---
Breton Tyner-Bryan;Courtesy of Artist
Breton Tyner- Bryan Bio:
   Breton Tyner-Bryan is an American born actor, director, and choreographer with Canadian roots, based in New York City.  A   classically trained ballet dancer and award winning filmmaker, she grew up in the theater in Hartford, CT, with films winning at Madrid IFF, World Independent Cinema Nice, France, La Jolla International Fashion Film Festival, New York Shorts International Film Festival, and International LGBTQ Shorts. She is know for Billions (Showtime), Divorce (HBO) working alongside Sarah Jessica Parker and Molly Shannon, The Knick alongside Clive Owen, choreographing for BD Wong and Donny Most of Happy Days, Studio City (VICE), Manhattan Love Story (ABC), Shackled (in production), TEST, and Stories from the Microchasm with John Sanborn. With a stunt background, she often plays detectives, tough seductive roles, and collaborates regularly with cinematographer Michael J. Burke. Her heritage is Native American, Jewish German, Spanish, Italian, Irish, French, and Indian. She is named for Cape Breton, Nova Scotia where her family created a commune.  ( for more of Breton's bio