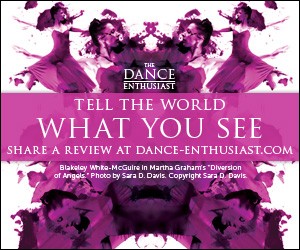 More Audience Reviews
AUDIENCE REVIEW: Parijat Desai Dance Company (PDDC)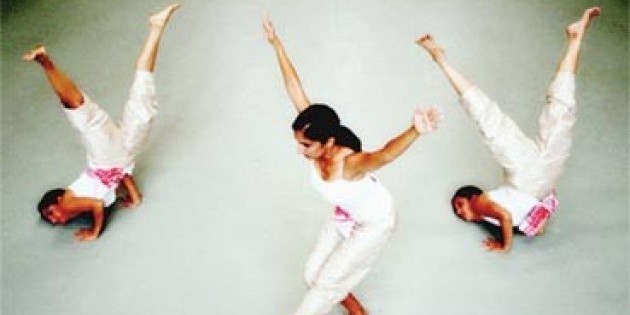 Company:
Parijat Desai Dance Company (PDDC)
Performance Date:
3/24/2010
Company
Parijat Desai Dance Company (PDDC)
Show / Event Name
Artist-in-Residence Works-In-Progress Showing
Performance Date
3/24/2010
Venue / Location
Tribeca Performing Arts Center
Your Occupation:
Writer
Have you ever seen this company/ before?
Tell us a bit about your history with this group/performer?
I had not seen this company before. A friend recommended the company and after seeing it I got to know the choreographer, Parijat Desai.
Why did you go to the show? What did you expect to see?
I went on a friend's recommendation. I expected to see a performance fusing Indian and non-Indian dance together, but I wasn't sure how that would be done. I was in for a pleasant surprise!
What was your favorite moment(s)? What inspired you?
PDDC was very artistic and experimental about mixing forms of dance that are so different. My favorite moment involved two girls on stage, dancing with each other, within one another, responding to each other's movements, space and emotion with the intensity of Indian classical dance and the intuition of modern movement.
Describe as plainly and as specifically as you can what you actually saw. We are going for description without judgement.
There is no need for complete sentences, phrases and word lists are fine. You can describe these elements or anything you can think of: the artists, the kinds of movement, the qualities of the movement, the use of the stage/space, the musicality/timing...
A work-in-progress is constantly moving, shifting, evolving—a dance in itself. In their recent showing at Tribeca Performing Arts Center, Parijat Desai Dance Company (PDDC) moved through this space of vision and revision with nimbleness and concentration, drawing the audience into their bold experiments. Presenting excerpts of two new works, Artistic Director Parijat Desai finds dance in the seams between different fabrics of form, including Indian classical dance (bharata natyam) and American modern/post modern dance. She delivers a taut demonstration with her ensemble; the final performance can only be more alluring.
Dancers Aditi Dhruv, Kiley Durst, Carly Fox, Belinda He, Mohan Kulasingam, Cori Marquis and Riyo Mito are warming up as the audience files in, revealing snippets of their performance as they leap and twirl, stretch and twist. For this viewer, such informality is an unconventional introduction to the dance and the dancers; a conversation has begun between dancer and viewer, and the music hasn't started playing yet.
Desai first shares excerpts of her tentatively titled piece Make Space, performed to electronic music by Dave Sharma/SubSwara, Ryuichi Sakamoto and Samita Sinha, which itself recontextualizes Indian instrumentation and vocals. The dancers begin in a cluster with classically Indian footwork and spread out to fill the stage as the music. The music's contemporary beats anchor dancers' movements, which originate from sculpted Indian form but unfurl at different angles, creating an unusual modern aesthetic. The gestures and positions of bharata natyam become dynamic as performers undulate their bodies, roll to the floor, and permeate the stage space. Crisp and light, the dancers' steps emanate to all four corners of the stage, creating a space to dance within, and a dance to take space with.
The second piece shared, Songs to Live For, is based on North Indian classical vocal music and references the Mughal courts where this music developed. Desai uses recordings by renowned classical musicians, but for PDDC's upcoming June performance, envisions collaborating with local talent; live music allows for inspired exchanges between the musicians and dancers as would have happened in the court centuries ago. The excerpts are also enhanced by a stream of art work projected onto the back of the stage (designed by Swati Khurana and Neeraj Churi). Eternally calm and august figures—exalted Mughal royalty—watch in painted silence as the dancers bring to life scenes of the age-old story of love and devotion.
Songs, performed by the ensemble including Desai, appears to tell a more established story but without a script. Typically, Indian classical dance acts out the words being sung and adheres tightly to what is played by musicians. But Desai responds intuitively to this haunting music, and has worked with her company to develop a more complex and intimate narrative. Dancers morph between specific formations—four dancers depict a diamond of pillars; three bodies draw a slanted line; one figure shadows another. There is also the unpredictable arc of a conversation, crying to the Lord about a broken heart in one section. The dance becomes the music and the music the dance: we hear pining in the rich soundscape and see it in the tapering forms of the dancers. At one point, dancers gather in a corner and cheer on their peers, doubling as musicians and viewers, clapping to sustain the rhythm, further blurring the line between music and dance.
Individually, each dancer gestures elaborately, making full use of the body with a spectrum of delicate, angular, sinuous movement. In a tense and sensual duet, Durst and Marquis spill into each other's space with tender hugs and vehement leaps: they flail at and fall onto each other, they twirl around each other and support each other's jumps. Both female, they challenge the notion of a love tangle being exclusively between man and woman; love, like spirituality, knows no boundaries, and gender is but relative. Their conversation appears to move through arguments, agreements, revelations and questions and the audience is left curious about divinity, friendship, trust, and the sense of self.


Desai adapts the tools of dance to expose the edges between techniques, and to map an ongoing process of constructive transformation. At the intersection of classical and experimental forms, she poses the question, Should dance tell an established story or convey a personal interpretation? PDDC's work plays at both, revealing points of contrast and convergence between tradition and individual expression, between historical moments and lingering emotions. Dance is a fluidity of grace and posture, and Parijat Desai Dance Company captures this exchange of flesh and air with precision and truth.
Tribeca Performing Arts Center will present Parijat Desai Dance Company in performance Saturday June 5 and Sunday June 6 in Theater 2. tribecapac.org/air.htm | parijatdesai.org
Do any images, colors or feelings pop into your head when you think about this show?
The dances evoked so many images! The Mughal court scenes in 16th and 17th century India. Landscapes of rigid architecture and animated dancers. Broken hearted lovers and others exploring intimacy. Dark reds and rusts for royalty, deep blue-black moonlit skies.
Describe any or all of these elements: music, lighting, the venue. - How did they contribute (or not) to your enjoyment of this performance?
PDDC used different genres of Indian music for different pieces. Their opening piece was set to contemporary, even modern, electronic Indian music. The later pieces were set to much older music from India's culturally diverse history. The idea was to have the dancers respond to the music, not simply employ it for movement, and PDDC did this very well.
Would you like to see this performance / company again? Would you recommend it to a friend?
Why or why not?
Absolutely. This Works-in-Progress performance is to be followed by more that will have evolved directionally, emotionally and narratively. PDDC had a Q&A with the audience after the performance to solicit suggestions and thoughts to incorporate into their work. I can't wait to see how they enrich what they already have.
Note: Tribeca Performing Arts Center will present Parijat Desai Dance Company in performance Saturday June 5 and Sunday June 6 in Theater 2. tribecapac.org/air.htm | parijatdesai.org
What would you like to have seen more of? Less of?
The performance was informal and a work-in-progress so it was adjusted to fit a specific time slot and lacked the continuity of a complete performance. I look forward to seeing it in its entirety.
I enjoyed the melding of dance styles that the artistic director, Parijat Desai, has been trained in, and approaches the music and space with. I have not seen Indian classical and American modern/post modern dance harmonized into one set of movements, in this way.
If you could, what would you ask the choreographer / dancers?
I would ask them whether, through their dance, they are trying to evoke specific emotions in their audience, or leave the audience to interpret the performance just as the dancers are interpreting the music, art and space around them.