AUDIENCE REVIEW: Honest Process at National Sawdust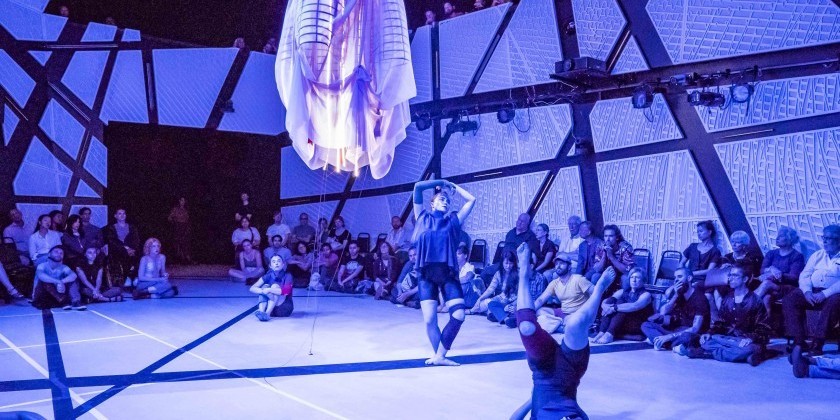 Company:
Thea Little
Performance Date:
July 11, 2019
Freeform Review:

For one mystical night, National Sawdust hosted the Self-Care Olympics. A portal opened into a soft world constructed with sound and light; the space-age venue became a training ground for tests of sensitivity, presence, and endurance. For one fleeting evening, Artist-in-Residence Thea Little's Honest Process reoriented conventional definitions of movement and sound.
I can't call this a dance, nor can I call it performance art or dance theater or theater or music. Honest Process was an underwater opera from a lost episode of Star Trek. The audience took a deep, sweet dive into the lilac-tinted world of self-care. From the beginning, an incomprehensible yet mesmerizing internal logic dominated the space. Performers Lea Torelli, Katie Norton-Bliss, and Thea Little made the angular room their transformation chamber. A strange, bell-like structure, created by Nicole Lane Fulmer, hung from the ceiling like a ghostly jellyfish or a spectral flower. An oceanic quality pervaded the entire production: expansive sonic environments, liquid tonal shifts, and spacious movements washed over the audience. Nebulous moments of searching, drifting choreography shifted into direct passes of driven, energetic material, signifying the contrasting energies present in the healing process.
Little's primary source for movement comes from a catalogue of vocal/physical units called Character Capsules. Little describes them in the program as "a combination of facial expression, abstract gesture and vocal sound originally based on rockstars, dictators, grandparents, socialists, and hippies and ideas surrounding ambition and communication." Resulting from research in solo and group works, they are at once artifacts, caricatures, and pictograms. Approximately 300 Character Capsules, from works like Extraordinarily Inverse (CPR, 2018) and Miss Communication (100 Bogart, 2017), make up Little's language. Dramaturg Emily Aiken and Understudy Sayako Kojima, both participants in earlier investigations of Character Capsules, lent a new angle to this manifestation of the technique. The language, though somewhat incomprehensible from the outside, resonated in Honest Process with comedic and dramatic force. Watching the performers use the Character Capsules is akin to experiencing The Magic Flute sung in its original German and translated into Italian supertitles: the viewer is awash in confusion, delight, and intrigue, sure that some fragment of meaning is slipping away as it is being enjoyed.
The sonic element of Honest Process distinguished this work from Little's other creations. Amazing sound manipulation by Brian McCorkle (and the impressive acoustics of National Sawdust itself) caused each vocalization to magnify and distort so that the combined effect was ambient, intimate, and massive. Expert voice coaching from Peter Sciscioli steered the performers towards unusual renderings of the Character Capsules, thus adding nuance and texture to an already complex score.
The lighting felt tender, earnest, and theatrical, featuring overwhelming shades of pink and purple. The costuming by Nicole Lane Fulmer and hair/makeup by Marisa Mircovich underscored the otherworldliness of the work. The trio appeared at once alien and human, clad in dark, angularly-draped wetsuits, their cheeks glowing with moon-dust lilac highlighter. The whimsy and magic was heightened by Lane Fulmer's suspended sculptural installation: made of pale purple fabric draped over a hoopskirt-like base, the thing emanated ancient feminine energy. Like a mother goddess or grandmother ghost, she presided over the healing process. The performers referenced her with lifted gazes, open chests, and reaching arms; she, it seemed, provided sustenance when the efforts of healing proved too exhausting.
Abstract physical motifs of comfort—stroking, caressing, embracing—provided pedestrian anchors amidst the esoteric language of the Character Capsules. There was just enough unison to prevent the work from drifting into chaos. The performers demonstrated, through intricate phrasework executed both together and apart, various communal rituals: competition, comfort, repose. Torelli and Norton-Bliss acted as handmaidens and fellow participants in these rituals: less mirror images of Little, more idealized familiars with agency and personality all their own. Torelli, comical and commanding, threw herself into high-velocity floorwork and finessed a slapstick soft-shoe or two. Norton-Bliss, tart and brittle, revealed wicked extensions and struck imperious poses. Together, they executed interweaving partnering interspersed with precise turns, leaps, and balances.
Honest Process required endurance for the viewers and the performers. Little engineered constant tension between tedium and intrigue and asked us to witness it all. As I beheld the unfolding work, I found myself wondering whether Honest Process was a healing exercise for the audience or the performers, or both. I could not move my body or lay my body down along with the performers, but I was comforted to observe them describing and enacting choice with and for each other.
Honest Process took the time it needed to take. Time was, as it is in any other healing ritual, subordinate to the healing itself. There were no winners in the Self-Care Olympics: just a trio of bodies nourished by communal tasks. Indeed, Little and her collaborators were honest about the process.
Author:
Dot Armstrong
Photo Credit:
JILL STEINBERG