More Audience Reviews
Contribute
Your support helps us cover dance in New York City and beyond! Donate now.
AUDIENCE REVIEW: Delirious Dance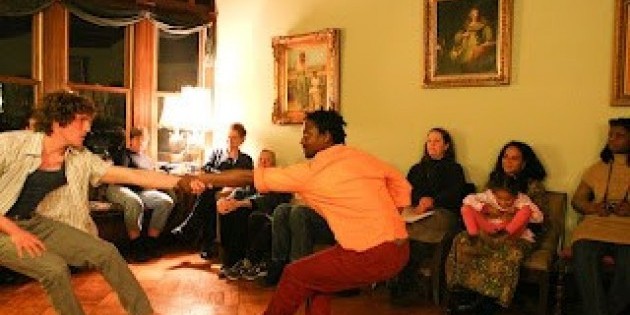 Company:
Delirious Dance
Performance Date:
February 9th,2008
Company
Delirious Dance
Show / Event Name
Liasons
Performance Date
February 9th,2008
Venue / Location
Debs home/Brooklyn NY
Your Occupation:
Dancer/Writer/Mother
Last time you moved your body:
stretching while brushing my teeth
Have you ever seen this company/ before?
Tell us a bit about your history with this group/performer?
Yes...
Edisa Weeks , the artistic director/choreographer and co at The Puffin Room in Manhattan.
Really enjoyed a solo she performed with computer generated images.
Why did you go to the show? What did you expect to see?
Intrigued by a dance company touring living rooms in New York.
Heard she did it in Germany too!
I had no idea what to expect.
What was your favorite moment(s)? What inspired you?
Seeing the dancers use the architecture of the home in their performance- staircases,
the kitchen door, the alcove- Full Sweeping lifts, runs,leaps, and rolls in a living room ...so unusual , great to see - solo in which dancer used 2 audience members to balance
Describe as plainly and as specifically as you can what you actually saw. We are going for description without judgement.
There is no need for complete sentences, phrases and word lists are fine. You can describe these elements or anything you can think of: the artists, the kinds of movement, the qualities of the movement, the use of the stage/space, the musicality/timing...
Started like a party in the center of the floor, couples dancing to "easy listening" music, then a duet for gal and guy with lots of lifts-a solo for woman and many pairs of undies, a solo for a man who moved audience members- a teasing stripping trio- male duet- and
back into group-audience joined
Do any images, colors or feelings pop into your head when you think about this show?
being uncomfortable with some of the emotional content and intensity of performers in the living room setting...2 gals teasing a guy and taking off his shirt and finally pants- they seemed to taunt him and I felt very uncomfortable watching- I wanted to stop them-
some other instances like that
Describe any or all of these elements: music, lighting, the venue. - How did they contribute (or not) to your enjoyment of this performance?
The venue was welcoming- homey. sat on a comfortable leather chair in stocking feet- there was wine and seltzer- audience members chatted- . dancers spoke with friends in the kitchen.This kind of atmosphere seems a great and unique way to introduce people to a company's work-
Would you like to see this performance / company again? Would you recommend it to a friend?
Why or why not?
I am in love with the idea of this performance and the possibilities for it. I hear elements of the show will be performed on stage in April- I would like to go.
I think some of the situations would read better on stage. Not all my friends like to feel as if they are part of the show.
What would you like to have seen more of? Less of?
more dance. More care with the intensity of emotion in the room. A living room is more intimate than a very small theater. More gentle audience involvement, if at all. Perhaps setting up the evening with an announcement- ie " if you would like to be involved sit here or not sit here" -boundaries
If you could, what would you ask the choreographer / dancers?
1. How much did your piece change from one venue to another?
2. Do you enjoy performing in this type of setting?
3. In rehearsals did you speak about performance quality and intensity in various spaces?
4. What was your driving goal for this?
a. bring audiences to art b. provoke c.experiment