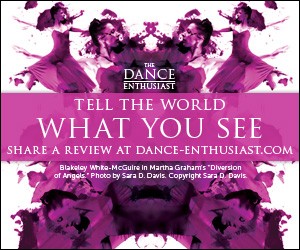 More Audience Reviews
AUDIENCE REVIEW: Hartt Dances Fall 2021 (LIVE + VIRTUAL)
Company:
The Hartt School Dance Division, The University Of Hartford
Performance Date:
11-11-2021,11-12-2021,11-13-2021
Freeform Review:

I personally envy these young dance artists at the Hartt Dances... I so wish to experience these master works during my youth that was long time ago…
I am not complained my own experience and now I watch them rehearse, coached by those who actualy worked with masters and I learn a lot from them too!
At HARTT DANCES, there were 2 world premieres by Debra Collin Ryder and Katie Stevinson-Nollet. Short but charming La Bayadere, Merce Cunningham's event put together by Andrea Webber and Music department to play John Cage's music and There is Time by Jose Limon.
I am not a writer so here are some impressions from those I trust. And Please find program in the end!
*****
Writer #1: That was one great concert! Our first venture out into the real concert world since since the world was put on hold almost two years ago. And well worth it! Thank you.
Some after-thoughts--
1. An incredible jump in the level of classical dance abilities of the woman students. 5-10 years ago there was no way most of them could have handled Debbie Collins Ryder's piece, let alone try to dance the Bayadere excerpt. I may well be wrong but I had the sense that many of the students were even more comfortable with the ballet pieces than with the modern dance works and this was a break from the past.
2. I loved Debra's piece. Interesting choreography-- quite lovely, in fact. All within the dancers' capabilities. Perfectly rehearsed and beautifully danced. She used the entire floor beautifully, with interesting patterns and a lovely flow. (Please pass this fan letter on to the choreographer if you wish.)
3. I have always loved Katie Stevenson-Nollet's creations and this was no exception. I thought the students rose nicely to the challenge of a not-so-easy piece of pure dance.
4. I have always been a big Merce Cunningham fan and was delighted that you were brave enough to do this piece. This is difficult stuff. We have seen some great Cunningham performances in the past as well as some not-so-great ones and the Hartt performance ranked well up there. I think the dancers really got the sense of the dance and may in fact felt liberated by not having to worry about following the music literally. I thought they did this really well. And of course it was fantastic to have the great percussion group partner with you to handle the not-so-easy Cage music (admission-- I am also a big John Cage fan). I found myself responding as Cunningham would have liked, seeing the dancers and musicians as independent, yet closely linked partners. Bravo. Hope to see more Cunnngham works in the future. (Andrea Weber seems to have done a terrific job in getting a college dance group to handle this difficult stuff so effortlessly. Bravo to her too.
5. The Bayadere excerpt-- I thought you were brave to do this and the students were valiant in their efforts. Were these a younger level group than for the other pieces?
6. I think I may have already used up my allotment of superlatives before even getting to There Is A Time. We've become used to the Hartt dancers doing an outstanding job with Jose Limon's works. And this was no exceptions. Perfectly done and the high point of an excellent afternoon. I won't even try to go into details except to comment on the combination of incredible charisma and outstanding dancing ability of the two lead male dancers (Alexzander Larson, Blue Richardson). Fantastic. The combination of tension and lyricism was thrilling, really thrilling. As a matter of fact, we were both struck with the caliber of the male dancers throughout the evening, but especialy in the Limon piece. The best of the men may even have eclipsed the level of the best woman dancers; quite a turnabout from the past. (We both had the impression that the two men may have bright futures ahead.) ​
Writer #2: Let me say again, in writing, how much we enjoyed the dance performance Saturday afternoon. Eric and I are always heartened and impressed with the professionality, grace, and true artistic expression of Hartt dance students. Clearly, your efforts to create a dynamic, superior quality pre-professional program result in outstanding performances and educational excellence that may be unparalleled in dance programs nationwide. Please extend our thanks to the many people who contributed so richly to this production!
Writer #3: The students dance a wide variety of genres and styles with joy and conviction. As audience members, their individual personal light radiates as they work in sync with their peers. It gives us hope to know that despite all of the enormous challenges we have faced in the last many months that high standards and a devotion to the power and love art is possible, and perhaps needed now more than ever.
Writer #4: What a wonderful performance last night! The exceptional variety of the program showcased the breadth of the department's work. The caliber of faculty choreography coupled with the ability of the students to transition so well from one dance form to another made the performance an unforgettable experience.
Writer #5: I simply wanted to send a note of congratulations for a gorgeous performance last night. It was so exciting to see such beautiful technique and artistry up close and live! Wonderful work from beginning to end.
Writer #6: Amazing! It was beautiful, moving, and powerful. Each piece brought me to another world. Congratulations!!
Writer #7: Another great night of dance! The dancers performed so professionally, and it was a very interesting program. The videographer did a good job mixing in his three cameras to show what was going on in the Cunningham/Cage work, and all the others for a different perspective. Blending two cameras at a time was a great idea. Thanks for another enjoyable evening!
Writer #8: This performance is on such a high level, we were so moved by the artistry and professional work of your dancers! Just fabulous. Wish we could be there… we will watch again tomorrow. Congratulations!
Program: HARTT DANCES FALL 2021
Dale Merrill, Dean
Stephen Pier, Artistic Director of Dance
* * * * *
Fairmount (Premiere)
Choreographer: Debra Collins Ryder
Music: Bologne Quartet, op. 1 (1773) Composer: Joseph Bologne le Chevalier de Saint-Georges String Quartet Dircetor: Emlyn Ngai Costumes: Colette Benoit and Jennifer Ellenberger
Dancers:
Taylor Brett, Kennedy Davidson, Yyvonne Ramos, Kristina Shaw, Grace Smith, Anissa Sroka, Alli Tomski
Understudy: Kaitlyn Combs
String Quartet:
Marnielle Charles (viola), Hugh Chomentowski (violin), Akili Farrow (violin), Alexa Shepardson (cello)
Around the turn of the century, on a summer afternoon in a city park, young women gather to enjoy the beauty of nature and music. They joyfully dance to three movements written by the first Black classical composer, Joseph Bologne.
* * * * *
swimming in the deep end
Choreography: Katie Stevinson-Nollet
With acknowledgement to the dancers for their creative input Music/Composer: Reeling, Julia Wolfe, performed/recorded by Bang on a Can Costumes: Colette Benoit and Jennifer Ellenberger
Dancers:
Jadelyn Cappella, Shannon Courtney, Michelle Dimuccio, Hayden Kiely, Aspen Mason, James O'Gilvie, Caitlyn Richter, Isabella Silvercase
* * * * *
Millard MinEvent
Choreography: Merce Cunningham
Arranged and staged by: Andrea Weber
Choreography by Merce Cunningham © Merce Cunningham Trust. All rights reserved.
Dancers: Colby Connelly, Hannah Davis, Alexzander Larson, Blue Richardson, Isis Schwellenbach
Musicians: The Hartt Graduate Percussion Group - Lucas Conant, Allison Littlejohn, Honoka Masuyama, John Zazo
A MinEvent is an uninterrupted sequence of excerpts drawn from the work of Merce Cunningham. The material for this MinEvent includes material from the following dances: Scramble (1967), Landrover (1972), Points in Space (1987), Field and Figures (1989), CRWDSPCR (1993), Ground Level Overlay (1995), and Biped (1999). Each MinEvent is unique and is designed to suit the particular space in which it is presented. This MinEvent was arranged and staged by Andrea Weber expressly for the dancers of the Hartt School.
"...seen from a particular point of view, music is simply the art of focusing attention on one thing at a time. In my recent works, I have tried not to focus the attention on one thing at a time, and have used this principle that I call 'musicircus' – of having many things going on at once; the simultaneity of unrelated intentions." - John Cage
FROM But what about the noise of crumpling paper which he used to do in order to paint the series of "papiers froisses" or tearing up paper to make "papier dechires?" Arp was stimulated by water (sea, lake, and flowing waters like rivers), forests (1985), THROUGH Amores mvt. II (1943), Branches (1976), Suite for Toy Piano (1948), Composed Improvisation for One-Sided Drums (1987), AND Speech (1955), TO Amores mvt. III (1936)
* * * * *
Excerpt from La Bayadere
Choreography: Marius Petipa
Music: Ludwig Minkus
Re-staged and arranged by: Hilda Morales
Lighting: Aaron Hochheiser
Soloists: Hanna Davis, Isis Schwellenbach
Corp de Ballets: Taylor Bret, Jadelyn Capella, Kaitlyn Combs, Shannon Courtney, Kennedy Davidson, Michelle Dimuccio, Tessa Flynn, Meghan Keller, Makayla Morris, Erin Morrisey, Yvonne Ramos, Grace Smith
* * * * *
There is a Time
Choreography: José Limón
Music: Norman Dello Joio
Staging & Direction: Nina Watt
Original Costume Design: Pauline Lawrence
Original Costume Recreation: Mary Sheldon
First performed April 20, 1956 at the Juilliard School of Music by the José Limón Dance Company
"To every thing there is a season, and a time to every purpose under heaven;" THE ENSEMBLE
"A time to be born, and a time to die;" Alexzander Larson
"A time to plant,..."
Hayden Kiely, James O'Gilvie, Blue Richardson
"and a time to pluck up that which is planted;"
Colby Connelly, Hayden Kiely, Aspen Mason, James O'Gilvie, Caitlyn Richter, Kristina Shaw, Anissa Sroka, Alli Tomsik
"A time to kill...;"
Blue Richardson – 11/11 eve and 11/13 mat Alexzander Larson – 11/12 eve and 11/13 eve
"And a time to heal;"
Kristina Shaw and James O'Gilvie – 11/11 eve and 11/13 mat Alli Tomsik and James O'Gilvie – 11/12 eve and 11/13 eve
"A time to keep silence, and a time to speak out;" Catlyn Richter and Blue Richardson
"A time to mourn;...and a time to weep;" Aspen Mason, Kristina Shaw, and Alli Tomsik
"a time to laugh...a time to dance;"
Anissa Sroka with
Hayden Kiely, James O'Gilvie, Blue Richardson, Caitlyn Richter, Kristna Shaw, Alli Tomsik
"A time to embrace, and a time to refrain from embracing;" Colby Connelly and Alexzander Larson
"A time to hate, a time of war;"
Aspen Mason with
Hayden Kiely, James O'Gilvie, Blue Richardson, Anissa Sroka & Kristina Shaw – 11/12 eve and 11/13 eve;
Alli Tomsik 11/11 eve and 11/13 mat
"A time to love...a time of peace;" Colby Connelly with the ensemble
HARTT SCHOOL DANCE DIVISION FACULTY AND STAFF~
Barbara Ally ~ Dance Administration
Debra Collins Ryder ~ Ballet, Pointe, Repertory, Music in the Ballet Studio, Dance History, Pedagogy Supervisor
Sofia Diouk ~ Music in the Ballet Studio
Lief Ellis ~ Technology in Dance
Katrina Hawley ~Movement Fundamentals, Pilates, Issues in Pedagogy, Dance Kinesiology
Sarkis Kaltakhtchian ~ Ballet, Character Dance
Nelly-Lugo Larcheveque ~ Physical Therapist
Tim Melady ~ Ballet, Pas de Deux
Hilda Morales ~ Ballet, Pointe, Variations, Ballet Pedagogy, Repertory
Rene Olivier ~ Ballet, Pointe
Miki Orihara ~ Martha Graham Technique, Repertory
Ralph Perkins ~ Martha Graham Technique
Stephen Pier ~ Division Director, Ballet, Men's Technique, Variations, Repertory, Pas de Deux
Pam Rosow ~ Dance Nutritionist
Larry "Z" Rowe ~ Dance Production
Katie Stevinson-Nollet ~ Contemporary Dance Forms, Composition, Repertory, Dance for Camera
Kathryn Swanson ~ Music History, Music Theory, Musicianship for Dancers Nina Watt ~ Límon Technique, Repertory, Performance Techniques
PRODUCTION CREW~
Stage Manager~ Kate Cudworth
Lighting Designer~ Aaron Hochheiser
Audience Services Manager: Christopher Webb
Technical Director~ Tom Fetera
Director of Technical Theater Service~ Larry Rowe Costume Shop Manager~ Collette Benoit
Cutter/Draper ~ Jennifer Ellenberger
Wardrobe Supervisor~ Sophie Firestone
First Hand/Stitcher~ Marti Simmons
Stitchers~ Courtney Kossick, Amanda Smith
Costume Rental & Stock Coordinator~ Timothy Milligan Videographer~ Jeffrey Schlichter
Photographer~ John Long
Author:
Miki Orihara
Photo Credit:
John Long