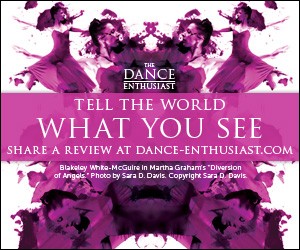 More Audience Reviews
AUDIENCE REVIEW: Red at Triskelion Theater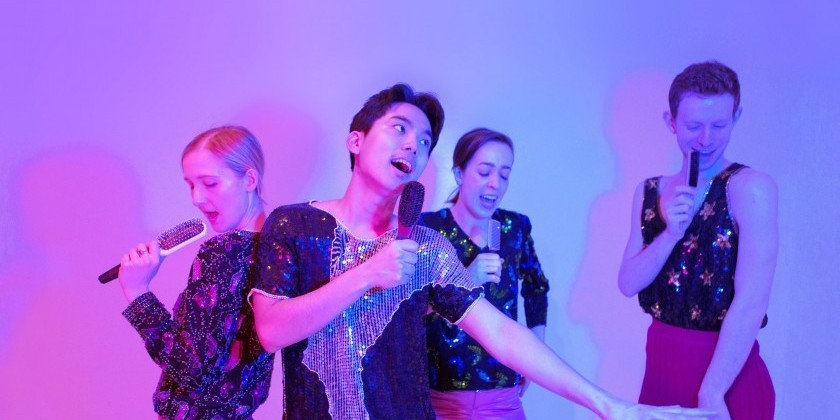 Company:
2nd Best Dance Company
Performance Date:
June 14, 2019
Freeform Review:

Once upon a time, there was a Wolf who was or was not Will Noling, Red who was sometimes Ryan Yamauchi, a Reporter who was probably Courtney Barth, a Granny who was definitely sewn into her costume by Ariel Noltimier Strauss, and a Narrator, who was briefly Hannah Garner. But they switched and swapped their names until nobody quite knew who was who. It didn't matter much because all of them were strong and brave and funny. They pointed their feet sometimes, and fell off of chairs, and lifted each other very high into the air. They called their show Red.
They lived on a stage at Triskelion Theater, a black box that was more deep than wide with two telephones on either side. For three whole nights they lived there, and many people came to clap for them. I was one of those clapping people.
I applauded the complexity, the attention to detail, the cleverness; I put my hands together for the finesse of each plot twist and phrase of luscious movement. Hannah Garner is a master of make-believe. Her mind is all rising action, dashing denouements, and clever one-liners.
2nd Best Dance caught my eye when they were 2018 Artists in Residence at Gallim x create:ART; in a twinkling, I found them again as the 2019 Artists in Residence at Triskelion. With dramaturgical assistance from Patrick Garner and Ann Noling, lighting by Matt Morris, and costumes by Ariel Noltimier Strauss, 2nd Best Dance, ironically, keeps up the superlative work. The particular brand of dance theater the company produces is hot—cheerfully subversive, disarmingly personal, and predicated on rock-solid technical movement. But Garner has deepened her craft enough that it transcends trend.
Red was a zany, thoughtful re-telling of the familiar tale of "Little Red Riding Hood" for a millennial audience grappling with existential questions big as wolves. The characters, at once fickle children and world-weary adults, use the fairytale structure to explore curious angles on revenge, death, love, desire, forgiveness, and risk. Garner took the audience on a journey to find the grown-up narrative housed in a children's story, something deeply relevant about aggressors and victims, about courage and protection and deviation from paths.
No dancer has a fixed identity within the story, encouraging us to believe that the story keeps changing even as it is being told. Rotating perspectives made gender roles ridiculous and irrelevant and infused the production with queerness. Wolf (Will) got campy in an elaborate pseudo-drag solo to Brenda Lee's "I'm Sorry" while Hannah and Ryan waved red feather fans in the background. Red (Ryan) and Wolf (Courtney) performed a savage duet that began as dinner and ended as desire, experimenting with the frightful sensuality of eating each other's body parts—which, by the way, looked like something between first kiss, first blow job, and first bite of steak. Hannah attempted to recreate Red's (Ryan) demise by exploring different ways to fall off of a chair, some more successful than others.
The technical elements were flawless—not an easy task, considering the show had its share of quick scene changes and complex cues. Matt Morris' lighting contextualized the theatrics in a seamless, sensitive manner, highlighting the mystery and performativity of the production. One choice, however, gave me pause: Granny, the pillowy fifth element, was a prop. I puzzled over this and chalked it up to the interchangeability of characters.
When I say the work had gravity, I don't mean it was serious. I mean the dancers threw themselves through space in that satisfying, breathtaking, Doug Varone way and invited us into genuine investigations of heavy thoughts. The musicality was as impeccable as the comedic timing: sweeping, stomping, skittering phrases to Chopin and ABBA sped the plot along.
Garner's smart choices, the balance of speaking, singing, and movement, lent rich texture to the production. The scenes felt like outtakes from a surreal musical. Red (Hannah) on the phone with Wolf (Courtney), discussing what being eaten feels like while Will and Ryan slow-dance center stage. Red (Ryan) and Red's Mother (Hannah) explaining for the Reporter (Courtney) the fateful trip to Granny's with a laborious hand-jive kick-line. The entire cast grooving to "Dancing Queen" while Wolf (Will) sings the same line over and over. A hilarious and touching panoply, like rooms in a Wes Anderson dollhouse.
Red had the atmosphere of an absurdist late-night talk show and the intrigue of a lurid fan fiction written by a hopelessly romantic high schooler. Familiar scenes warped and waxed larger-than-life; known narratives took hairpin turns into strange territory. Heroes and villains impersonated each other and walked into the sunset holding hands. Who's to say if they lived happily ever after.
Author:
Dot Armstrong
Photo Credit:
Ingrid Holmquist