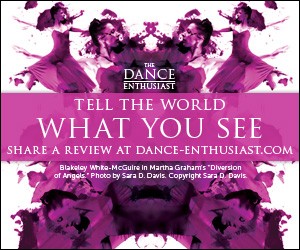 More Reviews
AUDIENCE REVIEW: SAWTOOTH
Company:
SAWTOOTH
Performance Date:
May 16tth
Company
SAWTOOTH
Show / Event Name
AIR DROP POP
Performance Date
May 16tth
Venue / Location
TANK
Your Occupation:
Academic
Last time you moved your body:
Child's Pose this mornign
Have you ever seen this company/ before?
Tell us a bit about your history with this group/performer?
No, never seen this company before. A friend told me about the show and I went.
Why did you go to the show? What did you expect to see?
I was expecting something less usual, but I was taken by how dynamicism of tempo and style. As soon as I was lulled by a smooth lyricism, the pieces would jolt us with a staccato-like break making for quick crescendos.
What was your favorite moment(s)? What inspired you?
Bagpipes and busy dancers filled with improvisational tension until commanded to pop balloons in militaristic synchronicity.
Describe as plainly and as specifically as you can what you actually saw. We are going for description without judgement.
There is no need for complete sentences, phrases and word lists are fine. You can describe these elements or anything you can think of: the artists, the kinds of movement, the qualities of the movement, the use of the stage/space, the musicality/timing...
1. Solo piece that seemed to be a tragic evolution of a Performers devolution from pride-filled belter to obscurity. Abstract lyrics and wave-like stomping rhythms gave way to somber sitting, undressing, followed by gymnastic turns and whirls. Also possibly a commentary on age, with an independent adult's tranformation into a dependent child.
2. Symbiotic, womb-like duet, darkly interconnected.
3. Futuristic, alien netted faces move in tandem; slow movements working off each others feminity. Brief freedom of movement in the piece's intermediate stage gives ways to forced mechanicalism of a stepford wife-like simplicity.
4. Morning inspection of Chelsea beginning with alarm clock and all, as Chelsea experiments with her day on stage.
5. Alpha male dancer is flanked by women on both sides as he tries to assert his dominance through throws, and flips, as he docey-does and riverdances around them. The power of 3 is in full force and with a triumphant 21-Balloon Salute for a grand finale.
Do any images, colors or feelings pop into your head when you think about this show?
Pops, whistles, flashes oh my!
Describe any or all of these elements: music, lighting, the venue. - How did they contribute (or not) to your enjoyment of this performance?
The venue seemed to be somewhat limited insofar as lighting. At one point in order to put light near the front of the stage they illuminated half the audience which was distracting. I assume this was due to limitations in the lighting infrastructure, and not intended by the choreographer.
Would you like to see this performance / company again? Would you recommend it to a friend?
Why or why not?
I would recommend this company to anyone wishing to see something refereshingly different. I imagine each performance will be likely to surprise and only remain constant with respect to its intensity. However, if someone is looking for traditional old-school dance, I would advise them to look elsewhere.
What would you like to have seen more of? Less of?
More. The show could definitely have been longer. Both additional pieces and the lengthening of a few.
If you could, what would you ask the choreographer / dancers?
What was the desired theme of the works a s a synthetic whole. A Wounded, Vulnerable Feminity seemed to be the dominant theme, as even proud women are reduced to nothingness, women struggle to assert themself against a patriarchial dominance, are inspected under morning light, and caught trapped under nets and transformed into stepford beauties? Is the upshot one of tragedy, the imprisonment of Woman, who struggles nontheless (futilely?), yearning for self-expression?