More Reviews
Contribute
Your support helps us cover dance in New York City and beyond! Donate now.
AUDIENCE REVIEW: Kun-Yang Lin/Dancers at Uptown! Knauer Performing Arts Center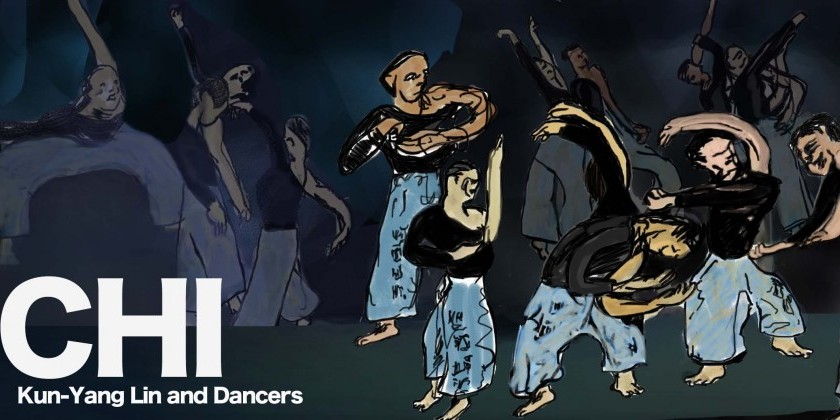 Company:
KYL/D
Performance Date:
October 22, 2021
Freeform Review:
Kun-Yang Lin gives a very spiritual outlook to his choreography that forms dances that challenge prevailing dangers in our world today. All the dancers move with such a momentum. The dancers create from single gestures to complete phrases that expand to an ensemble piece. The central element in KYL/D is Chi, based on the breath, energy or life's source. This evenings program opened with a piece entitled Chi created in 2002.
Chi performed on October 22nd shook the stage in a gentle way. Since we have all been away from live theatre. In an interview with Kun-Yang-Yang Lin, he has seen how the dancer's practice in chi through the Pandemic 2020 grew more essential through isolation.
The atmosphere on stage starts to blend movement, and shimmers of the dancers flesh with this dance highlighted by a blue hue. The costumes designed by Heather McGinnis / Jill Peterson carry a message down the pant with brush writing tai chi. 
The ensemble forms are subtle. Bending down, lifting up, the ensemble created a weight lesser to show the breath or life's source. Silhouettes rush by and join a group of dancers together they climb a calm ascent. It is a motion quick and steady, still and stuttering, and blending in a swirl of substance. Like the Ancient Greek naturalist philosophers, chi is that one thing which seems consistant in the evolution of human life.
The design in Chi prepares the audience for the fantasy of the next piece, Moon Dance. It is at the exact point of the program where we would learn about our protagonist at the beginning of an Epic story. Performer Dominick Brown dances a solo of acrobatics and drawing on landscapes, culture, and destiny, or fate. Moon Dance was created in 1994.
A new piece, an excerpt from a work in progress called Fish & Girl uses sound and careful contortions by Evalina "Wally" Carbonell and Wei Wei Ma. The KYL/D company dances in layers, as though each move brought us closer to consciousness out of dream-state. The statuesque, and rotation of dance artists add mystery to what will come next for us in the arts, business, and industry around the globe.
Ending with Santaurio (2017), a dance made in response to the tragic shooting at Pulse Night Club in Orlando. This thematic piece transitioned  ecstasy to destruction. It performs on the edge of dance theater. The premiere on April 27, 2017 at the Prince Theater was an illustrious art of the Divine Comedy.
The performances were followed by a Q &A with the KYL/D dance artists to talk about the process and flexibility in Lin's choreography. This session raised more questions than answers. What inspires the creation of a dance, and how does it all begin? The repertoire of Kun-Yang Lin is in response to being an immigrant and the discovery of new forms that comes with it. Asking questions is very important, and this made me think about the dancer artists that are really alive in these performances. How do they live in this world?
So I decided to take a Chi Awareness class led by Kun-Yang Lin. From taking one class with Lin I learned that shape is controlled by this invisible energy, which I can only believe was chi. It took my body though these motions I have never experienced before. Dance is like life, as life is like dance rings true for preparing to think about Lin's choreography. The dancers make decisions, improvisations that take experience to react as one, and to come together as one.
Author:
Chuck Schultz
Website:
chschulk.wix.com/rehearsal
Photo Credit:
Chuck Schultz