Bill T. Jones and Students in Film Still "Can You Bring It:Bill T. Jones and D-Man in the Waters" Tom Hurwitz Rosalyn Leblanc
Contribute
Your support helps us cover dance in New York City and beyond! Donate now.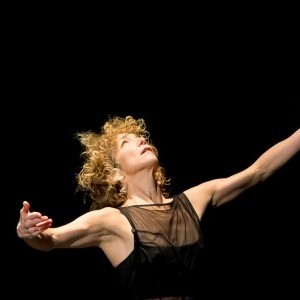 Photo by Photo by Darial Sneed
Heidi Latsky
Heidi Latsky is an inaugural guest editor of The Dance Enthusiast's Moving Visions Initiative. The Dance Enthusiast welcomes artists and enthusiasts to guide our coverage as guest editors. Our guests share their passion, expertise, and curiosity with us while we celebrate their accomplishments and viewpoints. 
---
Heidi Latsky is a committed leader in the physically integrated dance field, whose company, since 2001, Heidi Latsky Dance, has toured internationally and been presented at institutions like Kennedy Center, American Dance Festival, Joyce Theater, Whitney Museum, Cooper Hewitt, National Portrait Gallery, High Line, ICA Boston, and annually at Lincoln Center since 2015. Latsky has presented at TEDxWOMEN, a feature on her work GIMP (2008) was nominated for an Emmy, and she has spoken at Harvard University, Arts for All Abilities, Barnard College, Maxine Green Institute, and Chicago Humanities Festival. She will be a keynote this July at the Seventh International Conference on Movement and Computing.
Latsky created the curriculum for movement for actors for the School for Film and Television in 1995, heading that department for 7 years. Her dance programs have been implemented at integrated public schools and for people with spinal cord injuries. Her training methodology MARS (mindful activation release study) is universally accessible and being taught worldwide.
Latsky's ventures into technology and fashion have resulted in strong partnerships with NuVu Design Studios, Positive Exposure, Fashion Institute of Technology and Google's Creative Lab. Latsky has received awards from Ford Foundation, Creative Capital, Craig H. Neilsen Foundation, NEA, Canada Council for the Arts, and NYSCA, among others.
Since 2015, her short film Soliloquy has screened worldwide. That same year, she was invited by The NYC Mayor's Office to create ON DISPLAY–a live sculpture court-for the 25th anniversary of the Americans with Disabilities Act (ADA). ON DISPLAY is now a global phenomenon, performed annually on the UN's International Day of Persons with Disabilities with, to date, over 78 sites and 24 countries including Indonesia, Korea, Israel, China and Peru. Through evolving versions of ON DISPLAY, Latsky continues to disrupt space, dismantle normal and redefine beauty. 
Most recently, Latsky was commissioned by Lincoln Center for the Performing Arts to create a film titled SOLO FLIGHT for the 30th anniversary of the ADA. She continues to teach workshops nationally, is creating a series of interactive experiences, and is preparing for the first 24 hour Zoom ON DISPLAY GLOBAL2020.
Multitalented Heidi Latsky is an inaugural guest editor of The Dance Enthusiast's Moving Visions Initiative. 
---
Heidi Latsky Dance (HLD), founded in 2001, is a New York-based, female-run non-profit dance company dedicated to disrupting space, dismantling normal, and redefining beauty through radical inclusion, innovative performance, and challenging discourse. The group, physically integrated since 2006, has been called a "milestone in contemporary dance" by Dance Magazine. They've received commissions by the Joyce Theater, Whitney Museum, American Dance Festival, and more. Their films have screened with Central Park Summerstage, Kennedy Center, Harvard University, Jacob's Pillow, and TedxWomen. The company presented the world premiere of D.I.S.P.L.A.Y.E.D at Baruch Performing Arts Center, underwritten by the CUNY Dance Initiative and the Gerald and Janet Carrus Foundation (2017). With support from the DCLA's CreateNYC Disability Forward Fund, the Inaugural Art & Social Justice Award from the Shelley & Donald Rubin Foundation, and Google, this event was incredibly unique. From 2017-2020 with Craig H. Neilsen Foundation funding, they created a pilot program for individuals with spinal cord injuries. This included a program partnership with Mount Sinai Hospital (2020) culminating in multiple performances throughout NYC and a documentary titled We are right here.

The company has virtual offerings that include the creation of three volumetric videos/holograms of two disabled women and Heidi herself, the result of a new augmented reality collaboration with Loren Abdulezer, CEO of Evolving Technologies Corporation. Recent awards include a 2020 MAP Fund grant for Suspended Disbelief, a project altering rules and creating language for artists and technologists to re-imagine accessibility as well as a Canada Council for the Arts project during 2020-21. For more, visit heidilatskydance.org.