Contribute
Your support helps us cover dance in New York City and beyond! Donate now.
π= 3.14.. NOTHINg (World Premiere): Yoshiko Chuma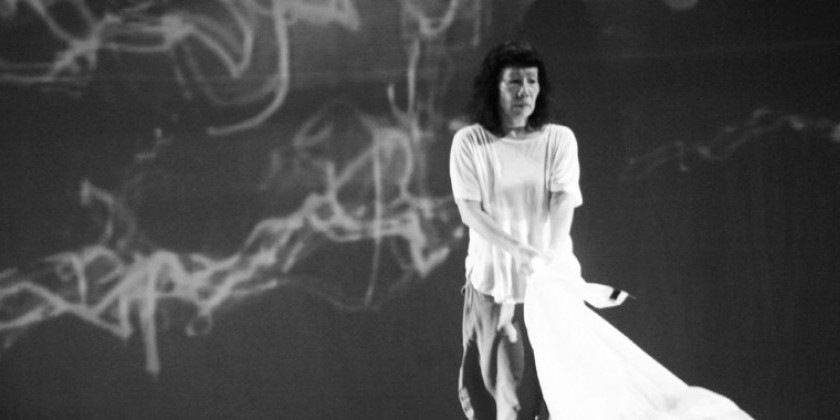 Company:
Yoshiko Chuma
π= 3.14.. NOTHINg (World Premiere): Yoshiko Chuma
June 04 - June 07, 2015
Thursday-Saturday at 8pm, Sunday at 4pm
Ellen Stewart Theatre | 66 East 4th Street (2nd Floor)
π= 3.14.. NOTHINg, or EVERYTHINg - With dry tech endless peripheral border - Fukushima - Kabul - Amman - Ramallah - Berlin
BY YOSHIKO CHUMA & THE SCHOOL OF HARD KNOCKS
CONCEPTION AND DESIGN BY YOSHIKO CHUMA
π =3.14... NOTHINg , or EVERYTHINg is based on a true story which moves along without any direct incident. And, as it goes along, very little happens - all at once. Five cities in the world will connect, somehow: Fukushima, Kabul, Amman, Ramallah and Berlin. Choreography/music/design created in collaboration with Miriam Parker, Saori Tsukada, Nobuko Higushi, Ryuji Yamaguchi, Christopher McIntyre, Kit Fitzgerald, Nick Vaughan, Jake Margolin, Megumi Eda, Dane Terry, Jason Kao Hwang, Lillie DeArmon, Takashi Arai, Gabriel Berry, and Lance Gries.
The School Of Hard Knocks, founded in 1984, is a collaborative effort of multidisciplinary artists working under the Artistic Direction of Yoshiko Chuma. Over the course of the company's history, more than 2,000 people have performed under her direction in situations ranging from theatrical dance concerts to street performances, parades, and large-scale spectacles in the U.S., Europe, and Asia, especially the Middle East.