BAX 2017 ARTIST SERVICES DAY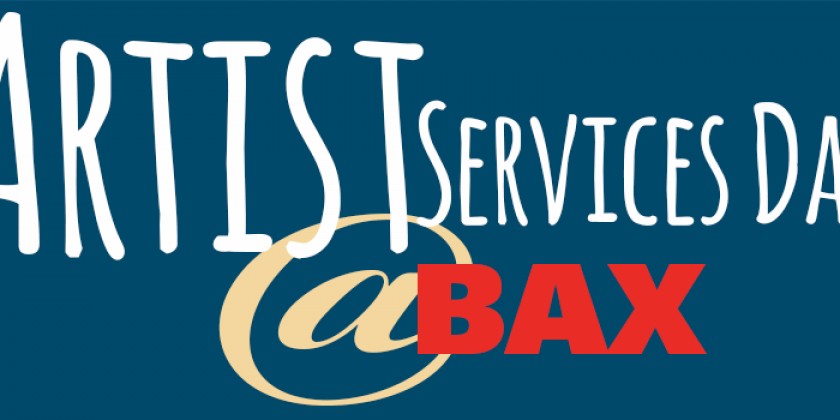 Company:
BAX | Brooklyn Arts Exchange
10:30 – 11:30AM & 1:00- 2:00PM LEARN ABOUT BAX AIR AND SPACE GRANT OPPORTUNITIES
A Q&A with BAX Founding & Executive Director Marya Warshaw and Artist services staff.

Register in advance for 10:30AM HERE. 
Register in advance for 1:00PM HERE.
11:30 – 12:45 PM TALKING ABOUT RACE (AND MORE) WITH CHILDREN
with Jen Abrams, Sarita Covington, Chanon Judson, Nia Love, and Maya Visco

This conversation brings together parent artists of toddlers to adults who will facilitate the group in a process of collectively unpacking how to examine the complexities of racial identity and racism with children. The event will consist of break out discussions and group dialogue that will address the multiplicity of approaches to parenting through a racial justice lens.

Register in advance HERE.
12:00- 1:30 PM DE/RE/PRESENTING THE RADICAL RITUAL: STRATEGIES THROUGH A POLITICAL MYSTIC WITH AIR NI'JA WHITSON 
BAX 16/17 AIR Ni'Ja Whitson presents thoughts, words, and excerpts from a new creative project on performance and the radical / ritual. Inspired by a new work in collaboration with Jaamil Olawale Kosoko, Whitson facilitates a window into the places of rage, healing, and magic making.

Register in advance HERE.
12:30 – 3:30 PM BAX ARTIST IN RESIDENCE TANISHA CHRISTIE AIR Open Studio Showing II
12:30 -1:30: Video deconstruction 
1:30 - 2:30: Movement deconstruction 
2:30 - 3:30: Story deconstruction 
*(Audience members will be "seated" at various intervals. 6 people max per interval) 

bathtub is a multimedia performance event of radical intimacy and surrender by inviting an audience to experience a bath with a Black Woman.

There are few spaces as private as the bath. It is here I have pondered the complexity of my emotions, my femininity, my sorrow and blackness unmediated by others. It is the place where I become intimate with my rage and anguish. It is here that I replenish and refuel. With this work, I am inviting others into this space, to engage beyond the gaze and into a conversation of vulnerability. 

This open studio will deconstruct each aspect of creative work in phases. Content, process and audience relationship will be explored. Pedestrian versus the performative. Witnessing and onlooking versus participation. 

From 12:30p - 3:30p there will be a series of interval events. Sign up required. Note: sensitive material & participants will be filmed and photographed for use in the artist's work. #areyouin 

Register in advance HERE.
1:30 – 2:45 PM ARTISTS TEACHING THEIR ART: A PANEL DISCUSSION ON THE INTERSECTION OF WORKING AS A PROFESSIONAL GENERATIVE ARTIST AND TEACHING ARTIST 
with Eric Aviles, Maira Duarte, José Joaquín García, Naomi Goldberg Haas, Nia Love, and Jill Sigman.

Many artists also teach their art. In this panel facilitated by BAX Education Director, Lucia Scheckner, and longtime BAX faculty member, Donna Costello, we will explore the ways our practices as generative artists can infuse and enrich our teaching practices and vice versa. We will also explore the sometimes tenuous relationship between being a professional artist and a teaching artist. Additionally, we'll identify the kinds of cultural, educational, and community-based organizations that can help us establish a fluid and sustainable relationship between these two roles. We will hear stories from a range of BAX and non-BAX artists and teaching artists, each at different stages of their careers, on their trajectory as artists who teach and about how they have found balance (or not) in this dual work. 

Register in advance HERE.
2:30 – 4:00 PM DANCING WHILE BLACK: A Five Year Retrospective

On the eve of Dancing While Black's fifth anniversary season, founder Paloma McGregor and members of the DWB community reflect on the platform's history and spark a dialogue about its future. Dancing While Black was founded in 2012 to center Black voices in a field that marginalizes our work, particularly artists whose practices do not fit neatly into the reductive labels predetermined for Black bodies in dance. What power does this growing network of artists have in the current political climate? What practices might we contribute to or borrow from broader social justice movements? How are we visioning deepening our work together? 

Register in advance HERE.
4:30 – 6:00 PM HOW DOES YOUR GRANT PROPOSAL GET EVALUATED? FOR INDIVIDUALS AND ORGANIZATIONS 
with Alexa Aviles (Scherman Foundation) Emily Sproch (Howard Gilman Foundation), Morgan Lindsey Tachco (Brooklyn Arts Council) and individual artists/arts administrators, Craig Thomas Peterson, Risa Shoup, Ivan Talijancic and Marýa Wethers. 

Led by BAX Founding & Executive Director Marya Warshaw, these invitees will convene for a conversation about how panels discuss and evaluate grant proposals for individual artists and organizations. Through a public group evaluation of actual proposals, the panel will discuss a range of topics, including: How do panels assess rigor of proposal? What are application "red flags"? How are funding priorities with regards to race, gender, and geographic location accessed and evaluated? How do funders cultivate new applicants while continuing to support repeat grantees?

Register in advance HERE.