Contribute
Your support helps us cover dance in New York City and beyond! Donate now.
Call for Choreography AMERICAN DANCE GUILD FESTIVAL 2019 SHAPING THE NOW Dance in Uncertain Times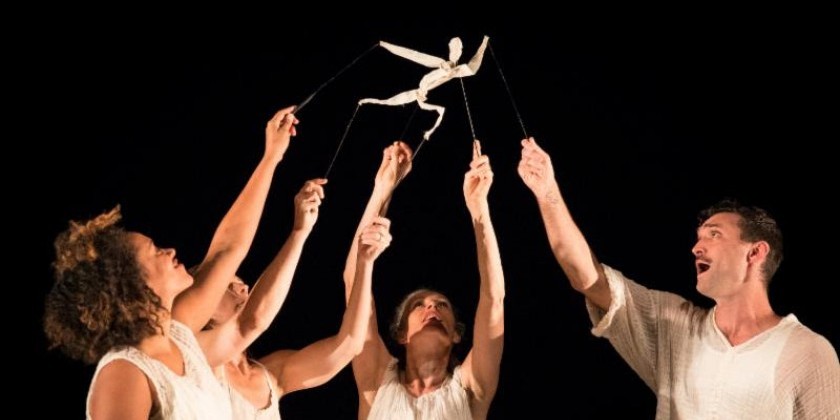 Company:
AMERICAN DANCE GUILD
Call for Choreography
AMERICAN DANCE GUILD  FESTIVAL 2019
SHAPING THE NOW
Dance in Uncertain Times
and
THIS YEAR'S
LIFETIME ACHIEVEMENT AWARDS
Jody Gottfried Arnhold - Founder of DEL at 92nd Y
Gus Solomons, jr. - Dancer, Choreographer, Teacher, Writer
  
Thursday - Sunday - October 3-6, 2019
Alvin Ailey Citigroup Theater
405 W. 55th St. (9th Ave.) New York City
Deadline for Applications: April 20, 2019
with notification by May 31, 2019
 
E-mail applications to: adgfest@gmail.com
 
"Every year the diligent progenitors of American Dance Guild work hard but low-key and end up pouring onto the stage an explosive cornucopia of stellar exemplars of the vast variety of American Dance." ...Douglas Dunn

 
The American Dance Guild (ADG) continues its mission of serving artists and audiences through our annual performance festival. The festival will take place over four days, Thursday through Sunday, October 3, 4, 5, 6, 2019 at the Alvin Ailey Citigroup Theater, The Joan Weill Center for Dance, in the heart of midtown Manhattan.
 
We invite applications from professional contemporary dance artists of diverse backgrounds, ages and aesthetics throughout the United States and internationally. ADG is dedicated to presenting the range and diversity of expression in current dance art practice and to remembering our historical modern dance roots. The festival is unique in that each year we honor and present the work of several dance legends alongside mature and emerging artists making the programs a vibrant blend of the way we dance now. 
 
TO APPLY: It is not necessary to adhere to any theme. You must submit finished professional work that will not have been seen in NYC in the 3 months prior to Festival time. Student works are not accepted. If you applied in the past and were not accepted, PLEASE apply again!  Submissions will be adjudicated by an invited group of professionals in the field. Please keep technical requirements to a minimum!
 
TIME LIMITS: Solo: up to 7 minutes. Duet or Group Work: up to 10 minutes.
No aerial work can be presented. Stage sets must be limited. Video projections limited. 
Questions???   Email: adgfest@gmail.com
 
**************************************************************************
AMERICAN DANCE GUILD - FESTIVAL 2019- APPLICATION 

We are only accepting applications electronically.  Please submit via email:
In subject line put: Last Name / First Name / adgfest2019

APPLICATION FORM BELOW CAN BE COPIED AND EMAILED.
 
CONTACT INFORMATION:
 
Name: _____________________________
Address: ___________________________
City/State/Zip: ______________________
E-mail: ____________________________
Home phone: _______________________
Cell phone: _________________________
 
WORK SAMPLE INFORMATION:
Time limit: Solos up to 7 min., Group work up to 10 min.
The video you submit must be the same piece you intend to perform.
RECOMMENDED: Please send one or more high resolution photos in jpeg format with your application and please mention photographer credit. Please make sure all names are spelled correctly in the format you would want for promotion and program.
Title: ______________________________
Link: ______________________________
Password for Link: ___________________
Length of piece: _____________________
Number of dancers: __________________
Music: _____________________________
Video cuing instructions: _____________
Brief description: (100 words max)
Brief Bio: (200 words max)
 
REGARDING FEES
PAYMENT IS DONE ONLINE. Go to our website www.americandanceguild.org.  
Click on DONATE page and it will take you to Paypal where you can pay with your own Paypal account or a credit card.
$25 application fee per piece submitted.
If your piece is selected there will be a $120 production fee.  
This fee includes your annual membership in the American Dance Guild. 
Additional Fee for video and photo to be determined later.
The American Dance Guild, an artist-member run organization, has served the dance field in many capacities since its inception in 1956, including publications, conferences & festivals. The Annual Festival brings together artists from across the nation and around the world. Other member-generated events include performance opportunities, university dance dept. collaborations; the annual Erna Lindner-Gilbert Scholarship for summer study at Jacob's Pillow; scholarly resources such as the New Dance Group Gala Video and publications such as "Branching Out: Oral Histories of Six National Dance Organizations" and Dance Scope. We welcome the active creative participation of our members. ADG is a 501c3 not-for-profit tax- exempt organization incorporated in NY State. Contributions are welcome and are tax deductible to the extent allowed by law.
 
www.americandanceguild.org
email: adgfest@gmail.com
info: 212-874-6947

 
PLEASE FEEL FREE TO CIRCULATE THIS APPLICATION

Festival 2018 Honoree Jane Comfort's UNDERGROUND RIVER. Photo credit: Yi-Chun Wu