"1.4 Fahrenheit" by Stefanie Batten Bland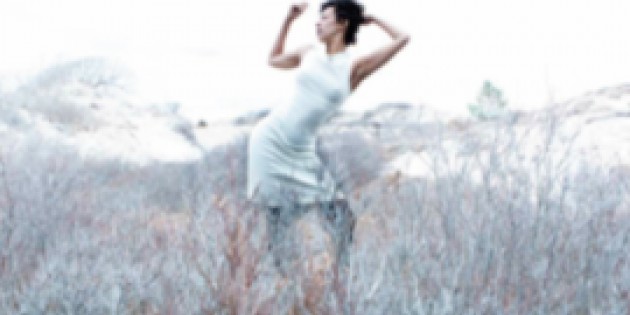 Premiering at the DancePlus Spring concert
The Dance that Came from Garbage
Guest Artist in Residence at Mason School for the Arts- Rutgers University-
Stefanie Batten Bland's piece "1.4 Fahrenheit" will premiere in the DancePlus Spring concert
April 26, 27, 28 and May 3, 4, 5, 2013.

Choreographer/dancer Stefanie Batten Bland had a hard time fitting garbage into recycle
receptacles on the Rutgers-New Brunswick campus this winter and decided to recycle the problem into a dance.

Guest artist-in-residence since January 2013, Stefanie Batten Bland created "1.4 Fahrenheit" for
the dancers of the university's Mason Gross School of the Arts Dance Department, chaired by Julia Ritter.
The piece includes a scenic environment created by Caitlin Carouge of the school's Visual Arts Department.

Bland is a two-time recipient of the Jerome Robbins NEW Essential Works Fellowship (NEW)
and two-time artist-in-residence at the Baryshnikov Arts Center (BAC). This world premiere of
"1.4 Fahrenheit" marks the second time her choreography has been seen in New Jersey since
2009 when the musical Looking for Josephine Baker, for which Bland was Head Choreographer,
came to Montclair State University.

"1.4 Fahrenheit" is the temperature increase of the planet since the 1880s, with two-thirds of the
warming occurring since 1975 (according to an ongoing temperature analysis conducted by
scientists at NASA's Goddard Institute for Space Studies).

This piece fuses European and American contemporary dance techniques and embodies Bland's
own transatlantic career (Europe and the United States). Enclosed by an enormous fishing net
created from found plastic by Caitlin Carouge, the dancers cross, circle, and realize they are
trapped inside together, like creatures trapped in waste without exit. Plastic, which doesn't break
down if not recycled, is woven into the dancers' costumes and helps explore the changes our
lives have encountered as the planet's temperature slowly and steadily rises. The costumes were
created by Meagan Woods and the music is by Ólafur Arnalds.

About Stefanie Batten Bland:
Daughter of jazz musician and composer Edward Bland and writer Mary Batten, Stefanie Batten
Bland grew up in New York City's SoHo before moving to California with her parents, where
she graduated from the Los Angeles County High School for the Arts. In New York City, she
studied dance at the Joffrey Ballet School and the Alvin Ailey American Dance Center. She
attended SUNY Purchase on a dance scholarship and the New School for Social Research on a
scholarship for postcolonial literature studies. In 1998, she joined the Bill T. Jones/Arnie Zane
Dance Company, where she spent several seasons as a soloist. Additionally, Bland has danced for
choreographers, directors, and companies including Sean Curran, Kraig Patterson, Gus Solomons
Jr., Douglas Dunn, Lar Lubovitch Dance, Pina Bausch Tanztheater WuIppertal, Jerome Savary,
Julie Taymor, Angelin Preljocaj, and Pal Frenak.

In 2005 and 2006, SBB and a group of dancers performed as part of Joyce SoHo Presents, a
series created to encourage young choreographic talent. Recognized as a 2010-12 Baryshnikov
Arts Center Artist-in-Residence, a Jerome Robbins NEW Fellow, and a 2011/12 Cambridge
Who's Who of Professionals and Entrepreneurs, she created Company Stefanie Batten Bland in
2008 in France so that she might better investigate the human condition and our relationship
within the natural world.

The company redefines community by creating futuristic environments where spectator and
performer intersect. CSBB has performed live and via Bland's dance-cinema films throughout
Europe, Asia, Africa and the States, most recently in the Ringling International Arts Festival in
Sarasota, Florida, and Brooklyn Museum. Bland frequently works for SYTYCD-Poland and
choreographs for galas and commercial enterprises such as Louis Vuitton, Hermes, Guerlain and
Van Cleef & Arpels. She was 2012 guest choreographer for Alvin Ailey II Company and Frontier
Danceland of Singapore and is currently creating a new work for Zenon Dance Company of London.


DancePlus Spring
Friday, April 26 to Sunday, May 5
Fridays and Saturdays at 7:30 p.m. and Sundays at 2 p.m.
New work from guest artists Stefanie Batten Bland and Laura Peterson. New work from
faculty Paulette Sears, Keith Thompson and Frederick Curry.
Victoria J. Mastrobuono Theater
General Public 5 / Rutgers Alumni, Employees, and Seniors 0 / Students 5 (Student
price available during daytime ticket office hours only, Monday through Saturday.)
To purchase tickets, please call 732-932-7511.