10 Hairy Legs' 2018 NEW YORK SEASON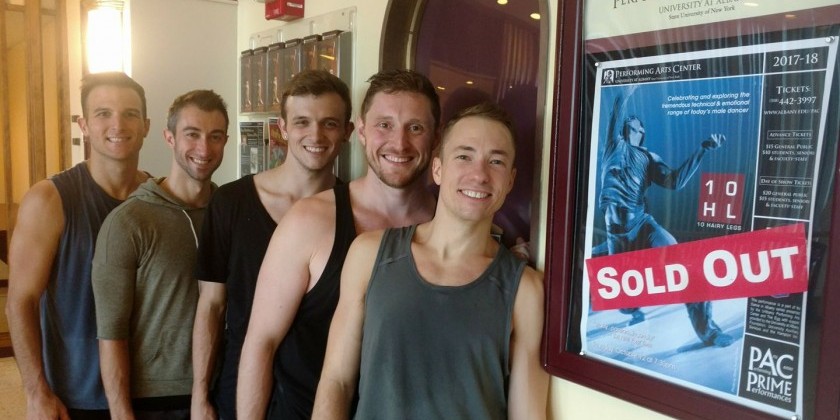 Company:
10 Hairy Legs
10 Hairy Legs
2018 NEW YORK SEASON
World Premieres by Nicholas Sciscione and Yin Yue
Baryshnikov Arts Center
World Premiere Composition by Ofer Pelz
Performed Live at All Performances
Thursday June 7, Friday June 8 at 7:30 pm
Saturday June 9 at 7:30 pm/Benefit Performance and Dessert Reception
Sunday June 10 at 2:00 pm
 
Highland Park, New Jersey --- 10 Hairy Legs, the all male repertory dance company, dèbuts at Baryshnikov Arts Center for its sixth consecutive New York Season for four performances June 7 -10. The program features World Premieres by Bessie Award Nominee and company member Nicholas Sciscione, and Yin Yue.  Works by Al Blackstone, Raja Feather Kelly and Christopher Williams complete the program. Sciscione will perform his solo work and Ofer Pelz his original composition at all performances. Tickets are $25 for Adults and $20 for Students and Groups of 10 or more through 10HL.org.
Sciscione stated, "My intent as an artist is to explore the relationship between Performative and Non-performative states within a performative setting. The pursuit of another artist's vision has often been the focus of my professional career as a dancer. However, my formative experiences in movement began within social settings and personal improvised explorations. My formal education emphasized Improvisation as a tool to inform one's way of moving and their movement vocabulary for Choreographic purposes. Now, in my professional career, I have been able to work in ways that blend the Improvisational and Choreographic modes, the former often informing the inception of the latter. The dichotomy between the two is incredibly subtle and changes throughout any performance or social interaction. This is an opportunity for me to be relieved of the pressure of fulfilling another's artistic vision, opening the door as a mover to begin to toe the line between two states of Performativity in ways only an improvised structure can provide."
Sciscione, 2017 Bessie Award Nominee for Outstanding Performance by an Individual Artist, is currently a member of the Stephen Petronio Company, also serving as its Rehearsal Director. Nick hails from Elizabeth, New Jersey. He graduated magna cum laude with a BFA in Dance from Mason Gross School of the Arts, Rutgers University in 2011. While at Rutgers he performed works by Danielle Agami, Randy James, Ohad Naharin, Benoit-Swan Pouffer and Xiao-xiong Zhang. Nick is a founding member of 10 Hairy Legs. This is his first choreographic commission.
Ofer Pelz was born in Haifa (Israel) and lives in Montreal. His music explores the concept he defines as "unstable repetition" - repetitive fragments which always vary from repetition to repetition, all the while trying to keep a perceivable tension. Pelz composes music for diverse combinations of instruments and electroacoustic media, he is also an active improviser. He has studied composition and music theory at the Jerusalem Academy of Music and Dance. Subsequently, Pelz moved to Paris for three years in order to participate in music technology and instrumental composition courses at the Conservatory of Blanc-Mesnil, the Paris Conservatory and IRCAM. Currently, he is finishing his doctorate at the University of Montreal. The work of Ofer Pelz has been recognized by the reception of many international prizes including two ACUM awards and the Ernst Von Siemens Grant. His music is played regularly in Europe, USA, Canada and Israel in festivals such as Manifeste (IRCAM), La Biennale di Venezia, MATA Festival, Nuova Consonanza, and Heidelberger Biennale für Neue Musik. Meitar Ensemble, Cairn Ensemble, Ardeo String Quartet, The Israel Contemporary Players, Le Nouvel Ensemble Moderne and Architek Percussion are among the ensembles that played Pelz's music. Pelz has collaborated with several dance choreographers, among them the French choreographer François Raffinot.
Pelz stated, "On the verge of composed and improvised music, I create percussive landscapes by inventing instrument modifications and techniques to build an unusually rich sound world. I place found objects on the instruments to explore complex timbres, textures, and harmonies. My music sounds electroacoustic in nature by the way I interface with the instruments to create noise, timbre, and resonances. I push the boundaries of modern performance techniques by inventing new ways to generate sound and color. By playing beyond the 'traditional' way, I am able to expand the range of musical expression. I explore "fake repetition" that suggests music on the border of repetition and variation. In a complex joining of events, simple repetition directs the listener towards new elements and insights. Each reappearance of a given material allows the listener to absorb more and more details. Variating the repetitive structure guides the listener towards taking in the subtle differences; accenting or blurring certain elements, changing the dimension of a gesture, focusing on smaller elements of the entire gesture, etc. I have worked with choreographers on several occasions in my career as a composer, notably with French choreographer François Raffinot. Our biggest collaboration was LeçonsDeTenebre, an hour-long piece that deals with space, light, and music in a parallel way. Working with dance performance is a wonderful collaboration that changes the usual habits of the concert composition process. The nature of collaboration where several ideas join together to create an entire show, forcing discussion and exchange to find the right path is an inspiring and enriching mechanism. More than that, a dance that usually derives from improvisation and the exploration of the body and movement has an important impact on the musical creation process."

Sciscione's work was funded in part by a Major Grant from The O'Donnell-Green Music & Dance Foundation. Additional support for Mr. Pelz' appearance and composition was received from The Office of Cultural Affairs, Israeli Consulate of Israel in New York/DanceFest Israel 70.
Yin Yue, Artistic Director of YYDC is internationally recognized as a versatile performer and choreographer. Born and raised in Shanghai, China, she trained rigorously in technically demanding and highly structured Chinese classical and folk dance, as well as classical ballet technique. After pursuing her MFA in dance from NYU's Tisch School of The Arts in 2008, Yin quickly gained recognition as a unique and exceptional talent among her peers. Yin created an innovative contemporary dance technique FoCo Technique that soon caught the attention of the dance world. She was the winner of Hubbard Street Dance Chicago 2015 International Commissioning Project, winner of the 2015 BalletX Choreographic Fellowship, and winner of Northwest Dance Project's 5th Annual Pretty Creatives International Choreographic Competition in 2013. Through these high-profile successes, Yin was commissioned by all three widely-recognized companies as well as other companies and platforms namely Limon Dance Company, Bruce Wood Dance, New Dialect, Balletto Teatro di Torino in Italy, Backhausdance and George Mason University. She was also selected as First Place in Choreography at National Professional Dance Competition in Shanghai, China, 92Y Harkness Dance 2016-2017 Artist In Residence, Emerging Choreographer of 2015 at Springboard Danse Montreal, as well as a finalist at The A.W.A.R.D Show 2010! presented by New York The Joyce Theater Foundation.
Yin Yue stated, "My creation inspiration is to develop new movement vocabulary in an all male dancer ensemble and to explore the contrast of the movement quality. To push the boundaries set for male and female dancers in the new work, there will be duets that explore the dynamic in same gender pair that goes beyond the defined relationships. I will focus on the choreography in movement and allow the honesty and truth within the physical movement to speak for themselves."
Al Blackstone's "Brian," is a vibrant and playful quintet set to "Say I Wanna Know" by Nick Waterhouse that showcases the dancers' storytelling abilities, playfulness and the spirit that they bring into the space. Blackstone noted: "Working with 10 Hairy Legs is an opportunity to blur the line between dance and theater, comedy and drama, classic and cutting edge. The men in the company differ from dancers in most other companies in that they themselves transcend labels. They are classically trained yet commercially viable, exquisitely sophisticated and somehow also scrappy and humorous."
Raja Feather Kelly's "Andy Warhol's Bleu Movie" is set to a commissioned score by Bryan Strimpel and had its World Premiere during our 2017 New York Season. Kelly noted: "I am obsessed with the life and work of Andy Warhol and the development of popular culture over the last thirty years. I am inspired by Warhol's philosophy and aesthetic as a model for my own use of repetition, iconography, and cinematic sensibilities. I am invested in amplifying mundane and/or pedestrian movement so that it becomes scientific and virtuosic. I use performance making and exhibition as a way to promote empathy. My practice identifies and magnifies opportunities where popular culture and human desire intersect ... all of my training and background—Speech and Debate, Musical Theatre, social dance styles of the 90's, my academic study of Modern Dance and English—have prepared me for the uniquely Warholian way that I re-humanize our over-mediated experience of reality. Working with 10HL is a dream. It takes a special kind of dancer to work in a Repertory Company. It's not for everyone. Having to adhere to so many choreographers' visions is no easy feat. Each of the dancers do it differently and so well. I dedicate my piece to them, because they have worked so hard in realizing my vision. Each dancer and performer has shown a personal interest in my work and the work we are creating together. They have integrity, they have investment and it is a treat to see them live through movement."
Completing the program will be Christopher Williams' sinuous excerpted duet entitled "The Portuguese Suite," last performed by the company during our 2015 – 2016 season. The work is set to traditional Fado songs. Williams, dubbed "the downtown prodigy" (The New Yorker) and "one of the most exciting choreographic voices out there" (The New York Times), is a choreographer, dancer, and puppeteer devoted to performing and creating new movement-based works in New York City and abroad since 1999. His work has toured in France, England, Italy, Spain, Holland, Colombia, and Russia, as well as nationally in Philadelphia, Princeton, and Kalamazoo, and has been presented in many New York City venues including City Center, Dance Theater Workshop, Danspace Project, P.S. 122, the 92nd Street Y, Joyce SoHo, Dance New Amsterdam, and La Mama. He has been commissioned by New York Live Arts. the Martha Graham Dance Company, 10 Hairy Legs,  the Opéra National de Bordeaux, Teatro Real, the Perm Opera & Ballet Theater, NYU's Tisch School of the Arts, Princeton University, Dickinson College, Sarah Lawrence College, Lower Manhattan Cultural Council,  the Harkness Dance Center, Dance Theater Workshop, Philadelphia Dance Projects, American Opera Projects, OPERA America, and through HERE Arts Center's Dream Music Puppetry Program.  His awards include a 2005 New York Dance & Performance "Bessie" Award for his work Ursula and the 11,000 Virgins, as well as fellowships from The Foundation for Contemporary Arts, the New York Foundation for the Arts, and the Bogliasco Foundation.  He has also been awarded residencies on Captiva Island via the Robert Rauschenberg Foundation, at Robert Wilson's Watermill Center, the Harkness Dance Center, the Liguria Study Center for Arts & Humanities in Bogliasco, Italy, Movement Research, Joyce SoHo, Dance New Amsterdam, Djerassi, Yaddo, and The Yard.  He holds degrees from Sarah Lawrence College and the École Internationale de Théâtre Jacques Lecoq, and since moving to New York has performed for Tere O'Connor Dance, Douglas Dunn & Dancers, Yoshiko Chuma & The School of Hard Knocks, John Kelly, Basil Twist, Dan Hurlin, Sally Silvers, Michou Szabo, Mina Nishimura, and Rebecca Lazier, among others.
On Friday, June 9, 10 Hairy Legs honors our New York Season choreographers for their exceptional artistry.
Tickets for the Benefit Performance and Dessert Reception on June 10 are $150/Gold in support of New Commissions and $75/Silver in support of Education Program Scholarships and include one ticket to the performance and the post-performance reception. Tickets to the Benefit sold exclusively through 10 Hairy Legs at 10hl.org until May 29 when they may be purchased directly by contacting Executive Director Betsy Sobo. A portion of each ticket is a tax-deductible contribution to the company.
Patrons with Visual Disabilities may request a Large Print Program by contacting Executive Director Elizabeth Shaff Sobo at bsobo@10hl.org by June 2, 2017. BAC is barrier-free. There is no reserved seating.
 
Randy James, founding Artistic Director of 10 Hairy Legs, has had a significant impact on the field of dance for more than three decades locally, regionally, nationally and internationally as a highly regarded dancer, choreographer, teacher, guest lecturer, panelist and staunch advocate of the arts.  In 2010 the The Geraldine R. Dodge Foundation cited him as "The Patron Saint of New Jersey dance." As a choreographer, James has created more than 40 works on his own companies and on 16 other professional companies throughout the United States, garnering positive reviews from The New York Times and The Village Voice. The New Jersey State Council on the Arts/Department of State honored him three times with Choreography Fellowships in 1995, 2002 and 2014 in recognition of his artistic excellence and named him "Distinguished Teaching Artist."  As an Associate Professor of Dance, James has been a member of the dance faculty at Mason Gross School of the Arts, Rutgers University, since 1998.
About 10 Hairy Legs
10 Hairy Legs is an all-male repertory dance company performing newly commissioned and existing works. Since our founding in 2012 we have commissioned 14 works from choreographers Doug Varone, Doug Elkins, Tiffany Mills, Manuel Vignoulle, Julie Bour, Megan Williams, Al Blackstone, Raja Feather Kelly and founder Randy James. We have served more than 75,000 patrons, students, artists and educators throughout the NY/NJ region, in NYC at BAM Fisher/Fishman Space, New York Live Arts, The 92nd Street Y, Brooklyn Dance Festival, Modern Dance at Bryant Park, Dixon Place, Gibney Dance, Joe's Pub, West End Theatre, Fire Island for the DRA Benefit Week End, Dance at Socrates, Koresh Come Together Festival; on tour to the Choregus Dance Festival in Tulsa, OK and as a guest artist at its Benefit Gala in July 2017, appearing with Joffrey and Geneva Ballets, Seattle, WA, The Cayman Islands, New England; and Rhode Island and in 2017-2018 will tour to 10 states outside of NJ; broadcast nationally and internationally on NJTV's State of the Arts, The Meredith Vieira Show and Nick Cannon's Red Nose Dancathon, and in residence at the Kaatsbaan International Dance Center. In December 2016 we were the only American dance company appearing at the Cape Town (South Africa) International Dance Festival. We provide a wide range of education programs for all ages focusing on the many facets of maleness as expressed through dance, serving more than 6,500 students and educators each year.
 "…Gotta hand it to them: 10 Hairy Legs shows what modern dance should be…" – Demetrius Klein, Palm Beach Daily News 2018
In 2015 10 Hairy Legs launched 10 HL Projects, which includes women for specific productions outside of the all male company. The first of these was a new full-length work based upon C. S. Lewis' The Lion, the Witch and the Wardrobe, choreographed by James that had its World Premiere at the New Jersey Performing Arts Center in January 2016.
Our Artistic Collaborators are choreographers Al Blackstone, Julie Bour, Seàn Curran, David Dorfman, Dan Froot, Doug Elkins, Raja Feather Kelly, Heidi Latsky, Cleo Mack, Tiffany Mills, David Parker, Stephen Petronio, Claire Porter, Niv Sheinfeld and Oren Laor, Doug Varone, Manuel Vignoulle, Christopher Williams and Megan Williams; musicians Tigger Benford, Sarah Biber, Jane Chung, Lachlan Glen, Kyle Olson, Robert Maggio, Bryan Strimpel, Michael Wall, Dorian Wallace and Peter Whitehead; and designers Abraham Cruz, Oana Botez, Cindy Capraro, Benjamin Heller, John Lasiter, Naomi Luppescu, Mary Kokie McNaugher, Dennis O'Leary-Gullo, Lauren Parrish, Amanda Ringger, Amanda Shafran, Ken Tabatchnik, Olivier Theyskens, Asa Thornton and Tuce Yasak. In addition to their work with 10 Hairy Legs, our company members are currently featured artists with The Bang Group, Stephen Petronio Company and Zvi Dance, among others.  
 
Leadership funding for the company has been provided by The Geraldine R. Dodge, Frank & Lydia Bergen Foundation, Blanche and Irving Laurie, The O'Donnell Green Music & Dance, Mertz Gilmore, Hyde & Watson Foundations, The Harkness Foundation for Dance, Johnson & Johnson, Magyar Bank Foundation, American Dance Abroad's Rapid Response, New Music USA, The New Jersey State Council on the Arts/Dept. of State, receiving a Citation of Excellence, the Rutgers Research Council, The Office of Cultural Affairs, Israeli Consulate of Israel in New York/DanceFest Israel 70 and the generous contributors to the Rita & Philip Levy New Works Fund.
Share Your Audience Review. Your Words Are Valuable to Dance.
Are you going to see this show, or have you seen it? Share "your" review here on The Dance Enthusiast. Your words are valuable. They help artists, educate audiences, and support the dance field in general. There is no need to be a professional critic. Just click through to our Audience Review Section and you will have the option to write free-form, or answer our helpful Enthusiast Review Questionnaire, or if you feel creative, even write a haiku review. So join the conversation.