Load OUT! A Reuse & Repurposing RIOT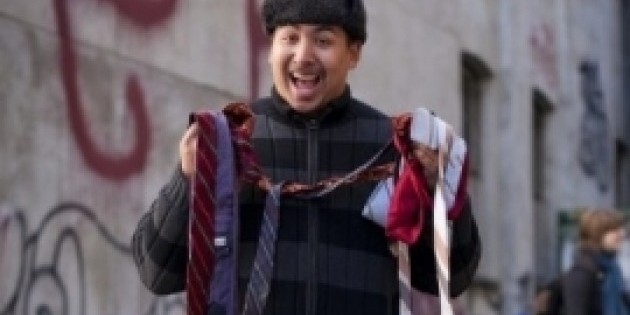 April 6th 2013 in the LES. FREE admission for artists/art students
A Reuse & Repurposing RIOT
Saturday, April 6, 2013 from 12-3PM
FREE
admission for artists/art students
admission for the general public
FREE drop off for e-waste & textile collection by GrowNYC
& The Lower East Side Ecology Center
Location: 19 East 3rd Street, between Bowery & 2nd Ave.


NEW YORK, NY - On Saturday, April 6, 2013, Fourth Arts Block (FABnyc) will host its sixth Load OUT! - a twice yearly "riot" of repurposing and recycling activities. FABnyc will gather gently used materials from arts organizations and other donors throughout the East Village/Lower East Side for this one-of-a-kind extravaganza, taking place at 19 East 3rd Street from 12-3PM.
Load OUT! is specially designed to showcase creative thinking about sustainability and the arts. Artists and art students are welcome to take home any of the costumes, props, and furniture they need for their artistic endeavors, free of charge. Community members and non-artists can also attend Load OUT! for a small entrance fee of and may take away materials free of charge. Everything remaining will be repurposed or recycled responsibly by GrowNYC, Wearable Collections, The Lower East Side Ecology Center, Film Biz, and the NYC Department of Sanitation.
Load Out! also features clothing, textile, and e-waste community collections- open and free for everyone
12-3PM. The Lower East Side Ecology Center's EcoBiz interns will be on hand to handle e-waste, and GrowNYC will collect clothing and textiles. A list of accepted donations is available at

www.fabnyc.org/loadout.php

.
Started in 2010, Load OUT! establishes a local distribution spot for organizations and businesses to share materials they no longer need with artists, while providing free responsible recycling opportunities to the community at large. Since the program began, more than 43 tons have been diverted from the waste stream. Load OUT! is a part of FABnyc's comprehensive sustainability and resource sharing programs that explore creative solutions to the complex challenge of urban and artistic sustainability. FABnyc's SUSTAIN program (https://fabnyc.org/sustainability.php) and other resource sharing initiatives have received funding from the Rockefeller Foundation Cultural Innovation Fund and the National Endowment for the Arts. Additionally, FABnyc is grateful to Downtown Art and Alpha Omega Theatrical Dance Company for their ongoing, in-kind donation of space for this event.
For questions about Load OUT! or to donate materials, please contact
Hannah Gorback
, SUSTAIN Intern, at 212.228.4670 or

hannahg@fabnyc.org

.