NEW YORK LIVE ARTS presents Lobby TALKS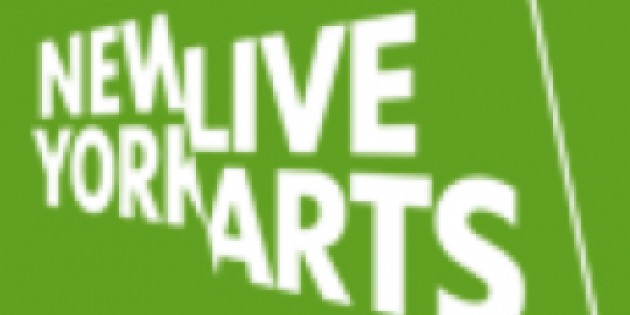 The spring 2013 Lobby TALKS series kicks off May 14 at 7:30pm
NEW YORK LIVE ARTS
presents
Lobby TALKS
May 14, 21 and 28 at 7:30pm
New York, NY, May 6, 2013 – New York Live Arts presents the spring 2013 Lobby TALKS series, taking place Tuesdays May 14, 21 and 28 at 7:30pm. Organized and moderated by Marissa Perel, the spring 2013 Lobby TALKS will explore themes including curatorial practice, matters of identity and modes of critique in the movement-based arts community.
The spring 2013 Lobby TALKS series kicks of May 14 at 7:30pm with Curating Performance: The New Wave. With a panel of young curators featuring Lydia Bell, Travis Chamberlain, Christopher Lew and Lana Wilson, the discussion will explore the role of live performances in diverse contexts, from historical sites and theaters, to museums and biennials. The series continues with Identity Matters: Persona and Politics on May 21 at 7:30pm. Featuring Ishmael Houston-Jones, iele paloumpis, Katy Pyle, Larissa Velez-Jackson and Eva Yaa Asantewaa, this talk will concentrate on contemporary identity politics and issues that shape perceptions of persona and embodiment. Closing the series will be Feedback: Say it, Mean it, with Megan Byrne, Nicole Daunic, Andy Horwitz and Dean Moss on May 28 at 7:30pm. In this final talk, questions surrounding review-based qualifying systems and forms of feedback will be probed.
Originally created by Dance Theater Workshop, Lobby TALKS create a forum for open and in-depth discourse on contemporary issues in dance and performance. Conceptual themes are investigated, challenged and considered by an invited group of artists, curators, scholars and critics. Discussions are open to all who would like to participate.
All Lobby TALKS take place in New York Live Arts' Ford Foundation Live Gallery. Admission is FREE; reservations are not required. New York Live Arts is located at 219 West 19th Street (between 7th and 8th Avenues) in New York City. Following the live discussion, Lobby TALKS are available for download on iTunes.
Listing info:
Lobby TALKS, spring 2013
Curating Performance: The New Wave
May 14, 7:30pm
Identity Matters: Persona and Politics
May 21, 7:30pm
Feedback: Say it, Mean it
May 28, 7:30pm
Ford Foundation Live Gallery,
New York Live Arts
Admission: Free
T: 212-924-0077 | www.newyorklivearts.org
219 W 19th Street, New York, NY 10011
About New York Live Arts
New York Live Arts is an internationally recognized destination for innovative movement-based artistry offering audiences access to art and artists notable for their conceptual rigor, formal experimentation and active engagement with the social, political and cultural currents of our times. At the center of this identity is Bill T. Jones, Executive Artistic Director, a world-renowned choreographer, dancer, theater director and writer.
We commission, produce and present performances in our 20,000 square foot home, which includes a 184-seat theater and two 1,200 square foot studios that can be combined into one large studio. New York Live Arts serves as home base for the Bill T. Jones/Arnie Zane Dance Company, provides an extensive range of participatory programs for adults and young people and supports the continuing professional development of artists. Our influence extends beyond NYC through our international cultural exchange program that currently places artists in Eastern Europe, the Middle East and Africa.
Funding Support
Major support for New York Live Arts is provided by: Bloomberg Philanthropies; The Brownstone Foundation; The Robert Sterling Clark Foundation; Con Edison; The Joseph and Joan Cullman Foundation for the Arts; Doris Duke Charitable Foundation; The Ford Foundation; The Fan Fox and Leslie R. Samuels Foundation; Florence Gould Foundation; Japan Foundation; Jerome Foundation; Lambent Foundation; MAP Fund, a program of Creative Capital; The Andrew W. Mellon Foundation; Mertz Gilmore Foundation; The New York Community Trust; Robert Rauschenberg Foundation; The Rockefeller Foundation NYC Cultural Innovation Fund; The Jerome Robbins Foundation; The Scherman Foundation; The Shubert Foundation; and the Trust for Mutual Understanding. New York Live Arts is supported by public funds administered by the New York City Department of Cultural Affairs, the New York State Council on the Arts and the National Endowment for the Arts.