In Honor of the 150th Civil War Anniversary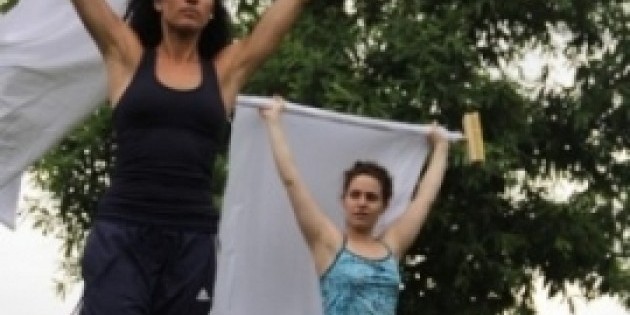 Free Brooklyn Bridge Park Performance
"Arteries of a Nation"
Brooklyn Bridge Park on July 21, 2013
"sleek, sexy..." "marvelous" -- The New York Times*
Brief Overview:
At 7:30pm on Sunday, July 21, 2013, Brooklyn-based dance company Renegade Performance Group (RPG) will
transform Brooklyn Bridge Park with their interactive performance of "Arteries of a Nation," intended to immerse audience members within the deeper historical context of the Civil War. This exciting debut of "Arteries of a Nation" will be presented free of charge to the public.
Project Scope:
Exactly 150 years ago, as Americans fought one another in the Civil War, and the freedom of African men and women was at stake, as was the preservation of a Nation. "Arteries of a Nation" tackles the violent themes of the era and issues shaping America's emerging identity.
In this project, RPG Artistic Director, André M. Zachery (choreographer), and collaborators Charles Vincent Burwell (composer) and Brook Stephenson (writer) will create a multi-disciplinary site-specific performance examining the legacies from three events of the American Civil War in July 1863: the Battle of Gettysburg, the New York City Draft Riots and the 54th Massachusetts Colored Regiment attack on Fort Wagner. The evening-length performance will be divided into multiple sections referencing the histories of these events. The troupe's immersive artistic performance will start at Squibb Playground (entrance at Middagh Street in Brooklyn Heights) and culminate on Pier 1, under a backdrop of spectacular panoramic views of the Manhattan waterfront. As part of the community component, Zachery will choreograph a section for young performers with the Bedford-Stuyvesant Restoration Youth Ensemble, which will be included in the piece.
Renegade Performance Group (RPG) is a Brooklyn-based dance performance company, exploring urban artistic aesthetics and expressions through dance theatre, site-specific performance and technological media. In 2013 RPG was awarded both the Community Arts Fund & Local Arts Support grants from the Brooklyn Arts Council to support a new project -- a reinvestigative Civil War enactment/150th Anniversary of July 1863 events. This latest project entitled, "Arteries of a Nation," embodies the Company's new focus in developing performance works for site-specific locations, and incorporating digital media. More information about RPG and key collaborators can be found on the pages that follow.
*Jennifer Dunning and Claudia LaRocca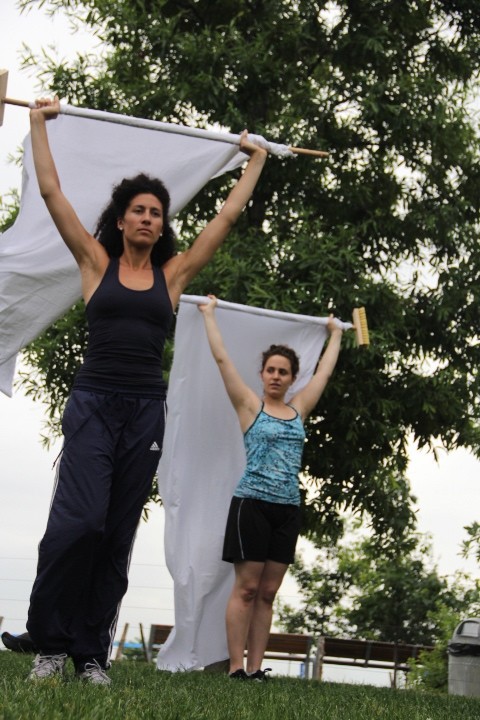 Collaborators:
Artistic Director:
André M. Zachery is a Chicago born, Brooklyn-based artist who is currently in the Performance & Interactive Media Arts (PIMA)/MFA program at Brooklyn College. He majored in architecture at Florida A & M University from 2000 – 2002 before receiving his BFA from the Ailey/Fordham BFA program in 2005. André has danced with Elisa Monte Dance Company, MIRO (Philadelphia), CeDeCe (Portugal), Nathan Trice/RITUALS, Compagnie THOR (Belgium), the National Tour of AIDA (2006/2007), The Opera Company of Philadelphia, Irish Modern Dance Theatre (Dublin), and as a guest artist with several companies, independent choreographers, and projects.
André has choreographed several works and artistic projects since 2005, being presented at Florida A & M University, Florida State University, LIFT (Atlanta). After founding Renegade Performance Group in 2007, he has presented works throughout New York City at venues such as Harlem Stage, Dixon Place, LIU-Kumble Theater, The Ailey/Citigroup Theater, the Merce Cunningham Dance Space, and, the National Black Theater in Harlem, and The Brooklyn Museum. Nationally he has presented work under RPG at The Ruth Page Theater (Chicago), and the DuSable Museum (Chicago). Internationally, he has been a featured artist and presented work in Mexico and Portugal. His works have also received favorable reviews from Jennifer Dunning (New York Times) and Walter Rutledge (Harlem World Press). As a teacher, André has held classes and workshops in New York City, Chicago, Tallahassee, Mexico City, Edinburgh (Scotland), Alcobaça (Portugal), and Brussels (Belgium). He also received favorable reviews on his choreography from various writers.
Composer:
Charles Vincent Burwell, a Congressional Scholar in Leadership, holds a B.S. in Vocal Music Education from Florida A&M University and an MFA in Musical Theatre writing from New York University. Organizations he has worked with include: the Lincoln Center Institute, City Center, the Katherine Dunham Institute, Trenton Education Dance Institute (TEDI), National Dance Institute, Urban Bush Women, Festival del Caribe (Santiago de Cuba, Cuba), Ile Aiye (Brazil), Jacob's Pillow Dance Festival and Bates Dance Festival. He has composed music for the Cairo Opera House Ballet (Cairo, Egypt), National Dance Institute (Shanghai, China) as well as the HBO documentary "Jacques D'Amboise in China - THE OTHER SIDE OF THE WORLD." He currently serves on faculty at Alvin Ailey American Dance Theater (The Ailey School).
Writer:
Brook Stephenson
I am a writer, educator and conceptual installation artist.
My background is education. Having earned a Bachelors of Arts in Early Childhood education I was a classroom teacher for four years for 1st and 4th grades. During that time I was also a columnist for a weekly paper, rolling out, writing flash fiction themed "the hustle." These 500-600 words stories revolved around the various ways people try to get over on other people. I wrote this column for two years and then expanded into the full range of editorial from features to interviews to reviews of film, television, music, clubs and restaurants.
RENEGADE PERFORMANCE GROUP
www.renegadepg.com