Apply to be a Bogliasco Foundation Fellow in 2019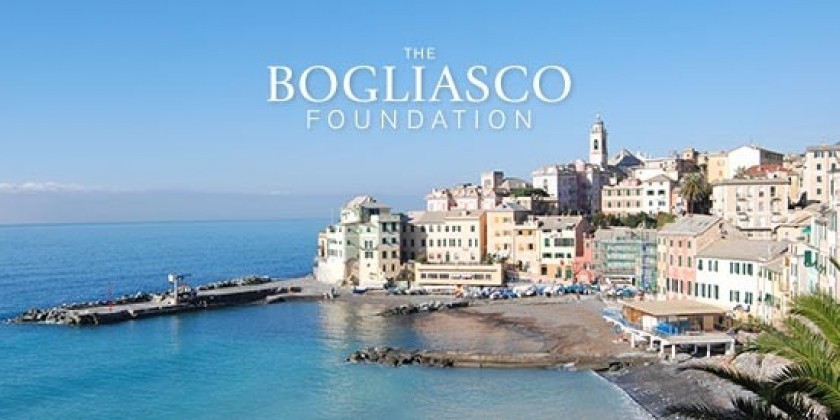 Company:
Bogliasco Foundation


THE BOGLIASCO FOUNDATION ANNOUNCES
UPCOMING FELLOWS AND DEADLINES
The Bogliasco Foundation is pleased to announce the recipients of Fellowship awards.
A full list of upcoming Bogliasco Fellows and residents is below.
 
We have now welcomed over 900 Fellows from 58 different countries.
Application materials must be submitted online in advance of two annual deadlines: January 15 and April 15.

 
The mission of the Bogliasco Foundation is to support the Humanities by offering highly qualified artists and scholars an inspiring haven in which to create new work and a vibrant, international community in which to exchange ideas, expand boundaries and form lasting collaborations. The Foundation awards one-month residential Fellowships to artists and scholars who have made significant contributions to their fields and who wish to work on approved projects at the Foundation's Study Center in Bogliasco, Italy, a fishing village located on the Mediterranean Sea between two UNESCO World Heritage sites: the city of Genoa and the Cinque Terre.
 
The Foundation maintains a democratic application system that is open to individuals of all nations who are working on significant projects in the humanities. Fellowships include full room and board, as well as a private work studio. Fellows may be accompanied by spouses/partners, and all come together every evening for a formal dinner featuring local Ligurian cuisine. Because of the intimate nature of the Bogliasco Foundation's program, each group of residents must be carefully selected. A rotating, international selection committee evaluates applicants in each discipline, thoughtfully composing groups of 8-10 Fellows to maximize diversity and create a stimulating atmosphere of cross-cultural and interdisciplinary exchange.
Here are the recent fellows in DANCE:
Lance Gries – Choreographer – United States
Converging Fields
Lance Gries will work on a solo and a project for non-dancers that share a common research and vocabulary: the search for physical manifestation of consciousness, the dynamic between the material and immaterial, and the effect of the observer in creating reality in live performance. Gries is interested in how he can express these concepts in a virtuosic solo dance, as well as how their essence can be transmitted to and experienced by non-dancers.
Lance Gries lavorerà ad un assolo e ad un progetto per non danzatori che condividono ricerca e vocabolario: la ricerca della manifestazione fisica della coscienza, la dinamica tra il materiale e l'immateriale e l'effetto dell'osservatore nella creazione della realità durante gli spettacoli dal vivo. Il suo obiettivo consiste nell'esprimere questi concetti in un assolo di danza virtuoso e nel trasmetterli e farli sperimentare nella loro essenza ai non danzatori.
Mark Haim – Choreographer/Artistic Director – United States
How do we hold those we know/love/remember in our bodies? How do we give credit to others? How does a soloist dance inter-connectedness? How many people does it take to feel the enormousness of our presence in each others' lives? Haim asked roughly 400 people from over 20 countries ranging in age from 4 to 90 to send him 5-10 seconds of movement. He plans to construct a solo work from all the contributed material.
Come tratteniamo quanti conosciamo/amiamo/ricordiamo nei nostri corpi? Come diamo merito agli altri? Come un danzatore solista crea l'interconnessione? Quante persone ci occorrono per sentire l'enormità della nostra presenza nella vita degli altri? Haim ha chiesto a circa 400 persone di oltre 20 paesi diversi con un'età compresa tra i 4 e i 90 anni di inviargli 5-10 secondi di movimento. Utilizzando tutto il materiale ricevuto, egli intende costruire un assolo.
Joanna Kotze – Choreographer/Artistic Director – United States – Van Cleef and Arpels Bogliasco Special Fellow in Dance
Moonage Daydream: A Relay
Kotze will begin initial creative research aimed at building choreographic material for a new project exploring the fragility and inauthenticity of identity. Moonage Daydream: A Relay will challenge the perception of self, who we think we are, and who we can become, while confronting emotional, physical and societal barriers.
Kotze lavorerà alla ricerca creativa volta a raccogliere il materiale coreografico utile al suo nuovo progetto che esplora la fragilità e la mancanza di autenticità nell'identità. Moonage Daydream: A Relay mette in discussione la percezione di noi stessi, di chi pensiamo di essere e chi possiamo diventare, confrontandosi con barriere sociali, fisiche ed emozionali.
Christopher Williams – Choreographer/Artistic Director – United States
Narcissus
Christopher Williams will conduct research and create choreography for an original contemporary ballet entitled "Narcissus". The new work, set to Nikolai Tcherepnin's 1911 ballet score "Narcisse et Echo" for Sergei Diaghilev's Ballets Russes, will reappropriate themes of the ancient Greek myth on which it is based to re-imagine the ballet through a contemporary queer lens.
Christopher Williams svolgerà una ricerca e creerà la coreografia per un nuovo balletto contemporaneo intitolato "Narcissus". Questo lavoro, impostato sulla partitura del balletto "Narcisse et Echo" di Nikolai Tcherepnin del 1911, per i Balletti Russi di Sergei Diaghilev, si riapproprierà dei temi del mito dell'antica Grecia per re-immaginare il balletto di Tcherepnin dal punto di vista della cultura omosessuale contemporanea.
Click HERE to see the full list of Bogliasco Fellowship Recipients for Spring 2018.

We would like to thank the following partners for support of 2013-2014 "Special Fellowship" awards, which include financial support to awardees in the form of stipends and/or travel reimbursement: The Aaron Copland Fund for Music, Inc., The Biaggi Family, The Edward T. Cone Foundation, John Burroughs School, The New Museum, and Shakespeare Association of America.

The Bogliasco Foundation is a 501c3 nonprofit based in the United States that administers the international Fellowship program at the Study Center in Bogliasco, Italy. The Foundation is one of the only residency programs in the world dedicated to bringing together artists and scholars from all nations and from all of the humanistic disciplines: Archaeology, Architecture/Landscape Architecture, Classics, Dance, Film/Video, History, Literature, Music, Philosophy, Theater, and the Visual Arts. In 17 years of operations, the Bogliasco Foundation has awarded Fellowships to more than 750 individuals from 50 countries.