BAX 2014 Arts & Artists in Progress Awards‏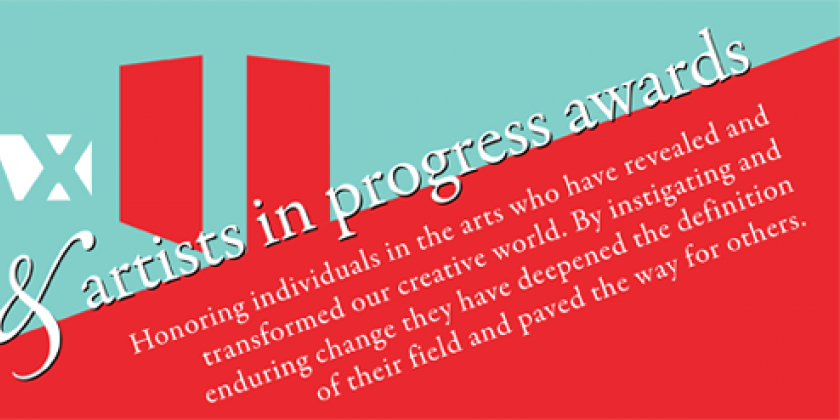 Company:
BAX

BAX | Brooklyn Arts Exchange
is honored to announced the

2014 AWARDEES AND NOMINATIONS for the BAX arts and artists in progress awards

These awards, now in their twelfth year, have been designed to honor individuals in the arts who have revealed and transformed our creative world. By instigating and enduring change the have deepened the definition of their field and paved the way for others.  The BAX arts and artists in progress awards have gone to some of the most talented, generous and creative individuals in NYC dance, theater or performance.

The awards are given in three areas: Performing Artist, Arts Educator and Arts Manager. Nominations for the 2014 awards were sought from over 100 past awardees, presenters and members of the field.
______

PERFORMING ARTISTS: 
Nominated: Ellen Fisher, Yvonne Meir, Penny Arcade, Sally Silvers, Kacie Chang, Camille Brown and Sarah East Johnson.
The 2014 PERFORMING ARTIST AWARD will go to SARAH EAST JOHNSON.
______

ARTS EDUCATORS: 
Nominated: Jonathan Schmidt, Martha Tornay, Naomi Goldberg Haas, Paul Langland, Fabian Saucedo, Juliette Mapp and Neil Greenberg.
The 2014 ARTS EDUCATOR AWARD will go to PAUL LANGLAND.
______

ARTS MANAGERS:
Nominated: Travis Chamberlain, MarlNne Ramirez Cancio, Brian Rogers & Sheila Lewandowski for the Chocolate Factory, Andrew Dinwiddie, Jeff Larson and Caleb Hammons for CATCH.
The 2014 ARTS MANAGER AWARD will go to SHEILA LEWANDOWSKI & BRIAN ROGERS for THE CHOCOLATE FACTORY.
______

In addition BAX is awarding a 2014 HONORARY ARTIST ADVOCATE AWARD to MARLÈNE RAMÍREZ-CANCIO.
______
 
Each awardee is asked to "pass it on". The PASSING IT ON AWARD creates a complete cycle where a panel of peers chooses the awardees and the awardees choose someone who demonstrates some of the same qualities that they, themselves, were chosen for.

 

Below list of previous awardees from 2001-2013:

2013
Corcoran Cares - Honorary
Barbara Mahler - Arts Educator
Janet Stapleton - Arts Manager
Young Jean Lee - Artist


2012
Pat Hall - Arts Educator
Nicky Paraiso - Arts Manager
Jon Kinzel - Artist


2011
Jose Joaquin Garcia & The Brooklyn New School - Honorary
Terry Greiss - Arts Educator
Leslie Strongwater- Arts Manager
Gus Solomons Jr. - Artist


2008
Deborah Schwartz - Honorary
Edie Demas - Arts Educator
Jack Walsh - Arts Manager
Tere O'Connor - Artist

 
2007
Susan Perlstein - Honorary
Reg Flowers, Jessica Nicoll - Arts Educators
Jen Abrams, Ruby Lerner - Arts Managers
Yasuko Yokoshi, Deborah Hay - Artists


2006
Bev Grant - Honorary
George Emilio Sanchez, Denise Jefferson - Arts Educators
Karen Bernard, Bob Yesselman - Arts Managers
Dean Moss, Pamela Sneed - Artists


2005
Toshi Reagon - Honorary
Sharon Dunn, Andrew Jannetti - Arts Educators
Kristin Marting, Norma Munn - Arts Managers
Carl Hancock Rux, Judith Sloan - Artists


2004
Liz Koch - Honorary
Kwayera Archer-Cunningham, Joan Finkelstein - Arts Educators
Maurine Knighton, Craig Peterson - Arts Managers
Clarinda MacLow, Elizabeth Streb - Artists


2003
Marie Artesi - Honorary
David Pleasant, Jackie Chang - Arts Educators
Nathan Elbogen, Martha Wilson - Arts Managers
Meredith Monk, Jennifer Miller - Artists


2002
Susan Glass- Honorary
Martha Bowers, Ana Maria Alvarez - Arts Educators
Ellie Covan, Virginia (Ginny) Louloudes - Arts Managers
Reno, Marlies Yearby - Artists


2001
Regina Hawkey - Honorary
Sandra Stratton-Gonzalez and Greg McCaslin - Arts Educators
Steve Gross and Mikki Shepard - Arts Managers
Peggy Shaw, Hank Smith -Artists
 
This year's awards will take place in the BAX Building 
located on 421 Fifth Ave, Brooklyn NY in Park Slope
Saturday March 29, 2014

For more information please contact Marketing & Communications Director Fernando Maneca (fernando@bax.org).
 
 
ABOUT BAX
Founded in 1991, BAX | Brooklyn Arts Exchange, is a community based performing arts center dedicated to developing artists of all ages, from children to professionals. The organization offers community access to arts and culture, supporting the creation of new work by emerging artists, engaging diverse audiences and providing arts education to youth and families. BAX has intentionally constructed an environment where children study and professional artists create under the same roof. Students are mentored by professional directors and choreographers. The organization's distinct focus on developmental process makes it a nurturing incubator for experimental dance and theater artists and is an important advocate for under-represented voices in the New York City performing arts community.

For more information about BAX and its programs please call 718-832-0018, email press@bax.org or visit us on the web at www.bax.org.