DanceMotion USA/David Dorfman Dance & Korhan Başaran Company in BAM residency
Company:
David Dorfman Dance & Korhan Başaran Company
David Dorfman Dance & Korhan BaAŸaran Company join
for a creative residency at BAM as part of DanceMotion USA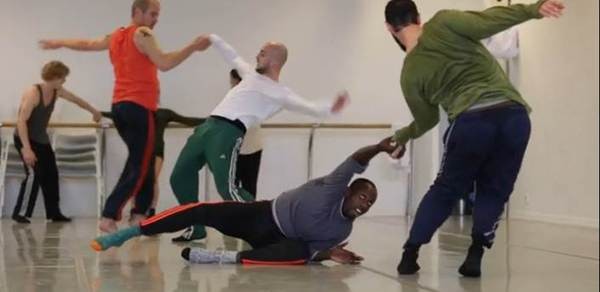 David Dorfman Dance and Korhan BaAŸaran Company (photo by Piotr Redlinski)  
DanceMotion USA
David Dorfman Dance & Korhan BaAŸaran Company
at
BAM Fisher (Fishman Space), 321 Ashland Place
Aug 14—16 at 7:30pm; Aug 16 at 1pm
Tickets: free
July 28, 2014/Brooklyn, NY—DanceMotion USA's David Dorfman Dance and Turkey's Korhan BaAŸaran Company will come together for a creative residency at BAM, August 14–16, 2014. DanceMotion USA is a vibrant cultural diplomacy program that supports United States foreign policy goals by engaging international audiences through educational opportunities, performance, and cultural exchange. The program is a people-to-people international exchange initiative of the US Department of State's Bureau of Educational and Cultural Affairs, produced by BAM.  
As one of three US dance companies participating in the program's fourth season, David Dorfman Dance recently completed a four-week-long educational exchange and performance tour of Turkey, Armenia, and Tajikistan.  A company they worked with in Turkey, Korhan BaAŸaran Company, has been invited to join David Dorfman Dance in a creative residency at BAM and at the Bates Dance Festival in Maine. Additionally, two Armenian guest artists—Karen Khachatryan and Davit Grigoryan—have been invited to join the residency as part of an effort by the DanceMotion USA program to promote themes of reconciliation. 

The residency will culminate in performances at the BAM Fishman Space from August 14 through 16, featuring new collaborative work devised by David Dorfman and Korhan BaAŸaran, with the American, Armenian, and Turkish dancers at their July residency at the Bates Dance Festival. 

Tickets for the BAM Fisher performances are offered free of charge. Reserve tickets at BAM.org, by calling BAM Ticket Services at 718.636.4100, or in-person at the BAM box office (30 Lafayette Ave).
Residency Events: Rehearsal, Artist Talk

Live online rehearsal by David Dorfman Dance & Korhan BaAŸaran Company, from Bates Dance Festival
Aug 6, 4pm
http://www.BAM.org/video

Artist talk/Q&A with David Dorfman and Korhan BaAŸaran
Aug 16, following 1pm performance*
BAM Fisher (Fishman Space), 321 Ashland Place
*performance and artist talk will be available as a live feed to an audience in Turkey

A video clip of David Dorfman Dance and Korhan BaAŸaran Company at work in Istanbul, Turkey may be viewed at http://youtu.be/dUoNgFRgMNA.
For press information contact Sandy Sawotka, 718.636.4190 or ssawotka@BAM.org