Cornfield Dance 25th Year Kickoff @ University Settlement 9/30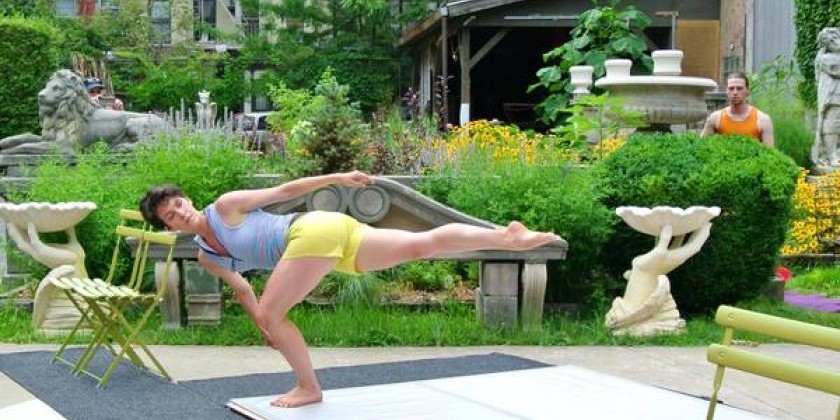 Company:
Cornfield Dance
Kickoff Performance Celebrating the 25th Year of Cornfield Dance!

Tuesday September 30th @ 7:30pm
University Settlement
184 Eldridge Street, NYC

Choreography: Ellen Cornfield

Dancers: Maggie Cloud, Dylan Crossman, Pierre Guilbault, Cori Kresge, Joshua Tuason

Music: Andreas Brade
Lighting Design: Kryssy Wright
Costumes: Renee Kurtz
Other Performers: Ellen Cornfield, Arnold Margolin

An evening of repertory
Furniture Suite ('12) Small Stages ('13)
Pas de Detour - Section I (first draft) ('14)

Tickets: $20, students & seniors $15. TDF vouchers accepted.
Reservations: reservations@cornfielddance.org or 212.982.7803

Pay online at www.tinyurl.com/cornfielddancesept2014
---
Furniture Suite (2012) features the critically acclaimed dancers Maggie Cloud and Cori Kresge, whose intriguing movement fills out the dance phrases with an energy that ripples through their bodies like liquid light. This piece merges elegant movement with pixie play as the two women relate to each other, and also perform alone, solos that provide windows into their more private interiors. This duet presents an ever-changing portrait of the women and their interactions.
 
Small Stages (2013) is performed on and around a 6' X 6' stage, and follows the development of relationships in small stages – attraction and courtship, a solitary figure relating to an empty chair, the negotiation and tussles built into a long-term relationship, action among friends. Sporting a robust movement vocabulary from everyday movements and facial expressions to rigorous dance sequences, this piece pulls the viewer's attention into the details of the dancers' emotions and interactions, similar to the way a camera zooms into a close-up, revealing the interior world of the individual characters. With humor, exuberance, conflict, passion and tenderness, this half hour dance creates a large canvas on a small stage. The cast is comprised of three dancers, Dylan Crossman, Pierre Guilbault, and Cori Kresge, and veteran performers Ellen Cornfield and Arnold Margolin.
 
Pas de Detour (2014) is a dance that poses questions about life. How can we think of what a detour means in terms of our individual life journeys? How often has one thought and hoped one thing was going to happen to us when something else happened, and you ended up not going where you originally thought you were going to go? How are we to evaluate and respond to this reality? Isn't the adage that "Life is Plan B" appropriate here? Currently a work in progress, this first draft of Pas de Detour is planned to be the opening section to what will be an evening length piece, being developed over the next year. The robust dancing of the two men, Pierre Guilbault and Joshua Tuason, contrasts with the melliflous dancing of Cori Kresge.