A Nutcracker — Starring Valda Setterfield, Lisa Lockwood & Kaitlyn Gilliland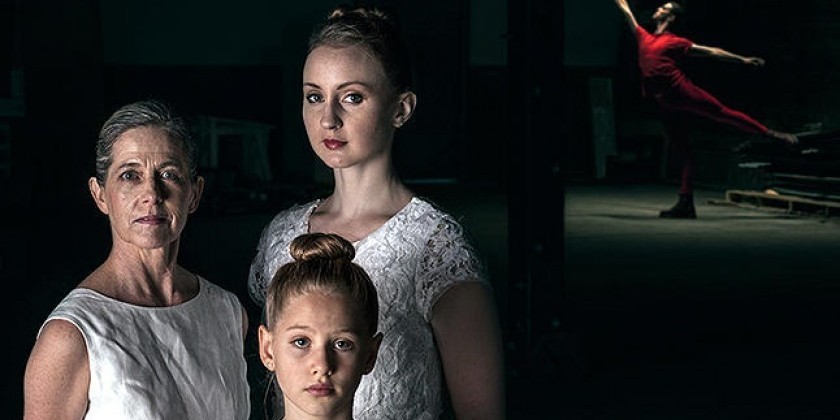 Company:
Valda Setterfield, Lisa Lockwood & Kaitlyn Gilliland
A Nutcracker: Part I, The Workshop

Choreographer: Katie Rose McLaughlin        
Director: Joshua William Gelb
Music Director: Ian Axness               
Story: Dan O'Neil
Lighting Design: Josh Smith           
Set Designer: Sara C. Walsh
Costume Design: Diego Montoya           
Sound Design: Gavin Price

Featuring: Valda Setterfield, Lisa Lockwood, Gary Chryst, Kaitlyn Gilliland, Pierre Guilbault and introducing Louisa Blakely

December 12, 13 & 14 // $15 general // $10 student/senior
At the Knockdown Center - 52-19 Flushing Ave, Maspeth, Queens 11378
Website: www.anutcracker.com

An immersive, dance-theatre reimagining of the classic ballet, performed in the cavernous Knockdown Center, depicts the life-story of a woman (and dancer) named Clara.

In this new adaptation of Tchaikovsky's classic ballet, Clara's childhood, young adulthood, middle and old age appear simultaneously accompanied by live musicians in a playful yet poignant exploration of coming-of-age-stories bookended by tragic death, of leaving things unsaid, and of loved ones left behind. Traversing synchronously a single lifetime, A Nutcracker reinvents a classic narrative for a contemporary audience of all ages, inviting them to wander freely and explore a dreamlike world in which the breadth of life's manifold emotions and experiences harmoniously coexist.


Katie Rose McLaughlin (Choreographer) grew up in Minneapolis, MN and studied ballet at Ballet Arts Minnesota under the direction of Bonnie Mathis. She then attended the New School/Joffrey Ballet BFA program on full scholarship before discovering modern dance and theater. Her choreography has been presented by Catch, the Invisible Dog, Dixon Place, Little Theater, AUNTS, Movement Research at Judson Church, Center for Performance Research, Dance New Amsterdam, Triskelion, 9x22 DanceLab, Links Hall, Red Eye Theater, newMoves Contemporary Dance Festival, Edinburgh Fringe Festival and the International Festival of Art & Ideas. She was a 2013 artist-in-residence through LMCC's SPARC program.

Joshua William Gelb (Director) is a director, performer and librettist whose recent physical-theater projects includeParty in the USA (Edinburgh Fringe Festival), Blind Alley Guy: Notes for an Unfinished Play by Eugene O'Neill (Incubator Arts Project), Love My Band (Little Theater), Dukus (Target Margin Lab) and Sometimes in Prague (Ice Factory). With Room5001 Theater, Gelb conceived and directed the notoriously revisionist all-male Man of La Mancha with musician Justin Levine; he also adapted and directed a re-envisioning of America's supposed first musical, The Black Crook. Gelb is a John Wells Directing Fellow and graduate of Carnegie Mellon's MFA directing program, as well as a member of the 2012 Lincoln Center Directors Lab.

Valda Setterfield British born dancer, actor and an American citizen, Setterfield has worked with: Joanne Akalaitis, Woody Allen, Mikhail Baryshnikov, Jonah Bokaer, Boris Charmatz, Caryl Churchill, Merce Cunningham, Graciela Daniele, Richard Foreman, Maria Irene Fornes, Carmen de Lavallade, Brian DePalma, Ain Gordon, David Gordon, Ivo van Hove, Don Mischer, Marie Rambert, Yvonne Rainer, Donald Sadler, Michael Sexton, Gus Solomons Jr, Jeanine Tesori, James Waring, Robert Wilson & Mark Wing-Davey at A.C.T., A.R.T., BAM, Danspace, DTW, The Joyce, Joyce Soho, The Kitchen, Mark Taper Forum, MOMA, NYTW, PS 122, The Public, Soho Rep & Tate, UK. Setterfield was a member of Merce Cunningham's Company for 10 years & founding member of Pick Up Performance Co(S.) She is an Obie Recipient. In 1984 she received her 1st NY Dance & Performance award, her 2nd in 2006 & a 3rd BESSIE in 2010 for work w/Paradigm. In 2013 she improvised, related & performed previous solo materials in 20 DANCES FOR THE XX CENTURY & moderated as guest artist in FLIP BOOK by Boris Charmantz at MOMA  and performed for Jonah Boaker in OCCUPANT in Washington, DC & Miami. In 2014 she performed in POLITICAL SHENANIGANS, a Brecht/Eisler workshop in Philadelphia and she appeared in the Kilkenny Arts Festival as King Lear in THE LEAR PROJECT in Kilkenny, Ireland directed by John Scott.

Lisa Lockwood danced with American Ballet Theater for ten years. She danced solo roles in Rodeo, Graduation Ball, Don Quixote, Leaves Are Fading, and many others. She also danced in ballets by, and worked directly in rehearsals with George Balanchine, Jerome Robbins, Twyla Tharp, Anthony Tudor and Kenneth Macmillan. She subsequently became a principal dancer with Eliot Feld Ballet, and went on to appear frequently as a guest soloist around the USA. She toured with Natalia Makarova, and was an original cast member of Broadway's Phantom of the Opera. Most recently she performed leading roles with Margo Sappington's The Daring Project, and for Anna Myer And Dancers.  Ms. Lockwood is one of New York's foremost ballet teachers. In addition to her local presence, she has become internationally recognized, and attracts students from all over the world both to take her class and to study with her privately. Her warm but exacting approach has drawn dancers from Japan, Scandinavia, the UK, Canada, Central and South America and points beyond. Ms. Lockwood has been on the faculty at Steps for fifteen years, and served as the Chair of Ballet for the School at Steps from 2009 to 2014. Ms. Lockwood has also taught at the ABT School, Juilliard, Stamford City Ballet, New Dance Group, the Alvin Ailey School, Ballet Hispanico, State Street Ballet, and is a regular faculty member at the Kaatsbaan Dance Center. In addition, she teaches company class for the Metropolitan Opera Ballet.

Gary Chryst, born in La Jolla, California,was one of the Joffrey Ballet's most notable dancers. He also was a member of the Netherlands Dance Theater III before turning his talent to Broadway in productions such as Guys and Dolls, Bob Fosse's Dancin' and A Chorus Line. In 2006, Chryst returned to the Joffrey as one of the Ugly Stepsisters in the Company's premiere of Frederick Ashton's Cinderella. He now tours the world staging productions of Fosse's Chicago.

Kaitlyn Gilliland trained with Loyce and Lise Houlton at the Minnesota Dance Theatre before moving to New York at age 16 to train with the School of American Ballet. She attended full-time for one year and received the school's Mae L. Wien Award for outstanding promise in 2004. From 2006 to 2011, Ms. Gilliland danced with the New York City Ballet as a member of the corps de ballet, performing corps, soloist, and principal roles in works by George Balanchine, Jerome Robbins, Eliot Feld, Douglas Lee, Peter Martins, and Christopher Wheeldon, She was the New York City Ballet's Janice Levin Dancer Honoree in 2010. Ms. Gilliland is currently on the faculty at the School of American Ballet and a junior at Columbia University.

Pierre Guilbault is a graduate from the University of North Carolina School of the Arts with a BFA in Dance. He has a background in Ballet and Contemporary, and has studied film and theater acting in the past. New to New York he started taking workshops with the Cunningham Trust, working under the direction of Robert Swinston and many former company members. Since then he has worked with Mary Siedman, Natalie Canisarez, Mari Meade, John Zullo, Pam Tanowitz, Helen Simoneau, Pat Catterson, Emery LeCrone, and Lise Houlton of Minnesota Dance Theater. He is currently working with Rebecca Lazier and Ellen Cornfield and will be joining the Liz Gerring Dance Company in the Fall.

Ian Axness is a music director and collaborative pianist based in Brooklyn. Ian has worked with organizations including New Dramatists, Yale Rep, Atlantic Theater Company, NY City Opera, CAP 21, Brooklyn College, Oberlin College, NYU Gallatin. Recent: Carousel (NY Philharmonic), Clown Bar (Pipeline Theatre), Lyrics & Lyricists: W.S. Gilbert (92nd Street Y, with Sheldon Harnick), Political Subversities (Ars Nova & The PIT), As You Like It (Delacorte/Public). Faculty: Playwrights Horizons Theater School, NTI/O'Neill. Graduate of Oberlin College.