The School at Steps Pre-Professional Program Audition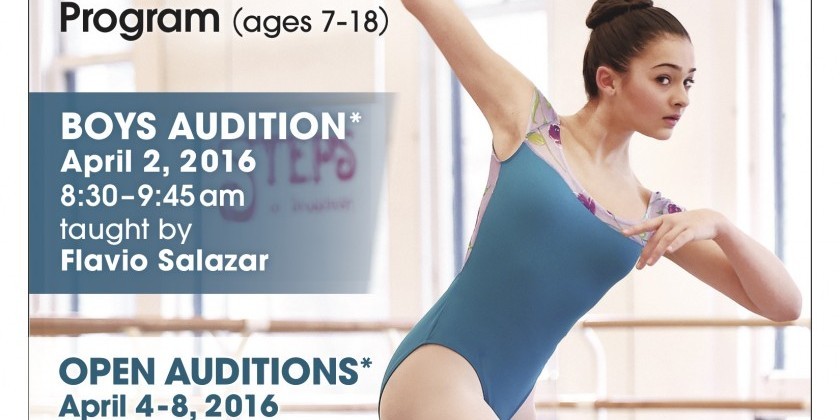 Company:
The School at Steps
The School at Steps Pre-Professional Program is a curriculum-based program designed for the dedicated dance student.  The diverse syllabus offers intensive training for aspiring ballet and musical theater dancers.  Students are placed by audition in one of four divisions based on age, each with its own set of core classes and minimum class requirements:
Preparatory (ages 7-10)
Primary (ages 10-13)
Intermediate (ages 11-15
Advanced (ages 14-18)
Classes offered
Ballet Technique, Pointe, Jazz, Theater Dance, Modern, Repertory, Variations, Pilates, and Pas de Deux. All Pre-Professional students are required to take a minimum number of ballet classes per week and are encouraged to explore other disciplines. Students must comply with course requirements specific to each level. Attendance in all Pre-Professional classes is required.
Performance Opportunities
Performance opportunities such as the Holiday and Spring Showcases, and community concerts throughout the city enhance each student's experience in the Pre-Professional Program. Throughout the year casting directors, talent agents, and photographers contact The School at Steps in need of young dancers for film, theater, commercials and print.
Boys Audition
Saturday, April 2 at 8:30am
Auditions
Monday, April 4 – Friday, April 8 at 4:00pm