The Real War Will Never Get Into the Books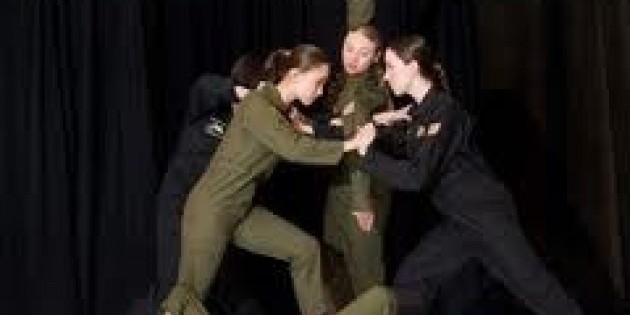 Company:
Jessica Danser/dansfolk
Dancing In The War Years
an evening of dance by Jessica Danser/dansfolk
Friday, April 1, 8 pm
Sunday, April 3, 5 pm
Bronx Academy of Arts and Dance-BAAD!
841 Baretto St., Bronx NY
6 train to Hunts Point or 2 train to Simpson St.
General Admission 5
Special Offer! Student Tickets with Student ID!
Dancers: Jenny Boissiere, Ashlee Buckley, Jessica Danser,
Kristin Dexnis, Nora Hickman, Sarah Lustbader
With live original music by Karl Schwarz

For more info or reservations please contact
718-842-5223
www.bronxacademyofartsanddance.org
www.facebook.com/dansfolk
dansfolk@hotmail.com
The company will premiere "the real war will never get into the books," a new multi-media evening-length work which explores contemporary problems facing our society and the dilemmas we face as individuals and within communities in finding solutions to these problems.

The dance, a group work, will explore through anguished and disturbing yet virtuosic and lyrical movement accompanied by text, music, and projections of images, the importance of emotional freedom and the value of instinct-based knowledge in a society which increasingly encourages numbness, rewards reserve, and perpetuates herd mentality.
Incorporating sections where the diverse political opinions of the dancers and collaborators create the structure of the choreography, the dance reflects on a national moral paralysis caused not by apathy, but by ambivalence.
The work features a soundscore including contemporary pop and hiphop music, original music composed by JD/df's collaborator Karl Schwarz, a Bronx guitarist, and recordings of text from revolutionary feminist visionaries Adrienne Rich and Nikki Giovanni and socialist leader Che Guevara.