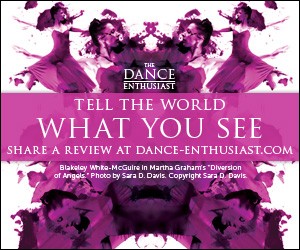 2 week Season -Oct 26-November 7th
Company:
Cedar Lake Contemporary Ballet Company
CEDAR LAKE CONTEMPORARY BALLET TO FEATURE PREMIERES BY EKMAN, GODANI AND SHECHTER IN OCTOBER AT THE JOYCE
Two-Week Season to Premiere Works by Sweden's Alexander Ekman, Italy's Jacopo Godani and the London-Based Hofesh Shechter -- And Revive Works by Jo Strømgren and Didy Veldman
New York, N.Y., June 20, 2010 – Benoit-Swan Pouffer, Artistic Director of Cedar Lake Contemporary Ballet, has scheduled New York premieres of works by three European-based choreographers during the company's two-week season at the Joyce that begins October 26 and concludes November 7.
The new works and their creators are "Hubbub," by Sweden's Alexander Ekman; "UNIT IN REACTION," by Italy's Jacopo Godani; and "The Fools," by London-based Hofesh Shechter. Comprising two programs, the Cedar Lake season also includes a pair of repertory favorites: "Sunday, Again," by Norway's Jo Strømgren and "frame of view," by The Netherlands' Didy Veldman.
Under Pouffer's direction, Cedar Lake has become known for commissioning new works by the world's most sought-after choreographers. Through their daring, athletic movement and integration of ballet into contemporary and popular forms, the dancers of Cedar Lake take audiences on a choreographic journey that explores the infinite possibilities of movement and multimedia.

PROGRAMS: October 26 - 31: "Sunday, Again," " UNIT IN REACTION," " Hubbub" November 2 - 7: "Sunday, Again," " The Fools," " frame of view"
Tue–Wed 7:30pm; Thu–Fri 8pm; Sat 2pm & 8pm; Sun 2pm & 7:30pm Post-performance "Dance Chat:" Wednesday, October 27
TICKET PRICES AND JOYCE MEMBER INFORMATION Single tickets start at 0. Call JoyceCharge (212-242-0800); visit the Box Office (Monday-Friday, 12- 6pm); or charge online at www.Joyce.org. NOTE: Ticket prices are subject to change. The Joyce Theater is located at 175 Eighth Avenue at 19th Street. For more information visit www.cedarlakedance.com