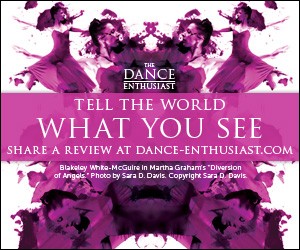 2010-2011 Season Beginning
Company:
MIRO MAGLOIRE'S NEW CHAMBER BALLET
MIRO MAGLOIRE'S NEW CHAMBER BALLET BEGINS ITS
2010-11 SEASON WITH BALLETS BY MAGLOIRE
AND EMERY LeCRONE
Saturday & Sunday, September 18 & 19 at 8 PM
City Center Studio 4, 130 West 56th Street
Tickets: 2; 2 for students & seniors
Dancers: Alexandra Blacker, Elizabeth Brown, Madeline Deavenport, Victoria North, Lauren Toole
Musicians: Melody Fader, piano
Miro Magloire announces the opening performances, September 18 & 19 in City Center Studio 4, of his New Chamber Ballet's 2010-11 season. Magloire, who began his career as a composer, is creating a new ballet for which he also composed the music, and guest choreographer Emery LeCrone will be represented by her Five Songs, music by Mendelssohn. All ballets are set to piano music, which will be played live by longtime collaborator Melody Fader.
New Chamber Ballet is taking into its repertory Emery LeCrone's Five Songs, set to Mendelssohn's Songs without Words, op. 19, and originally created for the Columbia Ballet Collaborative. Following the work's premiere in April 2010, Roslyn Sulcas noted that "Ms. LeCrone has genuine choreographic gifts. She knows how to keep dancers still and create sculptural groupings. She can create fascinatingly awkward-looking movement within ballet terms." (The New York Times, April 11, 2010)
The piano music of contemporary Sicilian composer Salvatore Sciarrino accompanies Magloire's 2007 Adue. Lauren Toole will repeat the role that she created in which her "...lush, slow extensions made a striking counterpoint to the icy shards of Salvatore Sciarrino's piano music." (Claudia La Rocco, The New York Times, September 24, 2007) Sciarrino was recently featured in the 2010 Lincoln Center Festival, where his opera "La Porta Della Legge," received its North American premiere. Reviewing in The New York Times, Anthony Tommasini found the music " riveting" (July 21, 2010). Also by Magloire is a repeat of his Watched, set to the same music by Haydn but, says Magloire, with a new title and a new ending.
Making her debut with New Chamber Ballet is Alexandra Blacker, who began her training in St. Petersburg, Florida at Judith Lee Johnson's Studio of Dance. At 16 she attended SAB and, after graduation, joined the Los Angeles Ballet, where she danced in numerous Balanchine ballets as well as many new contemporary works. She recently relocated to New York and joined New Chamber Ballet.