2012-2013 DANCE SEASON 92ND STREET Y HARKNESS DANCE CENTER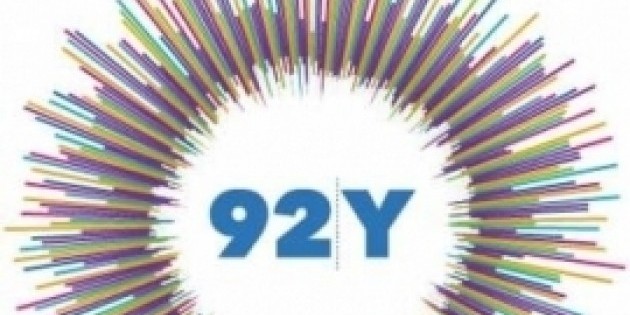 2012-2013 DANCE SEASON 92ND STREET Y HARKNESS DANCE CENTER New! Discounted Tickets for 35 and Under a www.92Y.org/35&Under;
TICKETS/INFO | www.92Y.org | 1395 Lexington Ave. | 212.415.5500
New! Discounted Tickets for 35 and Under – www.92Y.org/35&Under
2012-2013 DANCE SEASON
92ND STREET Y HARKNESS DANCE CENTER
92Y Fall Concerts, Lectures, Classes and more for Kids and Adults – All on Sale Now
92ND STREET Y HARKNESS DANCE FESTIVAL
19th Season, 5 Companies, 15 Performances, Curated by Doug Varone
SUNDAYS AT THREE
Informal Previews of New and Reconstructed Works by a Single Artist
FRIDAYS AT NOON
Free Previews of New or Developing Choreography in a Relaxed Setting
New York, NY: July 31, 2012—92nd Street Y's 2012-2013 dance season offers everything from Ronald K. Brown to hula dance, new ballet by NYCB and ABT alums to Mexican folk forms, Faye Driscoll to Merce Cunningham. We continue our innovative series of talks that examines the social and political aspects of dance and we offer special weekends celebrating Douglas Dunn, contemporary Israeli choreography and the work created by modern dance's first power couple, Martha Graham and Erick Hawkins. And, for children and adults who want to do the dancing themselves, we offer dozens of classes in 16 different styles – check out our free open house and class sampler on Sunday, September 9, from 12-3:30 pm. Below, an overview of the season, starting with the 92nd Street Y Harkness Dance Festival. Tickets for all events go on sale July 18.
92ND STREET Y HARKNESS DANCE FESTIVAL
19th Season, 5 Companies, 15 Performances
STRIPPED / DRESSED: DANCE CURATED BY DOUG VARONE
Friday, February 22 through Sunday, March 24
Tickets 0; www.92Y.org/harknessfestival or 212.415.5500
Doug Varone, whose company is in residence at 92nd Street Y's Harkness Dance Center, again curates our Festival, with a "Stripped/Dressed" format. Each artist spends the first half of the evening taking apart a dance – talking about it, showing how it was built and giving the audience a direct experience of dance-making without lights or costumes. After the intermission, the work will be presented fully "dressed."
92Y Harkness Dance Festival, WEEK ONE
DOUG VARONE & DANCERS
Fri, Feb 22 and Sat, Feb 23 at 8 pm; Sun, Feb 24 at 3 pm, 0
We kick off the Festival with Varone's own company, who also appeared in 92Y's first Dance Festival back in 1994. Doug Varone and Dancers proudly celebrates its 25th Anniversary this season. Varone will discuss the creative process and evolution of his newest work, set to Julia Wolfe's haunting score "Cruel Sisters," and present its world premiere. From its first concerts at PS 122 in 1986, through acclaimed works like Lux, Rise, Orpheus and Euridice (for which Varone won an OBIE) and Dense Terrain, Doug Varone and Dancers has been praised for its expansive choreographic vision, versatility and technical prowess. The company has won eleven Bessies as well as two American Dance Festival awards for new work, and three awards from the National Dance Project. Varone's work has been supported by the National Endowment for the Arts and he also won a Guggenheim Fellowship.
92Y Harkness Dance Festival, WEEK TWO
FAYE DRISCOLL
Fri, Mar 1 and Sat, Mar 2 at 8 pm; Sun, Mar 3 at 3 pm, 0
Faye Driscoll is a Bessie-award winning choreographer and director who has been called "a startlingly original talent" by The New York Times and "the most promising performing artist of her generation" by the Weekly Standard. For her engagement at 92Y she will share her dance theater work (created through an intensely rigorous and collaborative process with her performers) that exposes the "id" in human behavior while simultaneously embracing humor, seduction, and play. Dealing with the daily narratives of human experience in unpredictable and complex ways, Driscoll's work seeks to unhinge the viewer from her comfort zone.
92Y Harkness Dance Festival, WEEK THREE
LIZ GERRING DANCE COMPANY
Fri, Mar 8 and Sat, Mar 9 at 8 pm; Sun, Mar 10 at 3 pm, 0
In her richly textured and intensely physical dance, she dreams in code, Gerring and composer Michael J. Schumacher create an oblique series of sound and movement relationships that crisscross space and time. Distilled from the idea of a single emotional relationship, the choreography creates an environment through which its various elements entwine, bounce, reflect, and twist, exploding the relationship onto and throughout the entire company. Liz Gerring's dance evolves from gestures and explorations of cause-and-effect. She works closely with visual artists and with electronic composer Michael J. Schumacher to create evocative works that explore human relationships and the intense emotions that come with them. Her 2010 work Lichtung/Clearing was named one of The New York Times' best dance performances of the year.
92Y Harkness Dance Festival, WEEK FOUR
RONALD K. BROWN / EVIDENCE, A DANCE COMPANY
Fri, Mar 15 and Sat, Mar 16 at 8 pm; Sun, Mar 17 at 3 pm. 0
Originally commissioned by Philadanco in 1999, Gatekeepers portrays dancers as "soldiers walking toward heaven, searching for the wounded and looking out to make a safe haven for others to follow." The inspiration and influences for Gatekeepers include Native American myth and African traditions. The name "Gatekeeper" is given to a new­born child in some African cultures and preparations are made to welcome the child into the community. The theme of preparing the way—a safe and peaceful way of life across generations, and our responsibility to help each other in this quest—is present in many of Brown's works. Brown has choreographed for companies around the world, including Alvin Ailey American Dance Theater, Jennifer Mueller/The Works and Jeune Ballet d'Afrique Noire. His company, Evidence, founded in 1985, has performed across the U.S. and in Cuba, Brazil, France, Spain, England, Mexico and Senegal, among other countries.
92Y Harkness Dance Festival, WEEK FIVE
KATE WEARE COMPANY
Fri, Mar 16 and Sat, Mar 17 at 8 pm; Sun, Mar 18 at 3 pm, 0
Join choreographer Kate Weare, company members and designers for a behind-the-scenes look at Garden, a 35-minute quartet that unfurls in a lush, softly menacing atmosphere featuring an upside-down tree created by scenic designer Kurt Perschke and exquisitely lit by designer Brian Jones. Using an arresting choreographic language of paired unison that ranges from sensuous and delicate to severe and propulsive, Garden draws on primitive issues of hierarchy, collective identity and safety amid the uncontrollable natural world.
===========================================================================
SUNDAYS AT THREE, FRIDAYS AT NOON and SPECIAL EVENTS
FRIDAYS AT NOON: CELIA IPIOTIS' EYE ON DANCE
Celia Ipiotis' award-winning television program featured a who's who of choreographers and dancers. We'll be screening interviews from the series Feb 1 and 8, Apr 5 and May 17.
Fri, Oct 5, 12-3 pm, ***FREE***
Fridays at Noon | DAVID PARKER CURATES CABARET: TRIPLE-DISTILLED DANCES
Musical theater, concert dance, performance art and nightclub social dances all influence the emerging genre of cabaret dance. For this program, David Parker, co-director of The Bang Group, presents diverse artists whose cabaret dances range from unadulterated song-and-dance numbers to deconstructions of musical theater, star turns and floor shows.
Fri, Oct 5 & Sat, Oct 6 at 8 pm; Sun, Oct 7 at 3 pm, 5
WORLD PREMIERE: DOUGLAS DUNN & DANCERS: CASSATIONS
Douglas Dunn's Cassations is a suite for twelve dancers, set to arias by Donizetti, Bellini, Handel and others. The dance is in the round, with the audience ringed around the room. The male and female dancers (including Dunn himself and Dance Festival veteran Christopher Williams) explore unity, separateness, combativeness and submission. The word "cassation" refers both to an 18th century suite of short musical works and a legal ruling; Dunn says both meanings have influenced him as he creates the dance.
Fri, Oct 19, 12 pm, ***FREE***
Fridays at Noon | CHARLES ASKEGARD AND MICHELE WILES
Ballet Next is the new company formed by former New York City Ballet dancer Charles Askegard and former American Ballet Theater dancer Michele Wiles. They'll present Entwined, choreographed by Margo Sappington; Mauro Bigonzetti's La Follia and Askegard's Stravinsky Divertimento. NYCB and ABT dancers Jenny Somogyi, Misty Copeland, Georgina Pazcoguin are accompanied by the live Ballet Next Ensemble.
Sun, Oct 14, 3 pm, 5
Sundays at Three | LIFEDANCE / GLORIA McLEAN AND DANCERS
Gloria McLean and her company LIFEDANCE present a program of new choreography, including a quartet, Dancing Without Illusion, dedicated to the iconic American abstract painter Will Barnet, the 101-year-old who recently won the National Medal of Arts. McLean uses Modernist ideas in a fresh way for this dance, whose title comes from a famous essay by Barnet.
Fri, Oct 26, 8 pm, from 5
MovementTalks with Edward Henkel | LIFE SKILLS THROUGH SOCIAL DANCE
Former dancer and choreographer and current Assistant Director of 92Y's Harkness Dance Center Edward Henkel presents a special series of talks on dance and its relationship to social behavior and (self) consciousness. Whether you're a casual So You Think You Can Dance viewer or a season ticket-holder to the ballet, you'll find entirely new ways of thinking about dance at MovementTalks. In this talk, renowned show dance champions Pierre Dulaine and Yvonne Marceau discuss the success of their program Dancing Classrooms, which brings ballroom dancing—and movement, social skills and increased self-confidence—to 5th and 8th graders. Originally documented in the film Mad Hot Ballroom, Dancing Classrooms currently reaches 42,000 children nationwide. A new documentary, Dancing in Jaffa, will soon be released, documenting Dulaine's classes bringing Palestinian and Jewish children together to dance. Dulaine, Marceau and Henkel will discuss how social dancing can change society and what happens when partners move together in harmony.
Fri, Nov 2, 12 pm, ***FREE***
Fridays at Noon | SATELLITE BALLET – TROY SCHUMACHER
This past spring, New York City Ballet dancer Troy Schumacher showed new choreography at a Fridays at Noon performance. Now he returns with his new company, Satellite Ballet, dancing his own choreography and works created by other NYCB dancers.
Sun, Nov 11, 3 pm, 5
Sundays at Three | SIDRA BELL DANCE NY
Sidra Bell Dance New York, known for its progressive and forward-looking works, returns to 92nd Street Y. This time the company brings a mix of live music and a new work that responds to the work of Harlem Renaissance artists Romare Bearden and Georgette Seabrooke Powell. The New York Times says "Bell has a lot working in her favor: powerful, daredevil dancers and an almost garish imagination, capable of dreaming up surreal scenarios… a slick, in-your-face intensity dominates her onstage worlds."
Fri, Nov 16, 12 pm, ***FREE***
Fridays at Noon | WALTER DUNDERVILL CURATES
Contemporary choreographer Dundervill wonders how often we see something genuinely original and new. Does "new" work often end up seeming familiar? Does "original" mean the same as "new"? And are these distinctions that matter? He presents a program of choreographers who are exploring current ways of thinking about dance.
Sat, Nov 17, 7:30 pm and 9:15 pm, from 0
BAROQUE BALL
Last year's baroque ball was a smashing success, so we're bringing you another evening of ancien regime glamor. Catherine Turocy's New York Baroque Dance Company will present reconstructed dances or new works created in the Baroque style. After you've savored the elegance and courtliness of Baroque dance, you'll get a chance to try it yourself, as company members lead you in a set of contredanses. Go for Baroque!
Fri, Nov 30, 12 pm, ***FREE***
Fridays at Noon | HARI KRISHNAN CURATES: WE ARE THE WORLD! REDEFINING CONTEMPORARY DANCE FROM A GLOBAL PERSPECTIVE
Krishnan, the artistic director of the Toronto-based inDANCE company, presents three works-in-progress colored by the diversity of world cultures and by contemporary dance. Drawing from classical dance traditions in Asia, the choreographers infuse contemporary style with the richness of other dance traditions.
Sun, Dec 9, 3 pm, 5
Sundays at Three | THE LEGACY OF ISADORA DUNCAN
Celebrate the 35thanniversary of the Isadora Duncan International Institute, founded by Maria-Theresa Duncan, with IDII trained and affiliated dancers from near and far under the aegis of Jeanne Bresciani. View highlights from recently acclaimed IDII collaborations with Washington, D.C.'s Word Dance Theater in reconstructions of Isadora's Preludes to the music of Chopin. 2012 also marks the 20th year of 92Y serving as the New York home of IDII.
Fri, Dec 14, 12 pm, ***FREE***
Fridays at Noon | CONTEMPORARY WOMEN CHOREOGRAPHERS
Vibrant and original work by seven leading artists: Lane Gifford, Helen Heineman, Daniela Hoff, Ana Isabel Keilson, Annie Sailer, Aynsley Vandenbroucke and Kathy Wasik.
************ SPECIAL WEEKEND PROGRAMMING: OUT OF ISRAEL ************
In conjunction with the annual gathering of the American Performing Arts Presenters in New York, we offer our annual weekend of New York-based Israeli choreographers, showing recent and developing works. Dana Katz, Michal Samama. LeeSaar/THE COMPANY and Neta Pulvermacher are among the artists performing.
Fri, Jan 11, 12 pm and Sat, Jan 12, 3 pm *** FREE ***
OUT OF ISRAEL SHOWCASE
New York-based Israeli choreographers gather for a third year of our showcase of Israeli contemporary dance. Come see how each of the artists and companies works with Israel's tradition of visceral, bold dance. Excerpts from Michal Samama, Netta Yerushalmy and others. On Friday, artists present short excerpts of recent works and on Saturday, longer passages.
Sun, Jan 13, 3 pm, 5 (free to APAP attendees)
Sundays at Three | CURATED BY DANA KATZ
Join Israeli choreographer Dana Katz and American choreographer Shannon Gillen as they present their new project, which embodies the worldwide tradition of celebrating spring's renewal. For many cultures, spring traditions take on an anti-death meaning, as the earth brings forth new life over and over again. What would these spring celebrations mean to us if we were told we would never die? Or, conversely, if we learned death were coming soon? Katz and Gillen give physical shape to these psychological questions.
************************
Fri, Jan 25, 12 pm, ***FREE***
Fridays at Noon | PRINCESS GRACE FOUNDATION: CELEBRATING 30 YEARS
Grace Kelly continued to play a role in the arts even when she became Princess Grace of Monaco. Her legacy continues through the Princess Grace Foundation – USA, founded in 1982 to support the performing arts. The Foundation gives awards to outstanding emerging artists in dance, theater and film. For this program, dance award winners perform.
Fri, Jan 25, 8 pm, from 5
MovementTalks with Edward Henkel | THE ART OF DANCE THERAPY: FUTURE DIRECTIONS with DR. MIRIAM ROSKIN BERGER
Edward Henkel is a former dancer and choreographer and currently the Assistant Director of 92Y's Harkness Dance Center. He's presenting a special series of talks on dance and its relationship to social behavior and our senses of identity. Whether you're a casual So You Think You Can Dance viewer or a season ticket-holder to the ballet, you'll find entirely new ways of thinking about dance. As the profession evolves, the dance/movement therapy community uncovers new populations that can benefit from dance as a tool to go deeper into the sources of disturbance. From day care to prison, dance/movement therapy gives the individuals a physical voice. Dr. Berger and guests share how dance therapists develop their empathic skills and movement tools, the signs they look for in a patient and how they merge art and science to bring healing and fulfillment.
Fri, Feb 1, 12 pm, ***FREE***
Fridays at Noon | Legacy Performance: NEW DANCE GROUP: WORKS BY SOKOLOW, DUDLEY, MCKAYLE, MASLOW and MORE
92Y celebrates the New Dance Group, established in 1932 and dedicated to social change through dance and movement. The program includes works by New Dance choreographers: Donald McKayle's Saturday's Child from Tenant in the Street revived by Janet Eilber; Ethyl Winter's Time is Money; Jane Dudley's Harmonica Breakdown; Charles Weidman's Study in Contrast; Sophie Maslow's Sweet Betsey and Old Smokey from Folksay; Anna Sokolow's The Workers Unite and excerpts from Rooms and Daniel Nagrin's Spanish Dance. A panel discussion and archival film round out the program.
****SPECIAL WEEKEND PROGRAMMING: MARTHA GRAHAM AND ERICK HAWKINS****
Fri, Feb 8, 12 pm, ***FREE***
Fridays at Noon | MARK FRANKO, ANNA KISSELGOFF, YURIKO, CATHY WARD, CELIA IPIOTIS on GRAHAM AND HAWKINS
The relationship between dance pioneers Martha Graham and Erick Hawkins was passionate and powerful. Dance scholar Mark Franko and critic Anna Kisselgoff discuss this remarkable pair and host a panel discussion with former Martha Graham dancers Yuriko and Christine Dakin and Hawkins dancers Cathy Ward, Gloria McLean and Cynthia Reynolds. Celia Ipiotis will screen her interview with Hawkins from her TV series "Eye on Dance."
Sat, Feb 9, 3 pm
WORKSHOPS AND CLASSES IN GRAHAM AND HAWKINS TECHNIQUES
Details TBA
Sat, Feb 9, 8 pm
CHOREOGRAPHY BY GRAHAM, HAWKINS AND OTHERS
Martha Graham II, the junior company, performs her Errand into the Maze and Clytemnestra. Hawkins is represented by New Moon, danced by the Shay Ishii Dance Company and Early Floating, performed by dancers from the University of Nevada. The program will include works choreographed by former Graham and Hawkins dancers.
************************
Sun, Feb 10, 3 pm, 5
Sundays at Three | THE MEDIAN MOVEMENT
The Median Movement brings you an afternoon of dance theatre. Choreographers and dancers Xan Burley and Alex Springer create dances that are often absurd and evocative, sometimes narrative and always physically vigorous. They'll present a dance exploring their impressions and expressions and using their latest experimental techniques.
Fri, Apr 5, 12 pm, ***FREE***
Fridays at Noon | Legacy Performance: NEW WORLD UNIVERSITY DANCES A CUNNINGHAM EVENT
A rare chance to see Cunningham choreography. We present a MinEvent, staged for the New World School of the Arts by former Cunningham dancer Patricia Lent. Nancy Dalva, the Merce Cunningham Trust scholar-in-residence, offers commentary. Plus, a screening of Celia Ipiotis' "Eye on Dance" interview with Cunningham.
Sun, Apr 10, 3 pm, 5
Sundays at Three | HIGH ON DANCE
Our seventh annual presentation of solo and group works choreographed and performed by New York City high school dancers. Come see tomorrow's stars today!
Application deadline for students: January 9, 2013, download an application at www.92Y.org/Harkness
Fri, Apr 19, 12 pm, ***FREE***
Fridays at Noon | LEGACY PERFORMANCE: WORKS BY FREDRICK EARL MOSLEY
Montclair State Repertory Dance Company performs dances by Fredrick Earl Mosley.
Fri, May 3, 12 pm, ***FREE***
Fridays at Noon | HULA DANCE
Hula dance, both kahiko (ancient) and auana (modern), honors gods, royalty, significant geographical sites, historical events, and meaningful relationships. Hula is communion and communication with elders, deceased and alive. It embodies the words and multi-layered intentions of the mele (song) or oli (chant). On this program, danced by NYC hula groups, we will see sacred dances, as well as dances that express humor, and simple pleasure. Also, in the lobby, we'll offer interactive demonstrations of lei-making, hula lessons, video of hula in Hawaiian contexts, and kupuna (elders) and kumu (teachers) discussing hula.
Sun, May 5, 3 pm, 5
Sundays at Three | NELLY VAN BOMMEL
Named one of Dance Magazine's "25 to Watch" in 2010, Van Bommel has shown work in France, Taiwan, Canada and the U.S. Her choreography draws on different cultures and dance forms and she told Dance Enthusiast she tries to "look for grace" rather than provoke her audiences. She has created dances for Milwaukee Ballet, CorbinDances, Springboard Danse-Montréal and the Purchase College Conservatory of Dance and has won prizes at the Genesis International Choreographic Competition, the AWARD Show at Joyce SoHo and Ballet Austin's New American Talent/Dance. She formed her company, NØA, in 2004.
Fri, May 17, 12 pm, ***FREE***
Fridays at Noon | Legacy Performance: PAULINE KONER
The remarkable dancer and choreographer, Pauline Koner, born in 1912, was an American original, having achieved fame as a principal dancer with Doris Humphrey and Jose Limón in the 1940s and '50s. An eclectic dance artist, Ms. Koner studied ballet with the incomparable Michael Fokine, danced with the Japanese choreographers Michio Ito and Yeichi Nimura, and studied Spanish dance. She choreographed the Holiday on Ice review, staged shows on Broadway, and was a pioneer in the experimentation of dance on television. She established her own modern dance company in 1949. Presented on this program will be reconstructions of Ms. Koner's choreography, film footage featuring Ms. Koner in performance, a panel of distinguished artists discussing the life and work of Pauline Koner and a screening of the "Eye on Dance" interview with Koner, conducted by Celia Ipiotis.
Fri, May 31, 12 pm, ***FREE***
Fridays at Noon | CHRISTOPHER WILLIAMS with JORDAN ISADORE and DOUGLAS DUNN: PEDIGREE PERIGEE APOGEE
Join dancer/choreographer Jordan Isadore,
who has danced in the work of dancer/choreographer Christopher Williams,
who has danced in the work of dancer/choreographer Douglas Dunn,
who has danced in the work of the late dancer/choreographer Merce Cunningham,
for a taste of their current research in the studio. Are there detectable traces of pedigree at play? Do they as artists prefer the point of perigee or apogee in relation to their predecessors? The three choreographers will show what they're working on and then talk with the audience.
Sat-Sun, Jun 1-2
SPECIAL EVENT: CALPULLI MEXICAN DANCE COMPANY 10th ANNIVERSARY CELEBRATION
Calpulli Mexican Dance Company celebrates 10 years of artistic creation and cultural expression. This weekend offers events for the whole family.
Sat, Jun 1, 2-5 pm: Family performance with interactive workshops. Bring your dancing shoes! Children's performance at 2pm; workshop from 3-5pm.
Sat, Jun 1, 8-11 pm: Anniversary Dance Party, A celebration with performances and special guest artists from Calpulli's 10 years. Mexican refreshments.
Sun, Jun 2, 3 pm: Anniversary Performance, from 5, children 12 and under free.
===========================================================================
ABOUT THE 92ND STREET Y HARKNESS DANCE CENTER
In 1935, what is now 92nd Street Y's Harkness Dance Center provided a home to the fledgling modern dance movement and its leader, Martha Graham. Among the great artists who have created, performed and taught at the Y are Alvin Ailey, Merce Cunningham, Jerome Robbins, Agnes de Mille, Erick Hawkins, Robert Joffrey, Pearl Lang, and Donald McKayle, building the foundation for contemporary dance as we know it. In recent years, they have been joined by today's dance stars, like David Parsons, Zvi Gotheiner, Keely Garfield, Neil Greenberg, Bill T. Young, Maia Claire Garrison, David Dorfman and Sean Curran. With the generous support of the Harkness Foundation for Dance, the Center continues to nurture the teaching, creation and performance of modern dance, serving adults, children, dance professionals and the community at large through classes and performance programs including the 92nd Street Y Harkness Dance Festival, 92Y's annual contemporary dance festival.
ABOUT 92ND STREET Y
92nd Street Y is a world-class nonprofit community and cultural center that connects people at every stage of life to the worlds of education, the arts, health and wellness, and Jewish life. Through the breadth and depth of 92Y's extraordinary programs, we enrich lives, create community and elevate humanity. More than 300,000 people a year visit 92Y's New York City venues and millions more join us through the Internet, satellite broadcasts and other digital media. A proudly Jewish organization since its founding in 1874, 92Y embraces its heritage and enthusiastically welcomes people of all backgrounds and perspectives. For more information, visit www.92Y.org.