Applications now open for The Performance Project 2021/22 Fellowship program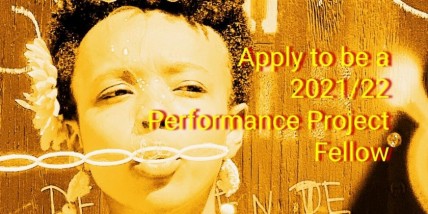 Company:
The Performance Project @ University Settlement
The Performance Project @ USS 2021/22 Fellowship program
Deadline: Friday, March 5 @ 11:59pm EST
The Performance Project Fellowship is a year-long creative career mentoring program designed for local, early emerging performing artists/cultural organizers (between the ages of 18-26) who want the support needed to build a career in the creative sector. The Fellows will produce work and curate a festival produced and presented by The Performance Project. The year will culminate with each Fellow developing a package of materials to support moving their projects and career forward.
Fellows will receive:
1. The opportunity to create work and have it promoted and presented.
2. Individualized creative career coaching.
3. Support in developing a resume, bio and performance reel.
4. Support in expanding professional network and selecting opportunities to acquire additional professional credentials.
5. Referral to additional Settlement Services that can provide crucial support such as housing advocacy, workforce development and individual counseling support. 
6. Career Development workshops to be held online.
7. A $500 stipend at the completion of the Fellowship Program.
Deadline: Friday, March 5 @ 11:59pm EST
For more information and to apply, visit: https://forms.gle/wdjU8sXRvxG4fq4R6
To learn more about The Performance Project and University Settlement, visit: https://www.universitysettlement.org/us/programs/arts/
Pictured: 2019/20 Fellow, close-up of an African-American young woman with a flower in her hair and blowing bubbles with a long bubble wand. The entire picture has an orange tint.