360 Dance Company 2013 Season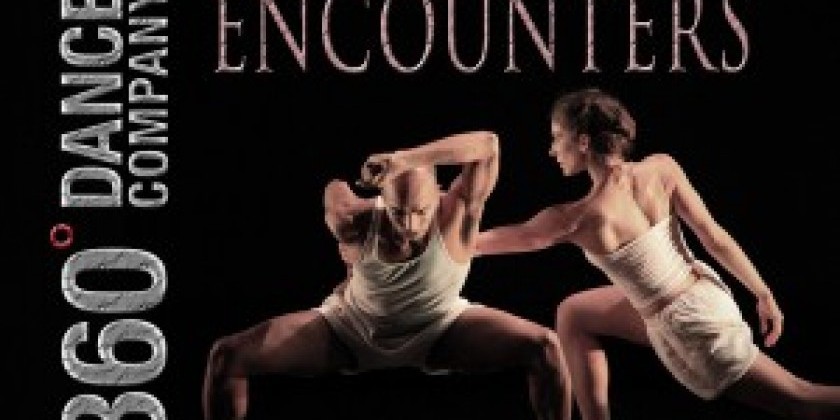 Company:
360 Dance Company
360° Dance Company presents
"Encounters"
360° Dance Company presents an evening including the World Premiere of Only For the Deranged, choreographed by Artistic Director Martin Lofsnes, and Tenant of the Street (1938), choreographed by Eve Gentry, from October 3-5, 2013 at Alvin Ailey Citigroup Theater, 405 West 55th Street, NYC. Performances: Thursday at 7:30pm (Opening Night Party), Friday at 7:30pm, Saturday at 7:30pm. Tickets start at 5 and are available at www.360fullcircle.net or at the door.


All Opening Night (Oct. 3) performance tickets are 0 and include a party with the artists immediately following the performance, with appetizers and cash bar. On exhibit and up for auction will be visual artist's interpretations of 360's choreography and dancers.


360° Dance Company presents "Encounters," it's 2013 New York City season at Ailey Citigroup Theater, with five diverse works shedding light on human interactions, including the World Premiere of Only For The Deranged, choreographed by Artistic Director Martin Lofsnes. The piece, inspired by scenes from "The Magic Theater" in Hermann Hesse's classic 1927 Steppenwolf, follows a man through encounters with characters ranging from a "wobbly woman," to "ladies who lunch," to the "ideal couple." Tenant of the Street, a company premiere choreographed by Eve Gentry in 1938, is a captivating and unsettling solo depicting the loss of humanity undergone by a homeless woman. Regular Chain of Being, choreographed by Lauri Stallings, is a tender journey for two set to Bellini's Casta Diva. This is the company's second commission by Ms. Stallings and was created in collaboration with gloATL, Atlanta GA. Martin Lofsnes' Near Dark is the artistic director's response to five passages from the writings of artist Edward Munch, and creates a visual landscape combining dynamic movement, unusual imagery and video projections by Christopher Boyd. Returning to the company's repertory is Filip A. Condeescu's Countertime, a poignant duet depicting the love and uncertainty between two men.


Dancers: Ernesto Breton, Carrie Ellmore-Tallitsch, Elaine Gutierrez, Aren Hooper, Martin Lofsnes, Barbara Alvarado Marin, Jerome Stigler, Hana Ginsburg Tirosh. Apprentice: Jackie Rea.