Isadora Duncan's 135th Birthday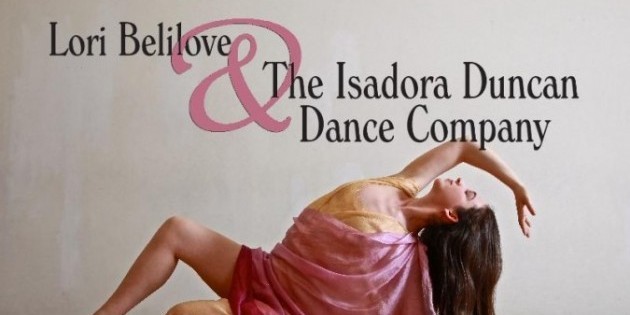 Company:
Lori Belilove and The Isadora Duncan Dance Company
Come Celebrate Isadora Duncan, the mother of modern dance,
in the heart of Greenwich Village!sadora Duncan's 135th Birthday Bash
Judson Memorial Church New York, NY
GALA OPENING
Tuesday, May 22
6:00 p.m. Cocktail reception
6:30 p.m. Pre-show lecture by distinguished dance historians with screening of rare video
7:15 p.m. Performance
8:30 p.m. After-party birthday cake and bubbly
0 in advance (2 for 00)/5 at the door

COMPANY PERFORMANCES
May 24, 25, and 26
6:00 p.m. Pre-show lecture by distinguished dance historians with screening of rare video
7:00 p.m. Performance
8:30 p.m. After-party cupcakes and bubbly
0 in advance/5 at the door
0 for students and seniors in advance/5 at the door

THE BELILOVEABLES
Matinee Performances
May 25, 11:00 a.m.
May 26, 3:00 p.m.
0 in advance/5 at the door
0 for children 12 and under in advance/5 at the door
To coincide with Isadora Duncan's 135th birthday May 26, 2012, Lori Belilove & The Isadora Duncan Dance Company will honor the mother of modern dance by offering a week of performances May 22-26. The six performances of the program The Art of Isadora will offer a retrospective on the life and art of Isadora Duncan, including signature solos and group works performed with live piano accompaniment by Matthew Ward. Performance will include a pre-show lecture and screening of rare archival video by distinguished dance historians. The celebration begins with a Gala opening on May 22 , with additional matinee and evening performances 24, 25, 26 at Judson Memorial Church, 55 Washington Square South, New York City. Following every performance will be a champagne toast to Isadora.
For the evening performances distinguished dance historians and celebrities including Deborah Jowitt, Anna Kisselgoff, Peter Kurth, Patricia Beaman, Alice Bloch, Michael Vernon, Lynn Garafola, Dana Ivey, and Chet Walker will offer pre-show lectures in the main hall followed by excerpts of the award-winning PBS documentary Isadora Duncan: Movement From the Soul and rare archival footage of Isadora Duncan and her dancers. As part of the celebration, the Isadora Duncan Dance Foundation will petition Mayor Bloomberg to make an official proclamation for the month of May in honor of Isadora Duncan. The 135th Birthday celebration further coincides with the United States Postal Service issuance of the 2012 forever postage stamp in honor of Isadora Duncan. Commemorative stamps and brochures will be available at all the events.
The Gala opening party and insider preview performance will be held Tuesday, May 22nd, 2012 at 6:00pm. The Gala will include a cocktail reception, a pre-show talk by dance historians and cultural critics, and screenings of rare archival footage of Isadora, including newly recovered film footage of the Isadorables and their students followed by a performance by Lori Belilove & The Isadora Duncan Dance Company. Signature solos choreographed by Isadora Duncan ca. 1924 including "Mother" "Revolutionary" "The Crossing at St. Petersburg" will be performed by Lori Belilove and senior company member, Beth Disharoon, as well as the new fully reconstructed Rakoczy March, an exuberant call to freedom and unity with music by Hector Berlioz which has not been seen on the concert stage since the 1930's, and The Slow March, a weighty expression of prophetic destiny created after the tragic death of Isadora's two children with music by Franz Schubert. Reconstructions of both group works were made possible from a grant awarded to the company by the National Endowment for the Arts (NEA) as part of American Masterpieces: Three Centuries of Artistic Genius. The event concludes with an after-party to toast Isadora featuring piano entertainment by New York's cabaret darling, Peter Mintun. Isadora's favorite German chocolate cake and bubbly will be served.
Tickets for the performance and pre-show lectures will range from 0 to 5. Gala tickets are 0 in advance, 5 at the door, 00 for a pair of two tickets. Tickets for the evening performances on May 24th, 25th, 26th are 0 advance purchase/5 at the door. Tickets for students and seniors: 0. For group sales contact Rachael Gardner or Austin Vaughn at 212-691-5040 or info@isadoraduncan.org