Isabel Lewis/ LEWIS FOREVER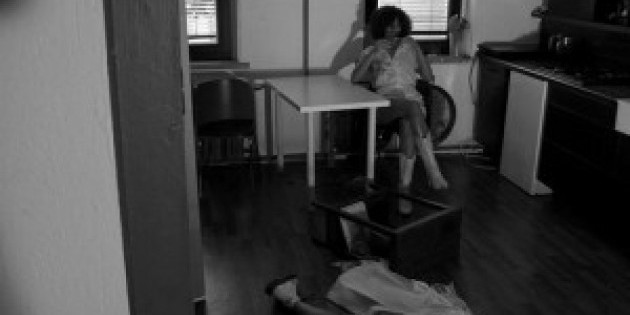 Company:
LEWIS FOREVER
September 12-15
WED-SAT at 7:30pm
Tickets:
7 general, 2 DNA members, 4 students/seniors, 2 advance
*There will be an opening reception at 6:30pm on September 12. There will be a post show discussion directly following the September 13 performance.
WORLD PREMIERE
A Guide To Kinship And Maybe Magic
Conceived by Isabel Lewis
Artist's Description: A Guide to Kinship and Maybe Magic is a live performance that uses the film SISTER (2011) by Lewis Forever, a performance collective comprised of siblings Isabel, Sarah, Ligia, and George Lewis Jr., as its point of departure. Live action and text are interwoven with video in a performance that is part director's commentary and part lecture on the intricate social relationships that we understand as kinship. Directed by Isabel Lewis and created with Brooklyn-based playwright, dramaturg, and performer Branden Jacobs-Jenkins this performance will feature an Imposter Lewis. The Imposter embodies the unlucky position of being just outside of a situation, having both the ability to analyze and asses the circumstances while also longing to be more intimately involved. The Imposter Lewis finally takes center stage in this new work.
Isabel Lewis was born in 1981 in Santo Domingo, Dominican Republic. Lewis studied Dance/Choreography and Literary Criticism at Hollins University (USA) before forming the Labor Union with Erika Hand in NYC in 2004. Lewis has presented her choreographic works at several venues such as The Kitchen, Dance Theater Workshop, Danspace Project, and PS 122 to name a few as well as several underground project spaces and galleries in Brooklyn, Queens, and the Bronx. Lewis was a Movement Research Artist in Residence and a Fresh Tracks Residency Recipient in 2005-2006 and has also received support from Creative Capital, the Jerome Foundation, New Museum, Harlem Stage, MAP Fund, and the Trust for Mutual Understanding. She has worked as an editor and writer for the Movement Research Performance Journal and was the curator for the performance series, Body Blend, at Dixon Place from 2005-2008. As a curator Lewis has also worked on the MR Festival 2004: Improvisation is Hard and the MR Festival 2007: Reverence (Irreverence) as well as Re-Imagining Utopia: Austrian/NYC Dialogue in partnership with MR, the Austrian Cultural Forum (NYC), and Tanzquartier Wien. As a performer Lewis has worked with Miguel Gutierrez, Ann Liv Young, Levi Gonzalez, David Neumann in NYC and Jasna Layes-Vinovrski and Tino Sehgal in Berlin. Lewis has created two frames for the workshop format, Communal Experience in Performing Instantly Created Fiction and BALLISTIC BODY and has had the honor of sharing them at Universität der Künste in Berlin and at Impulstanz International Dance Festival in Vienna.