5th Anniversary with Choreographer Seán Curran & DCD Book Launch!‏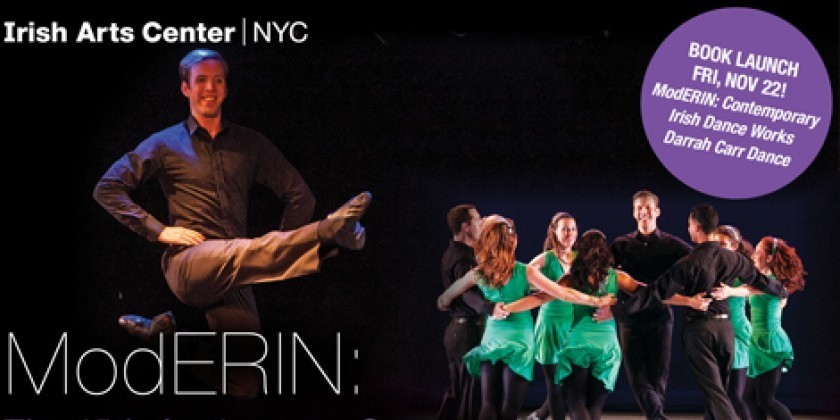 Company:
Darrah Carr Dance

IT'S OPENING NIGHT! WE ARE DELIGHTED BY OUR
TERRIFIC PREVIEW IN THE IRISH VOICE - CLICK HERE
& SPOTLIGHT ARTICLE ON ARTISTS WITHOUT WALLS - CLICK HERE
November 22 – November 24

Friday & Saturday | 8 pm
Saturday & Sunday Family Shows | 11 am
Sunday | 3 pm

Donaghy Theatre - The Irish Arts Center, 553 West 51st Street

"Carr is a radiant performer who blends Irish dance with modern dance with surprising success"
THE NEW YORK TIMES

"There's no fresher, more invigorating new American dance now than the choreography of Seán Curran"
THE LOS ANGELES TIMES

ModERIN: Darrah Carr's distinctive blend of contemporary modern dance and traditional Irish step, which defines the future of Irish dance for a global audience, returns to the Irish Arts Center following last year's Bessie Award Nomination. The company's celebratory 15th Anniversary Season features original work by renowned guest choreographer Seán Curran alongside new and favorite work by Artistic Director Darrah Carr, as well as live music by Liz Hanley and Niall O'Leary. The company kicks off its 15th Anniversary Season with the highly anticipated book release of "ModERIN: Contemporary Irish Dance Works - Darrah Carr Dance" on Opening Night. Published by Macater Press (www.macaterpress.com), this impressive artist's catalogue documents the company's lasting impact on the field of Irish dance and features stunning images and in-depth descriptions of their major repertory works.

FIVE OPPORTUNITIES TO ENGAGE WITH THE ARTISTS:

Mon, Nov 18 - 7pm: Masterclass with Darrah Carr - register here

Fri, Nov 22 - 8pm: 15th Anniversary Reception/Book Launch "ModERIN: Contemporary Irish Dance Works - Darrah Carr Dance"
Sat, Nov 23 & Sun, Nov 24 - 11am: Specially priced family shows

Sat, Nov 23 - 8pm: Audience talkback with Artistic Director Darrah Carr and guest choreographer Seán Curran

Sun, Nov 24 - 3pm: Pre-show conversation with Darrah Carr Dance

ADMISSION: $25 non-member / $20 member / $15 family show /
Use code DCD20 and pay the IAC member rate - while supplies last!
$65 VIP ticket to Opening Night Party and Book Launch on Friday, November 22
TICKETS: www.irishartscenter.org or 866-811-4111

Don't miss the Opening Night Party & Book Launch on Fri, Nov 22 after the 8 pm performance! Show your support for Darrah Carr Dance by purchasing a $65 VIP ticket which ensures the best seats in the house, a celebratory champagne reception with the full company and a special autographed copy of "ModERIN: Contemporary Irish Dance Works - Darrah Carr Dance," published by Macater Press.

This program is made possible in part with public funds from the Fund for Creative Communities, supported by the New York State Council on the Arts and from the Manhattan Community Arts Fund, supported by the Department of Cultural Affairs. Both grant programs are administered by the Lower Manhattan Cultural Council. Darrah Carr Dance's Family Show programs are also supported by the American Ireland Fund.

Photo Credit: Matthew Murphy; www.darahcarrdance.com

SNEAK PEEK
 
Click HERE for a sneak peek as DCD company member Mary Kate Sheehan rehearses new work by guest choreographer Seán Curran!