92Y Together: An Evening of Gratitude and Hope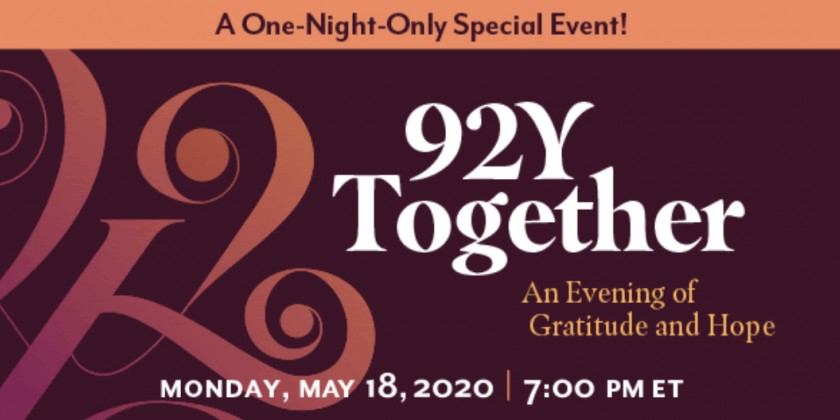 Company:
92Y
It would be impossible to recreate the annual Gala we had planned for May 18. So instead, we are gathering online — for an evening we hope will bring you moments of joy.
Your support over the last few weeks has made it possible for us not only to stay connected to our community, but to embrace the challenges facing our institution during this crisis. Join us and see the impact you have made. See how your generosity has enabled us to continue to bring the arts, entertainment, culture, learning, music, Jewish wisdom and inspiration to our seniors, our children, our students, and of the people who depend on 92Y for so much.
92Y Together will be a night to cherish and support our 92Y Community — a night of the arts and civic dialogue, curated especially for you, to uplift, entertain, and share our common humanity.
Special Guests
welcome from 92y ceo Seth Pinsky
rt hon Tony Blair in conversation with
Rabbi Peter J. Rubinstein
exclusive digital premiere featuring
The Artists of Dorrance Dance,
the groundbreaking tap dance company
Michelle Dorrance, Robbie Fairchild and Aaron Marcellus in a musical collaboration
innovative visual artist and storyteller Shantell Martin
booker prizewinning author Sir Salman Rushdie
former us poet laureate Billy Collins
the brilliant, bestselling literary novelist Nicole Krauss
performance by The Knights, the trailblazing group of young musicians yo‑yo ma has called "a chamber music experience in orchestral form."
and more special guests to be announced …