A DANCE AND MUSIC EVENT - AFRICA UMOJA: 20 YEARS OF FREEDOM AND DEMOCRACY TOUR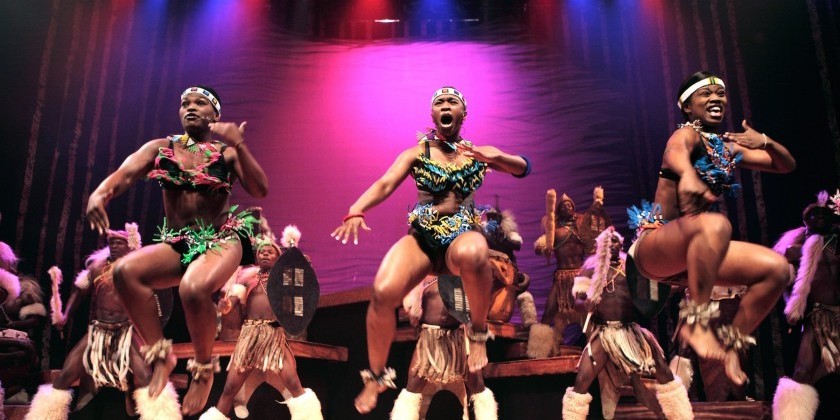 Company:
International Arts Foundation
International Arts Foundation Presents
A DANCE AND MUSIC EVENT
AFRICA UMOJA:
20 YEARS OF FREEDOM AND DEMOCRACY TOUR
4 PERFORMANCES ONLY 
January 6, 7, 8, & 10, 2015 at Symphony Space
Following engagements in Washington DC, Charlotte, NC, Atlanta, GA, New Orleans, LA, and Miami, FL, the International Arts Foundation presents the South African dance and musical event, AFRICA UMOJA: 20 YEARS FREEDOM AND DEMOCRACY TOUR. From creators and choreographers Todd Twala and Thembi Nyandeni, this program, a celebration of the post-apartheid era in South Africa, can be seen for four performances only on January 6th, 7th, 8th, and 10th, 2015 at Symphony Space, 2537 Broadway (at 95th Street), NYC. All performances begin at 7PM. Tickets are $75, with senior and student tickets also available. Tickets are now on sale and can be purchased on line at www.symphonyspace.org, by calling 212.864.5400, or in person at the box office.
AFRICA UMOJA: 20 YEARS FREEDOM AND DEMOCRACY TOUR comes to New York City with a cast of 32 talented and vibrant professional dancers and singers from South Africa, as the official USA representatives of South Africa's 20 years of a freedom and democracy. The performance is a celebration of history and the indigenous South Africa music and dance that has been playing to standing ovations around the world. www.umojausatour.com
With the anniversary of Nelson Mandela's death on December 5th, one of the highlights of AFRICA UMOJA: 20 YEARS FREEDOM AND DEMOCRACY is a tribute to Mandela, which visualizes the world leader's time in jail until his release from prison in 1990. The song "Long Road To Freedom" is performed in honor of Mr. Mandela's legacy.  Another reflection in the show dedicated to civil rights leader Martin Luther King Jr. is the performance of "I Have a Dream." There are also spirited renditions of African American classics such as "Amazing Grace" and "Oh Happy Day."
An emotional tribute to South Africa and the Zulu heritage, AFRICA UMOJA: 20 YEARS OF FREEDOM AND DEMOCRACY blends traditional and contemporary elements including authentic Zulu dancing; explosive drumming, and gospel music. AFRICA UMOJA, which in Zulu means "together," tells the history of South Africa   from the earliest rhythms of the Zulu drums to the current club sounds called "Kwaito". The repertoire includes internationally acclaimed choreography, cross-cultural and traditional love songs, lullabies and other musical expressions of rural life. The narration reflects on stories of love and community as well as overcoming pain and endurance of South Africa's most tumultuous period era. 
Woven throughout the historical journey are reminiscent sounds of vibrant Jazz that saw Black South Africans through some of the country's stormiest passages inspired by popular music from iconic and internationally acclaimed stars such as Miriam Makeba (Mama Africa), Hugh Masekela, and the late Dolly Radabe. 
AFRICA UMOJA is the vision of its founders and directors Todd Twala and Thembi Nyandeni. Both are choreographers and dancers born and raised in Johannesburg's Township of Soweto and have experienced life in a pre and post-Apartheid era. Together they choreographed and designed the costumes for the tour that began with a dream to give back to their community and offer the same opportunities they had. AFRICA UMOJA was first presented at the Market Theatre in South Africa.  Since then the show has played London's West End and over 30 countries worldwide garnering critical and audience acclaim 
AFRICA UMOJA: 20 YEARS FREEDOM AND DEMOCRACY TOUR stars Neo Chuene, Penwel Langa, Mbhali Ndlovu, Aphiwe Dumeka, Livhuwani Mawela (Lebo), Nompumelelo Mayiyani (Mpumi), and Kegomoditswe Nhlabathi (Kego). 
International Arts Foundation President and Chairman and Managing Partner for SAIG Entertainment Ernest D. Kelly is the executive producer of the USA Tour. On bringing AFRICA UMOJA: 20 YEARS FREEDOM AND DEMOCRACY TOUR to the United States, Mr. Kelly says "audiences will experience heartfelt performances in an exciting tribute to South Africa and the Zulu heritage that punctuates our joint celebration with South Africa's twenty years of freedom and democracy." 
This production is presented by the International Arts Foundation and produced by South Africa Investment Group(SAIG). Sponsors include South Africa Department of Arts and Culture and South African Airlines.
AFRICA UMOJA: 20 YEARS FREEDOM AND DEMOCRACY USA TOUR DATES:
Washington DC         National Theatre                                            November 4th – 9th
Charlotte, NC            Knight Theater                                               November 20th – 22nd
Atlanta, GA               Rialto Theater                                                 November 25th – 30th
New Orleans, LA-  Mahalia Jackson Theater of Performing Arts    December 4th  – 14th 
Miami, FL                  Actor's Playhouse/Miracle Theater   December 30th  – January 3rd
New York City           Symphony Space                         January 6th  – 8th and 10th , 2015