A History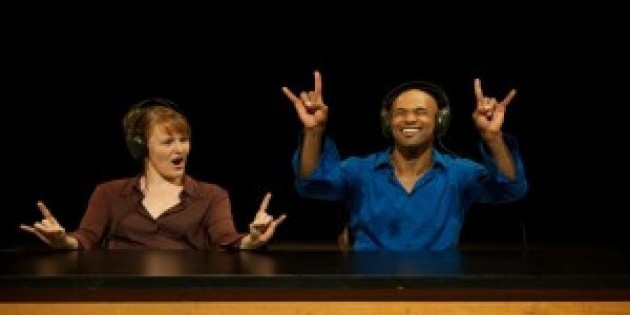 Company:
Bebe Miller Company
Apr 12 - 13 @ 7:30pm
0
Co-presented by 651 Arts
OFF-SITE @ Kumble Theater for the Performing Arts LIU, One University Plaza, Brooklyn, NY
For tickets visit Kumbletheater.org or call 718. 488. 1624
A History can be viewed as both the evidence and performance of the creative conversation embedded in the last decade of Bebe Miller Company's work. Viewed through the lens of a partnership, veteran Bebe Miller Company dancers Angie Hauser and Darrell Jones appear live and virtually to create a dynamic theater based performance and archeological inquiry. Under Miller's direction, their nuanced dancing relationship is an opportunity to look at the way past ideas and experiences lead us forward.
Apr 12 Stay Late Discussion: Letter to the Artist with Eva Yaa Asantewaa (Dance Writer, Critic for Dance Magazine & InfiniteBody) (Bebe Miller responds to a letter written to her by Eva Yaa Asantewaa about A History)
Bebe Miller Company's A History was commissioned by the Wexner Center for the Arts at The Ohio State University through its Wexner Center Artists Residency Award program and the Krannert Center for the Performing Arts at the University of Illinois at Urbana-Champaign. A History was also developed with support from Wesleyan University's Institute for Curatorial Practice in Performance. The creation of A Historywas made possible with support from The Ohio State University's College of Arts and Humanities Grants for Research and Creative Activity and the Department of Dance, as well as by Ohio State's Advanced Computing Center for Arts and Design, Jerome Lawrence and Robert E. Lee Theatre Research Institute, and the Department of Women's Studies and their Coca-Cola Critical Difference for Women grant program. The creation and presentation of A History was made possible by the New England Foundation for the Arts' National Dance Project, with lead funding from the Doris Duke Charitable Foundation and additional funding from The Andrew W. Mellon Foundation, the MetLife Foundation, and the National Endowment for the Arts. Additional support forA History and Bebe Miller Company has been provided by the Multi-Arts Production Fund, a program of Creative Capital Foundation supported by The Doris Duke Charitable Foundation and the Andrew W. Mellon Foundation and the National Endowment for the Arts.