A Kinesis Project Update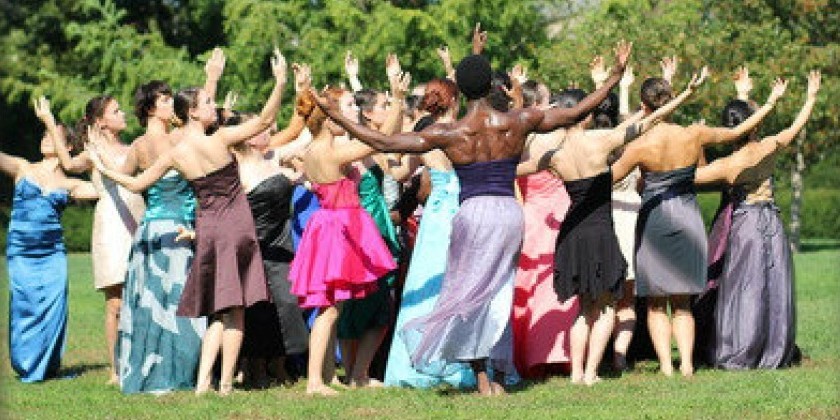 Company:
Kinesis Project
Summer into Fall - Park Dancing & DISTRACTION

DISTRACTION at Adelphi
photo by H. Frizzell
Garden City NY

It's a calm, rainy, Sunday evening, and I'm inspired to share with you all of the dancing that has been going on with Kinesis Project.
Open rehearsals, parks, gowns and flashmobs - more of each of these things will be coming your way soon.

PARK DANCES
As is our September tradition, Kinesis Project presented dances in Battery Park's Bosque Gardens for the 7th year in a row. 

We enjoyed a calm day of park-inspired dances, a special phrase made for a very special supporter, and, we threaded in elements of our new Secrets and Seawallls.

Thanks to our team of photographers, Cheryl French, Homer Frizzell, Mike Trutt and Tali Blankfeld we will have plenty of proof that it happened, and many, many beautiful photos of Jun, Ben and Hilary dancing on the benches, rocks and pathways -
(September 29th was a chilly day this year, so no fountain dancing.)
Ben Oyzon and Hilary Brown, Sept. 29, 2013
photo by C. French

********

NEW WORK
DISTRACTION, a new, large scale work of bared shoulders
Last spring there was a principal of a Junior High School in NJ who banned strapless dresses from the 8th Grade dance. 
Perhaps it was a matter of school policy -
But, what she said was: "They will distract the boys"
[Insert *Melissa shriek-of-rage* here]
So, in response to this circa 1742/female-blaming statement, I created DISTRACTION, read more about the project below. 

DANCING FLASHMOBS
Many people ask us how to BE IN in a flashmob with Kinesis Project
...EASY!
Click here and join our meetup.com site!

Others ask how to HIRE a Kinesis Project Flashmob
.....Also easy! Learn the quick 1,2,3,4 below!
Email me directly with quote requests: melissa.riker@gmail.com

Looking ahead at the next few months, I see opportunities for you, Christine, to join us in our rehearsal process of Secrets and Seawalls, at performances in small theatres and to dance with us...I'll be in touch about each of these very soon.

As Madeline stated after DISTRACTION - these projects are the perfect way for Kinesis Project to be spending our time - We are creating high-art dance performance that is completely accessible - sharing dances with you, having you dancing with us, and reminding us all that we are beautiful and deserve to stay proud. 

We will keep dancing, for & with you.

All our best in dances,
~Melissa and Kinesis Project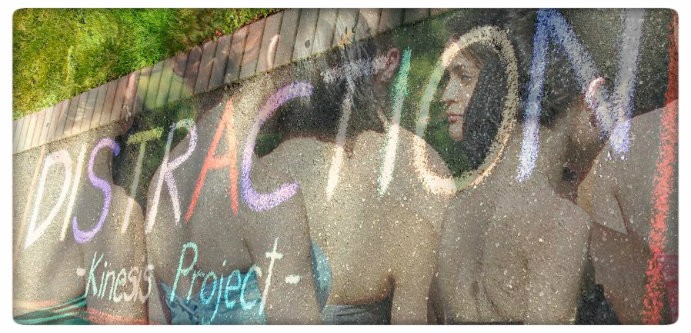 DISTRACTION.
A commissioned large-scale dance performance with 45 dancers in colorful, strapless gowns.
It is a mandala of gesture, dynamic dancing and partnering to be experienced outdoors on wide open green spaces.

Q: So a principal made you angry and you made a dance?
A: Yes. Let's call this my natural anger-to-art response. I needed to see a field full of bare shoulders, moving together and dancing as a breathing beautiful celebration.

I respond to issues that make me angry with as much beauty, community, shamelessness and celebration of the human form as I can muster.  After my initial shock of anger, all I could see was this color-filled, shoulder-baring field.

As timing would have it, I was invited to submit a proposal to Adelphi University Art Department's EPHEMERAL FESTIVAL.
DISTRACTION was perfect. 
The curator agreed, and it was commissioned by the AU Performing Art Center for the festival.

Baring shoulders for DISTRACTION at Adelphi University, Oct. 2, 2013
photo by Homer Frizzell

Many thanks to the skilled dancers of the Dance Department of Adelphi University and the support from AU's Performing Art Center.

NEWS FLASH!
We are making DISTRACTION available to universities,
women's centers and interested social groups.
Contact our team to discuss how we can create an amazing DISTRACTION for you.
distractionthedance@gmail.com
 
KP FLASH MOBS 1,2,3,4
I want to BE IN a dancing flash mob!
Step 1. Join HERE
Step 2. Read the emails from the meetup group
Step 3. RSVP to join a dance (come to rehearsal)
Step 4. Show up, dance like no one is watching and enjoy a soul-lifting moment of dancing with a whole bunch of other crazy people just like you.
I want to HAVE a dancing flash mob for my proposal/wedding/anniversary/birthday/political event/office party/ad campaign etc...
Step 1. Email Melissa: melissa.riker@gmail.com
Step 2. Have a short phone call about your visions and wants
Step 3. Get a quote
Step 4. Hire KP and get your flashmob dreams to come true!