ADVANCE NOTICE! Matthew Bourne's SLEEPING BEAUTY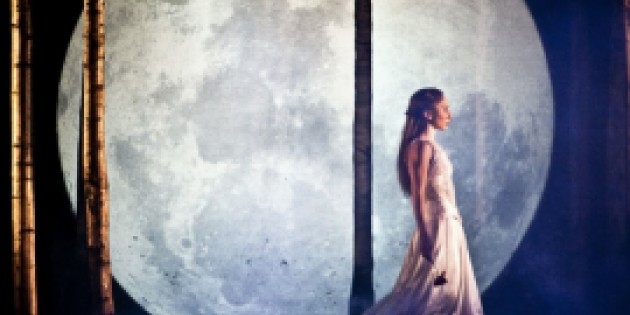 New York Premiere at City Center, Oct. 23
New York City Center Presents
The New York Premiere of
MATTHEW BOURNE'S SLEEPING BEAUTY
A NEW ADVENTURES PRODUCTION
*Limited Engagement*
OCTOBER 23 – NOVEMBER 3, 2013
Directed and Choreographed by Matthew Bourne
"Wonderful. Bourne's clever gothic re-write has discovered
something beguiling." - The Guardian, London
New York, N.Y., March 14, 2013 – New York City Center will present the New York premiere of Matthew Bourne's acclaimed Sleeping Beauty for a limited engagement, October 23 – November 3, 2013, at City Center (West 55th Street between 6th and 7th Avenues). Tickets will go on sale on March 25.
Sleeping Beauty sees Bourne return to the music of Tchaikovsky to complete the trio of the composer's ballet masterworks that started in 1992 with Nutcracker! and continued in 1995 with the international hit Swan Lake. City Center presented a limited-run production of Swan Lake in 2010.
"We are thrilled to welcome Matthew and his company New Adventures back to City Center with this exciting new production," said Arlene Shuler, President & CEO of City Center. "This Sleeping Beauty is imaginative, surprising and absolutely gorgeous to look at. We look forward to introducing New York to this new ballet that was so highly praised by audiences and the press at its London premiere."
"This production of Sleeping Beauty was the fulfillment of a great ambition, to choreograph the three great Tchaikovsky ballets and was made to celebrate the 25th anniversary of my company, New Adventures, last year," said Matthew Bourne. I am so grateful to Arlene Shuler and City Center to have this opportunity to bring this production to New York audiences, who have always been so welcoming of my work."
Charles Perrault's timeless fairy tale about a young girl cursed to sleep for one hundred years was turned into a legendary ballet by Tchaikovsky and choreographer Marius Petipa in 1890. Bourne takes this date as his starting point, setting the christening of Aurora, the story's heroine, at the height of the fin-de-siecle period, when fairies, vampires and decadent opulence fed the gothic imagination. As Aurora grows into a young woman, we move forward in time to the more rigid, uptight Edwardian era—a mythical golden age of long summer afternoons, croquet on the lawn and new dance crazes. Years later, awakening from her century-long slumber, Aurora finds herself in the modern day, a world more mysterious and wonderful than any fairy tale.
Bourne's new scenario introduces several characters not seen in the fairy tale or in Petipa's famous ballet. The Royal Family is presided over by King Benedict and Queen Eleanor. Princess Aurora's romantic interest is not a Prince, but the royal gamekeeper, Leo. Representing the central forces of good and evil are Count Lilac ("the King of the Fairies") and the Dark Fairy Carabosse. Bourne has created the character of Caradoc, the sinister but charming son of Carabosse. Princess Aurora's Fairy Godparents are named Ardor, Hibernia, Autumnus, Feral and Tantrum.
Matthew Bourne's Sleeping Beauty is a gothic romance for all ages: the traditional tale of good vs. evil and rebirth is turned upside down, creating a supernatural love story that even the passage of time cannot hinder.
The Sleeping Beauty creative team includes three of Bourne's regular collaborators and New Adventures Associate Artists: The Tony and Olivier Award-winning designers
Lez Brotherston (Set and Costumes), Paule Constable (Lighting) and Paul Groothuis (Sound Design) who created the acclaimed surround-sound for Bourne's recent hit production of Cinderella.


Matthew Bourne's Sleeping Beauty will run for 14 performances on the following schedule: Wednesday, October 23 at 8 p.m.; Thursday, October 24 at 7:30 p.m.; Friday, October 25 at 8 p.m.; Saturday, October 26 at 2 and 8 p.m.; Sunday, October 27 at 1:30 and 7 p.m.; Tuesday, October 29 at 7:30 p.m.; Wednesday, October 30 at 7:30 p.m.; Thursday, October 31 at 7:30 p.m.; Friday, November 1 at 8 p.m.; Saturday, November 2 at 2 and 8 p.m.; and Sunday, November 3 at 2 p.m.
Tickets range from 0 to 30 and go on sale March 25. Tickets can be purchased at the New York City Center Box Office (West 55th Street between 6th and 7th Avenues), through CityTix® at 212-581-1212, or online at www.NYCityCenter.org. City Center is located on 55th Street, between 6th and 7th Avenues.
For more information on Matthew Bourne and Sleeping Beauty, visit http://www.new-adventures.net/productions/sleeping_beauty