Contribute
Your support helps us cover dance in New York City and beyond! Donate now.
AIR application deadline March 3rd 2015 + Intern for Movement Research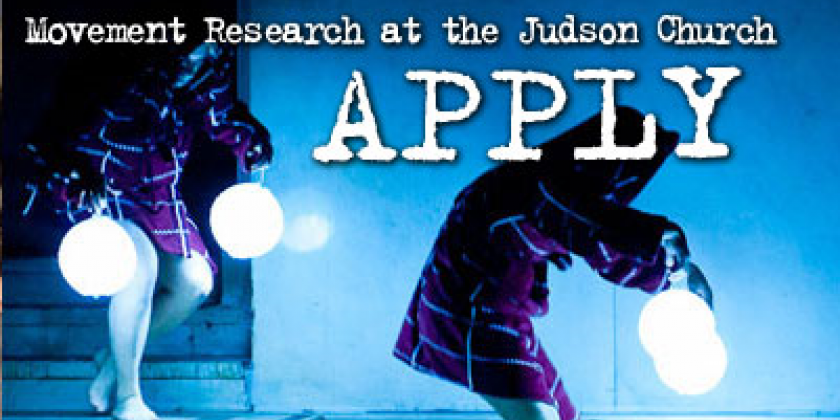 Company:
Movement Research
MOVEMENT RESEARCH AIR 2015 APPLICATION 

The Artist-in-Residence program provides year-long commissions, rehearsal space, performance and related opportunities designed to support the individualized creative process of movement-based artists, who are selected by a rotating peer artist panel. 
Dates: July 2015-June 2015 with additional opportunities from July 2016-June 2017.
Deadline: March 3, 11:39pm
Application Form: www.jotformpro.com/MovementResearch/AIR2015

Read more

MOVEMENT RESEARCH AT THE JUDSON CHURCH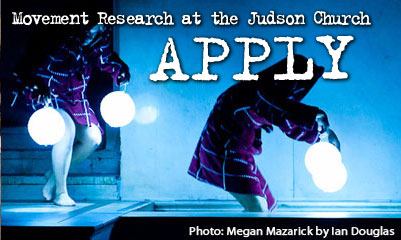 Movement Research at the Judson Church is a high visibility, low-tech forum on Monday nights throughout the fall/winter and spring seasons. Movement Research at the Judson Church supports experiments in performance rather than finished products. Artists are selected by a selection committee of peer artists. Work shown in this series must not exceed a maximum of 15 minutes. 
 
Dates: Fall 2015 / Winter 2016 Season (September - January)
Deadline: March 31, 11:59pm
Click here for Application

Read more

INTERNSHIP POSITONS AVAILABLE
Ongoing office Internships 
Minimum commitment varies, but is generally 6 months for NY residents and case by case basis for international students, 10 - 15 hours per week, depending on the duration of the Internship, in exchange for free classes, some free workshops, and at least one week of MELT intensive during the term of the internship. Please note that we are unable to assist with visas in any way and do not qualify to sponsor a visa.

Marketing/Media (Mar-Aug)
The Media Intern assists the Media and Communications Manager with the video archive and database, press and promotional materials, website maintenance and social media. The ideal candidate possesses a strong work ethic, basic organizational skills, and an interest in the documentation of contemporary and experimental dance. Experience with Mac software and Excel are strongly encouraged. Experience with Dreamweaver, iMovie, and/or social media platforms a plus.
To apply for an office internship with Movement Research, email a cover letter and resume to info@movementresearch.org with the position you are applying for