AMADEUS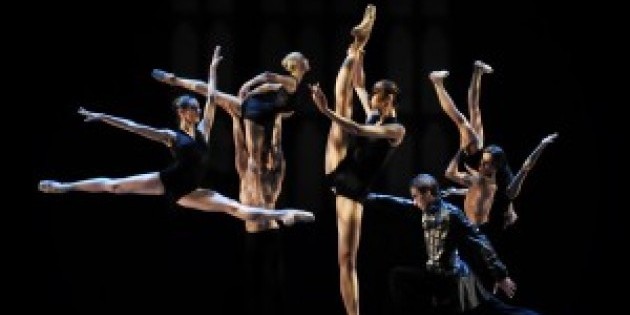 Company:
Ballet-thAAtre atlantique du Canada
Brooklyn Center for the Performing Arts at Brooklyn College (BCBC) welcomes Ballet-théâtre atlantique du Canada, performing the New York City premiere of their full-length contemporary ballet, Amadeus, on Sunday, April 21, 2013 at 3pm. Tickets are 0/0 and can be purchased by phone at 718-951-4500 (Tues-Sat, 1pm-6pm), or online at www.BrooklynCenterOnline.org.
Based on the life of Wolfgang Amadeus Mozart, this original full-length ballet in two acts follows the young prodigy's arrival at the Austrian court, his fierce rivalry with Antonio Salieri, and the creation of his greatest compositions. This piece touches on themes of isolation, envy, and the solitary life of the outsider. The performance will be immediately followed by a Q&A with Artistic Director Igor Dobrovolskiy and members of the company.
"Ballet art can and should encompass theatre with high spiritual and emotive potential," says Dobrovolskiy. "The focus is not the display of technique by the use of technique – sometimes simple, sometimes complex – for the purpose of narration, of revealing a character. I want dancers who are willing to involve their heart, mind and soul in the process."
The production features choreography by Dobrovolskiy, which complements the music of Mozart and Salieri. The cast features Leigh Alderson as Mozart and Sergiy Diyanov as Salieri, plus Eldiyar Daniyarov, Yuriko Diyanova, Brian Gephart, Samantha-Jane Gray, Anya Nesvitaylo, Janie Richard, and Olena Zakharova. The design team consists of Michael Eagan (production design), Pierre Lavoie (lighting), Norma LaChance (costumes), and Bernard LeBlanc (sets).
Atlantic Ballet Theatre of Canada is a neo-classical ballet company dedicated to performing original works by one choreographer – Artistic Director Igor Dobrovolskiy. Founded in 2001 by Susan Chalmers-Gauvin, CEO and Igor Dobrovolskiy, the Company pursues a continuous creative process through collaboration with like-minded artists attracted by the vision and artistic philosophy of its Artistic Director. Atlantic Ballet Theatre tours throughout Atlantic Canada, nationally and internationally. The dancers of the Company are a unique corps of artists who bring brilliant technique and transforming characterization to the stage. Mr. Dobrovolskiy uses the solid foundation of classical ballet technique as a springboard for an expressive dance lexicon characterized by intense drama, and powerful, lyrical structures which explore the human condition. Atlantic Ballet Theatre of Canada makes it's home in a beautifully equipped 7500 square ft space. The location was renovated specifically for the Company and includes two 50 by 50 ft studios with floating floors, change rooms with showers, administrative offices, Green Room and roof top balcony for the artists of the Company.
Igor Dobrovolskiy (Founding Artistic Director/Choreographer) is a graduate of the Kiev State Ballet Academy and earned a Bachelor of Fine Arts in pedagogy of ballet dance and choreography from the Kiev National University of the Arts. He began his professional dance career with the State Theatre of Opera and Ballet for Children and Youth in Kiev, Ukraine. His vocation has taken him across Europe, to Ecuador and finally to Atlantic Canada where he co-founded Atlantic Ballet Theatre of Canada with Susan Chalmers-Gauvin in 2001.
Ballet-théâtre atlantique du Canada's Amadeus is sponsored, in part, by the Macy's Foundation, the Mertz Gilmore Foundation, and the Harkness Foundation for Dance.
Brooklyn Center for the Performing Arts
Walt Whitman Theatre at Brooklyn College
2/5 trains to Brooklyn College/Flatbush Avenue
Online orders: BrooklynCenterOnline.org
Box Office: (718) 951-4500 (Tues-Sat, 1pm-6pm)
Groups of 15 or more: (718) 951-4600, ext. 3331
About Brooklyn Center for the Performing Arts
Founded in 1954, the mission of Brooklyn Center for the Performing Arts is to present outstanding performing arts and arts education programs, reflective of Brooklyn's diverse communities, at affordable prices. Brooklyn Center's presentations explore both the classical traditions and the boldest contemporary performances, embracing the world culture that defines Brooklyn. Brooklyn Center for the Performing Arts welcomes over 65,000 people to the 2,400-seat Walt Whitman Theatre each season, and boasts one of the largest arts education programs in the borough, serving 46,000 schoolchildren from over 300 schools annually with its SchoolTime series.
Brooklyn Center for the Performing Arts' programs are supported, in part, by public funding from the New York City Department of Cultural Affairs in partnership with the City Council. Major support for the 2012-2013 season is provided by: Brooklyn College; Target; Con Edison; TD Charitable Foundation; National Grid; the Herman Goldman Foundation, and Kings Plaza Shopping Center. Additional support provided by CNG Publications and The Brooklyn Eagle. The Sheraton Brooklyn New York Hotel is the official hotel of Brooklyn Center's 2012-2013 season. Backstage catering is graciously provided by Applebee's.
Brooklyn Center for the Performing Arts gratefully acknowledges generous support from New York State Assemblywoman Helene E. Weinstein; New York City Councilman Albert Vann and the Department of Youth & Community Development; New York City Council Speaker Christine C. Quinn; and Commissioner of Cultural Affairs Kate Levin.