AMERICAN TAP DANCE FOUNDATION GALA
Company:
AMERICAN TAP DANCE FOUNDATION
AMERICAN TAP DANCE FOUNDATION GALA
TO SUPPORT GREGORY HINES YOUTH SCHOLARSHIP FUND
SUNDAY, APRIL 13 - THEATER AT 14TH STREET Y
Gala Hosted by Bill Irwin - Comic Actor, Dancer and Performance Artist
Special Appearance by Ana Gasteyer, former SNL Cast Member
Performances Include Top Tappers Max Pollak, Cartier Williams, Randy Skinner, 
Tony Waag and Michela Marino-Lerman, Plus Revival of Gregory Hines' "Boom"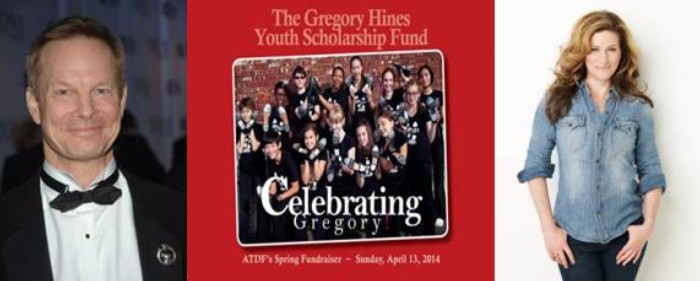 Bill Irwin, Photo Courtesy Bill Irwin; Ana Gasteyer, Photo: Andrew Parsons
New York, NY, March 10, 2014 – The American Tap Dance Foundation's (ATDF) annual Gala in support of the Gregory Hines Youth Scholarship Fund  will be hosted this year by comic actor, dancer and performance artist Bill Irwin, with a special appearance by Ana Gasteyer, former Saturday Night Live cast member and current star of ABC sitcom Suburgatory. The Gala, Celebrating Gregory, will take place on Sunday, April 13 beginning with a reception and silent auction at 1pm, with performances and live auction beginning at 2pm. All events will take place at the Theater at the 14th Street Y, 344 East 14th Street, NYC.
Top tappers Max Pollak, Cartier Williams, Randy Skinner, Tony Waag and Michela Marino-Lerman will perform, along with members of the ATDF Junior Tap City Youth Ensemble and the Tap City Youth Ensemble. The afternoon will include a revived piece of choreography, Gregory Hines' Boom, restaged by tap dancer/choreographer Barbara Duffy. A live jazz quartet will accompany all.
The Gregory Hines Youth Scholarship Fund was created the year after Hines' death, in 2003. Tony Waag, Artistic/Executive Director of ATDF, and Margaret Morrison, then Education Director to ADTF (now ATDF Education Advisor), discussed creating a scholarship fund in memory of Gregory's contributions to the art form. According to Ms. Morrison, "Tony and the Board of Directors of the ATDF founded the Scholarship Fund so that young dancers, up to the age of 19, could study and participate in ATDF training programs and perform in events such as ATDF's Tap City, the NYC Tap Festival. Gregory's family, including his brother Maurice Hines, Jr., his former wife Pam Koslow Hines, and his son Zachary Hines gave their full support to ATDF around this project."
The Scholarship Fund ensures that young dancers who want to pursue quality tap dance training have the opportunity to study, awarding scholarships every year to students based on both merit and financial need. The goal of the program is not only to offer training and performance opportunities to 'under-served' youth, but also to encourage pre-professional level students to continue their studies with on-stage performing experience. The program brings together students from different socio-economic and racial backgrounds.
"Besides being a leader in tap artistry, Gregory Hines had a commitment to access and diversity," said Ms. Morrison. "He believed tap dance was for everyone. Tap dance fans and audiences come from all walks of life and can be found all over the globe. Gregory believed that tap dance should be inclusive of performers and choreographers of all races, ages, and genders, and from every economic class. Tap dancers come from many different countries and cultural backgrounds, and perform tap dance excellence in a variety of styles," she said.
When Gregory Hines received the first ATDF Hoofer Award in 2001, he noted that tap dance doesn't exclude anyone: "if you have a pair of tap shoes, you're in." The Scholarship Fund aims to sustain that vision.
The Gregory HinesYouth Scholarship Fund Gala will come at the heels of the critically lauded Rhythm in Motion (April 8-12), a production featuring new work by New York's most renowned tappers and choreographers. Tap luminaries Michelle Dorrance, Brenda Bufalino, Derick K. Grant, and Cartier Williams are among those who will present new choreography in ten performances over four days. Rhythm in Motion was overwhelmingly well-received in its March, 2013 run, including Brian Seibert at the New York Times who called it, "a vindication, a triumph, a knockout show."
ATDF is a non-profit organization committed to establishing and legitimizing Tap Dance as a vital component of American Dance through creation, presentation, education and preservation. The organization is in a unique position as both a promoter of the new and preserver of the living history of tap dance as an art form. ATDF has spearheaded the development of The Gregory Hines Collection of American Tap Dance Archives at the New York Public Library for the Performing Arts at Lincoln Center, and has partnered with the Middle School Jazz Academy, an education program at Jazz at Lincoln Center.
###
VENUE:
The Theater at the 14th Street Y
344 East 14th St (between 1st and 2nd Avenues)
New York, NY 10003
General 14Y Information: 212-780-0800
TICKETS:
Benefactor - $1,000
Patron - $500
Partner - $250
Friend - $125
Call American Tap Dance Foundation (646) 230-9564 for tickets or order online: http://www.nycharities.org/Events/EventLevels.aspx?ETID=6873  
The American Tap Dance Foundation (ATDF) is a 501c (3) non-profit organization committed to establishing and legitimizing Tap Dance as a vital component of the American heritage. All but $25 per ticket is tax-deductible.
** For Sponsorship Packages contact: twaag@atdf.org
ABOUT THE AMERICAN TAP DANCE FOUNDATION
ADTF was founded in 1986 by tap master Charles "Honi" Coles, his protégée Brenda Bufalino, and the Foundation's current artistic and executive director, Tony Waag. Called the American Tap Dance Orchestra until 2001, the organization was directed and choreographed by Ms. Bufalino and presented hundreds of stage performances and films from 1986 through 1999. From 1989 to 1995, it also operated Woodpeckers Tap Dance Center, where tappers from all over the world gathered for classes, workshops, jam session and performances. In 2002 with a new generation of tap dancers and enthusiasts, the Orchestra was renamed under the artistic direction and leadership of Tony Waag.