ARCH CONTEMPORARY BALLET SUMMER INTENSIVE AUDITION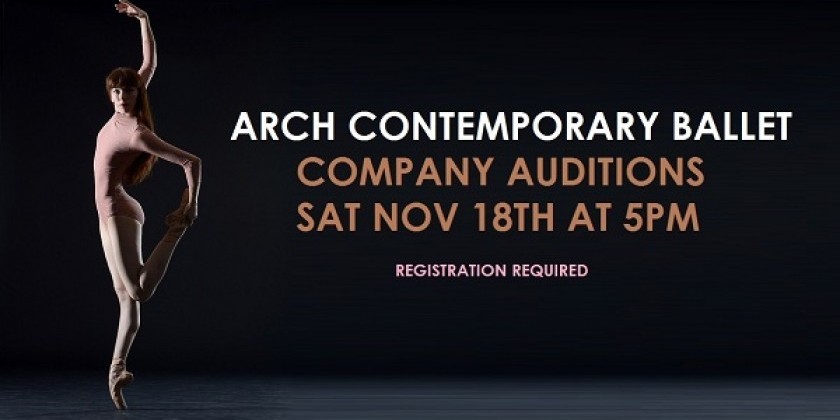 Company:
ARCH CONTEMPORARY BALLET
Questions can be emailed to arch.ensemble@live.com
Registration will end on 11.17 at 11:59 pm
Walk-Ins will not be accepted
Limited slots available
Location will be provided upon completed registration

Arch Ballet is committed to keeping up with the times of our audience! We now accept and prefer Venmo!
Venmo : @archballet
Subject : (Your name)-Audition Nov 18
We will reply back with Confirmed & Received.

COMPANY & SUMMER INTENSIVE AUDITION WORKSHOP
Saturday, November 18th 
5:00 pm - 5:30 pm Check In/Short Warm Up
5:30 pm - 7:00 pm Fundamentals of Arch Technique//Repertoire
DINNER BREAK
8:00 pm - 9:30 pm Performance by Arch Ballet company

Bring headshot and resume on one page front and back.


COMPANY AUDITION 
Seeking 2 males with strong partnering and ballet technique. 
Seeking 2 females with strong pointe work required. 
2 Apprenticeships possibly available for the right candidates.

TERMS OF CONTRACT
January - June // 20 week contract
Hourly rehearsal pay + show pay.

---------------------------------------

SUMMER INTENSIVE AUDITION
Male and female dancers audition for our summer intensive 2018 at New York City Center. Ages 15 - 34 // if under 15 please email us a reel for a chance to audition we will accept some applicants with strong technique. The intensive may be taken in pointe shoes or flat. 

Mon Aug 6th - Fri Aug 10th -  $450 ($400 early bird) 
Arch Contemporary Ballet's Intensive Summer Program offers an unparalleled experience in contemporary ballet rooted with the philosophy of Artistic Director, Sheena Annalise. Students are guided through a new way of thinking about ballet, music, body articulation, and personal artistry.

The curriculum values artistic risk-taking and tenacious work ethic. Emphasis is placed on harvesting the solid technical underpinning of classical training to cultivate innovative movement through Annalises trial and error choreography process. We aim for dancers to realize their full potential within movement at ACBi.

Designed for aspiring artists ages 15-34 (audition required), this intensive program supports the growth of the contemporary ballet dancer. If under 15 email admin@archballet.com with video to be considered for advanced placement.

Throughout the intensive dancers will be creating a world premiere ballet by Sheena Annalise, side by side with The Composers Intensive for a culmination performance of the program. Students will experience what its like to create new work, Annalises cross collaboration process with music, and be able to perform alongside ACB Company members.